Found July 20, 2012 on Fox Sports Kansas City:
KANSAS CITY, Mo. - The Royals took a shot Friday at softening the blow from the disastrous Jonathan Sanchez off-season trade. The Royals acquired Colorado right-hander Jeremy Guthrie in exchange for Sanchez, who had been designated for assignment on Tuesday. Essentially, that now makes the off-season trade of Melky Cabrera to the Giants for Guthrie and prospect Ryan Verdugo. And there is reason to like Friday's deal. At first glance, it would appear the Royals and Rockies simply swapped lost causes. Sanchez was horrific with Kansas City, posting a 7.76 ERA and a 1-6 mark. Guthrie was almost as bad for the Rockies, who had made him their opening-day starter. Overall, he was 3-9 with a 6.35 ERA. But one explanation for Guthrie's poor overall numbers was that he had become spooked about pitching at Coors Field he had a respectable 3.67 ERA in 10 games (eight starts) away from Coors Field. Guthrie admitted in a conference call Friday with reporters that he was a completely different pitcher at Coors, where he was 1-6 with a 9.51 earned run average. He allowed 14 homers there in 41 innings. For whatever reason, the ball just came out of my hand differently, Guthrie said. I'm not a scientist. I can't explain it. But it just felt different. I don't want to make excuses. The home runs I gave up there were not wall-scrapers. They were legitimate. They would have been home runs everywhere. And I don't know if it was the altitude or the space of the park. It just never felt right when the ball left my hand. What happened then was that whatever pitch I made was the wrong pitch and whatever location I had was the wrong location. Guthrie is now hoping a change of scenery will enable him to return to being one of the league's top starters. I know Kauffman Stadium is a big park and is a pitcher's park, he said. And with that great defense Kansas City has, that makes it even more so. I'm anxious to get there and help out. What makes Friday's deal so intriguing is that Guthrie, 33 isn't that far removed from being one of the better pitchers in the American League. Originally a first-round pick of the Indians in 2002, he resurrected his career with the Baltimore Orioles in 2007, posting a 7-5 record with a 3.70 ERA. Guthrie became an opening-day starter for the O's three times, and in 2010 was 11-14 with a 3.83 ERA. Guthrie also was an innings-eater in Baltimore. From 2009-11, he averaged over 205 innings per year. And unlike Sanchez, Guthrie is also a strike-thrower in 2010 he averaged just 2.1 walks per nine innings. To throw that many innings, you have to stay healthy, Guthrie said. I work hard at trying to stay in shape and staying healthy. That's why I haven't had too many stints on the DL. Well, until this year. One of the ways Guthrie has stayed healthy is through his tradition of riding to the ballpark each day on his bicycle. But while doing so this May, the rear chain on his bike snapped, he tumbled, jammed his elbow into his shoulder, and missed three weeks because of a shoulder sprain. Just a freak thing, he said. Guthrie is 100 percent healthy again, and anxious to prove it. I am very disappointed that I couldn't have helped in Colorado more, he said. But I'm always anxious for new challenges. I have a chance now to contribute to the Royals, who have a great young corps of players. I look forward to being part of that. The Royals, on the other hand, are looking for anything to salvage the Sanchez-Cabrera deal, a trade that made sense in the off-season but quickly fell apart when Sanchez struggled mightily just to make it through five innings each outing. Sanchez walked 44 hitters in 53 13 innings while giving up 65 hits. His WHIP was a staggering 2.04. Worse yet, Sanchez, through his body language on the field and in the dugout, gave off the appearance that he wasn't bothered by his poor outings that, of course, riled Royals fans. A competitive fire shouldn't be a problem with Guthrie, who, according to one Royals scout, termed him a fighter on the mound. I just look forward to new challenges, Guthrie said. That's what I like to do. The Royals weren't the only team interested in Guthrie. Both the Tigers and Blue Jays reportedly had made offers to the Rockies for Guthrie in recent weeks. Guthrie likely will move right into the Royals' depleted rotation. He last pitched on Wednesday, meaning he likely won't be available to start for the Royals until Monday. I could go on Sunday but more likely Monday, he said. We'll see what they say. If Guthrie, who will make 8.2 million this year, is productive in these last 2 months to the 2012 season, he could be attractive to the Royals in terms of a short-term free-agent deal of two years or so. The Royals will be looking for a stop-gap free-agent while they wait for Felipe Paulino and Danny Duffy to recover from Tommy John surgeries.
Original Story:
http://www.foxsportskansascity.com/07...
THE BACKYARD
BEST OF MAXIM
RELATED ARTICLES
KANSAS CITY, MO The Kansas City Royals today acquired right-handed starter Jeremy Guthrie from the Colorado Rockies in exchange for left-handed starter Jonathan Sanchez. Guthrie, 33, is 3-9 with a 6.35 ERA in 19 games, including 15 starts, for Colorado in 2012. He has pitched well away from Coors Field, posting a 3.67 ERA in 10 games (8 starts) on the road. The six-foot-one, 205...
Somewhere, someday, somehow, we could all sit back and have a good laugh about this one. In a deal that can only be described as heinous as this juncture of the baseball season, the Rockies and Royals have swapped a pair of struggling starters, with Jeremy Guthrie headed to Kansas City and Jonathan Sanchez gearing up for the Mile High City. On the surface, this deal is gross. Sanchez...
Denver, CO. The Colorado Rockies road to 100 losses continued Wednesday at Coors Field with another blown lead thanks to Jeremy Guthrie. Spotted to a 5-1 lead Jeremy Guthrie again imploded leaving to boos after only lasting 2 2/3 innings in a total mystery as to what has happened to the Rockies supposed "ace" of … Continue reading »The post Colorado Rockies Road to 100! appeared...
KANSAS CITY, Mo. We know Jeremy Guthrie spent two years on a Mormon mission. We know he digs bikes. We know he takes the environment seriously. Himself? Not so much. On Friday, the newest Kansas City Royal tweeted this: "I just told Dayton Moore on phone that the 1st player I would've chose for HR Derby would've been Billy Butler." Oh, you cad. "You...
Left-handed pitcher Jonathan Sanchez was traded from the Kansas City Royals to the Colorado Rockies for pitcher Jeremy Guthrie. The Rockies save more than $1 million in the exchange of struggling veteran starters. Guthrie had been in the bullpen before recently returning to the Rockies' rotation. He was 3-9 with a 6.35 ERA with Colorado and began the season with losses in...
Baseball doesn't seem to matter after the day Colorado had.The Colorado Rockies played a baseball game on Friday night in San Diego. Carlos Gonzalez hit a grand slam. Earlier in the day, the Rockies dealt Jeremy Guthrie to the Kansas City Royals. The Rockies lost the game 9-5, but it didn't really matter.It all seemed pretty meaningless when compared with what the state that...
The Kansas City Royals hope a return to the American League can help Jeremy Guthrie after he struggled the last four months as a member of the NL. Facing the Minnesota Twins can only help his re-acclimation. Guthrie is scheduled to make his first start for the Royals on Sunday when they close their series against the Minnesota Twins. Kansas City acquired Guthrie from Colorado...
Left-handed pitcher Jonathan Sanchez was traded to the Colorado Rockies for pitcher Jeremy Guthrie. The Rockies save more than $1 million in the exchange of struggling veteran starters. Guthrie had been in the bullpen before recently returning to the Rockies' rotation. He was 3-9 with a 6.35 ERA with Colorado and began the season with losses in nine straight decisions. ...
Jon Morosi of FOX Sports is reporting that the Royals and Rockies have swapped troublesome starting pitchers, with Jonathan Sanchez heading to Colorado and Jeremy Guthrie heading to Kansas City. Upon hearing about this deal, my first thought was "holy crap, Jonathan Sanchez in Coors Field!" Sanchez is familiar with Coors thanks to his time with the Giants, and...
According to sources close to Jon Paul Morosi of FOXSports, the Colorado Rockies sent right handed pitcher Jeremy Guthrie to the Kansas City Royals in exchange of left handed pitcher Jonathan Sanchez. Image by Keith Allison under the Creative Commons License Agreement.
The Colorado Rockies acquired left-handed pitcher Jonathan Sanchez from the Kansas City Royals in exchange for right-hander Jeremy Guthrie on Friday.
MLB News

Delivered to your inbox

You'll also receive Yardbarker's daily Top 10, featuring the best sports stories from around the web. Customize your newsletter to get articles on your favorite sports and teams. And the best part? It's free!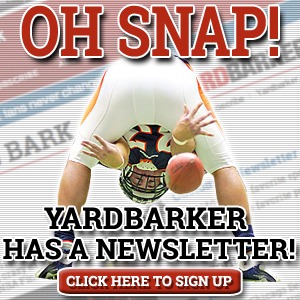 Latest Rumors
The Backyard

Today's Best Stuff

For Bloggers

Join the Yardbarker Network for more promotion, traffic, and money.

Company Info

Help

What is Yardbarker?

Yardbarker is the largest network of sports blogs and pro athlete blogs on the web. This site is the hub of the Yardbarker Network, where our editors and algorithms curate the best sports content from our network and beyond.