Found February 19, 2012 on The Diamond's Edge:
PLAYERS:
Josh Hamilton
,
Adrian Beltre
,
Joe Nathan
,
Neftali Feliz
,
Albert Pujols
,
CJ Wilson
,
Jordan Walden
,
Mike Trout
,
Felix Hernandez
,
Dustin Ackley
,
Jesus Montero
,
Stephen Strasburg
TEAMS:
Texas Rangers
,
Los Angeles Angels
,
Seattle Mariners
,
Washington Nationals
,
Oakland Athletics
Texas Rangers
Strengths: Simply put, offense. The best offense in the league when healthy, the Rangers' offense is good enough to keep them in any game. The pitching has improved as well, rotation and bullpen, making this one of the most complete teams in the majors.
Weaknesses: Injuries have plagued key players such as Josh Hamilton and Adrian Beltre. The bullpen could also be a concern if newly signed Joe Nathan is not able to shut down games, forcing other relievers to close.
Player to Watch: Josh Hamilton- After an injury plagued season and another alcohol relapse over the offseason, this season will be crucial for a player trying to cement his elite status in a contract year.
Breakout Player: Neftali Feliz- Feliz spent his first two seasons in the majors dominating as a closr, and now makes the transition back to starter, where he spent most of his time in the minors. We already know he has electrifying stuff, and now has a chance to show that more often with the move to the rotation
Los Angeles Angels
Strengths: Despite the Albert Pujols signing, the pitching rotation is the main strength, as well as one of the best in baseball. They add CJ Wilson to a group that already had the best ERA in the AL last year, making this a tough team to score runs on. They also have some of the best depth in outfielders and corner infielders, with a mix of established veterans and top prospects.
Weaknesses: The starters may be some of the best, but the Angels lack key relievers to lock the door on victories. Jordan Walden showed promise out of the closer spot last year, but that came with 10 blown saves in 43 chances. There isn't much depth otherwise, and this could be a serious problem down the stretch.
Player to Watch: Kendrys Morales- He missed a year and a half after breaking his leg celebrating a walk off grand slam, but he is ready for the 2012 season. In his last full season he hit for a .306 average with 34 home runs, showing a coveted mix of power and contact. If he can put up numbers similar to those this season, the middle of the Angels' lineup will be as dangerous as any.
Breakout Player: Mike Trout has been touted as a potential 5 tool talent, and scouts are impressed with every area of his game. He is described as having a natural feel for the game, and should be an everyday starter for the Angels if they can find room for him in their crowded outfield.
Seattle Mariners
Strengths: The Mariners have stars in Felix Hernandez and Ichiro (potentially), with hot prospects on the rise in Dustin Ackley and Jesus Montero. These players, with the exception of Ichiro, are cornerstone pieces for the organization to build around for success in years to come.
Weaknesses: Despite the exciting young studs in Ackley and Montero, this team struggles mightily to score runs. They need to add depth everywhere, but the offense has been a complete black hole for the past two seasons.
Player to Watch: He was the epitome of consistency his first decade in the majors, Ichiro had a disappointing season in 2011. He hit over 50 points under his career batting average, and couldn't break out of his funk all season. It will be interesting to see if he can revert back to his successful ways, or if last season was an indication that he is starting to decline.
Breakout Player: Jesus Montero may be drawing most of the hype this offseason, but Dustin Ackley is primed for a breakout year as well. The second overall pick to Stephen Strasburg, scouts have raved about the second baseman's ability to hit for a high average, as well as his slick fielding. Ackley is a star on the rise and will be fun to watch as he matures in 2012
Oakland Athletics
Weaknesses: The A's have a plethora of young talent both in the minors and on the major league roster. After trading away two of their best pitchers, they added even more depth  to the team, adding top prospects from both the Nationals and Diamondbacks farm systems. The organization is looking for a relocation to San Jose, and looking to add as many prospects as possible until then.
Strengths: As with any team in a rebuilding stage, this team is not putting a great product onto the field in any regards. Most established players were traded away in the offseason, leaving  the team with below average starters.
Player to Watch: Jemile Weeks hit .303 in his rookie campaign, and looks ready to improve in his sophomore season. He is one of the few exciting pieces of this current team, but would be an exciting player anywhere he goes with his hitting potential and masterful fielding ability.
Breakout Player: After releasing an impressive tape demonstrating his skills, Yoenis Cespedes quickly drew attention in the US with his 5 tool talent from the shortstop position. He shows impressive power and presence at the plate, and could be a serious threat for the A's this season.
Original Story:
http://thediamondsedge.com/?p=553
THE BACKYARD
BEST OF MAXIM
RELATED ARTICLES
The Texas Rangers will open spring training with 58 players vying for the 25 spots. While all 58 are looking to make some sort of impression, big springs are more important for some than others. Here's a look five players who need to have big springs to prove they belong in Arlington. OF Julio Borbon Remember when Borbon looked like he could be a fixture in the Texas outfield...
When the details began emerging about Josh Hamilton's relapse earlier this month, many people were outraged to learn that he was with Ian Kinsler the night he decided to drink. Those who jumped to conclusions wondered, "What type of friend and teammate is Kinsler?" As Hamilton explained during his statement after the relapse, he was extremely deceptive the night he had what...
Key Stats: Mike Napoli started only 102 games last year, but still came out as a top 60 overall player in the Yahoo rankings. He went to the DL in June with a strained oblique, but other than that was healthy for the rest of the regular season. And the numbers showed it. Napoli hit .443 in July and .383 in the second half last season. He smashed 18 home runs after the all-star break...
So 2011 was a weird year for Adrian Beltre's fantasy owners. First they suffered through a disappointing .259 batting average and not so bad 14 home runs through the first 82 games. Then he turned his season around in July hitting .358 with six home runs in 18 games before getting injured and missing all of August. He then returned in September and hit the ball with an authority...
A pair of AL West clubs are working on a deal that would send Texas Rangers' RHP Koji Uehara to the East Bay, according to Joe Stiglich of the San Jose Mercury. With the A's trading away their closer, Andrew Bailey, to the Red Sox this off-season, they were in the market for someone to
I'll be the first to admit, if Elvis Andrus didn't play shortstop he wouldn't be worth a draft pick this high, but given his position and skill set you can definitely justify it. He dominates in two categories (R, SB) and has the ability to contribute solid in another (BA). His xBA last season was .299, or 20 points lower than his actual batting average. He's still only...
Right-handed reliever Koji Uehara would go to Oakland either for prospects or a utility infielder.
New-look AL West: The Hot Stove was burning in the American League West this off-season more than any other division in baseball. Sure, Miami of the National League East was busy early on, but all four AL West teams did something significant this winter. These names are now in the AL West: Albert Pujols (Anaheim), Yoenis Cespedes (Oakland), Jesus Montero (Seattle), and Yu Darvish...
(source feed provided no summary content for this entry)
Left-hander Neal Cotts has agreed to a minor league contract with the Texas Rangers. Cotts, who appeared in all four World Series games for the Chicago White Sox in 2005, hasn't pitched professionally since having ligament-replacement surgery in July 2009. The Rangers announced the signing Monday and said the 31-year-old will be in their minor league camp.
SURPRISE, Ariz. -- Depending on who was asked, the Texas Rangers' attempts to trade Koji Uehara could be to free up money to add Roy Oswalt, or to add Michael Gonzalez, or to trade a player who doesn't seem happy to be with the two-time American League champions.
The A's are close to completing a trade for Texas Rangers reliever Koji Uehara, according to a source with knowledge of the situation.
MLB News

Delivered to your inbox

You'll also receive Yardbarker's daily Top 10, featuring the best sports stories from around the web. Customize your newsletter to get articles on your favorite sports and teams. And the best part? It's free!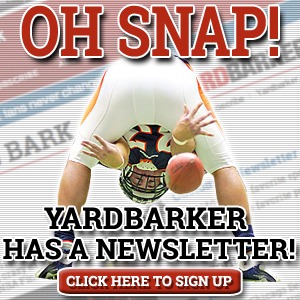 Latest Rumors
Best of Yardbarker

Today's Best Stuff

For Bloggers

Join the Yardbarker Network for more promotion, traffic, and money.

Company Info

Help

What is Yardbarker?

Yardbarker is the largest network of sports blogs and pro athlete blogs on the web. This site is the hub of the Yardbarker Network, where our editors and algorithms curate the best sports content from our network and beyond.