Found August 08, 2012 on MetsZilla:
Photo taken by Michael Baron
Prior to Tuesday night's loss to the Miami Marlins, New York Mets general manager Sandy Alderson told ESPN New York the Mets will not eat the final guaranteed season of Jason Bay's four-year, $66 million contract, according to Adam Rubin, saying:
"Certainly, there are times when it is appropriate to eat a contract. There are other times when it is not. Jason Bay is not going anywhere, nor is his contract."

As Rubin states to his blog on ESPN NewYork:
"Bay, who turns 34, is due to make $16 million next season. If he were to have 600 at-bats in 2013, his contract calls for $17 million in 2014. The most at-bats Bay has had in a season as a Met is 444 last year. If Bay doesn't return in 2014, the Mets would owe him a $3 million buyout so, essentially, there is $19 million that the Mets would have to swallow if they didn't bring back Bay next season."
I have a very hard time believing that the Mets will indeed bring Bay back next season; even if he it could cost the club $19 million. I honestly see no way he will be on the roster come opening day 2013. I think the Mets — as they did with Luis Castillo and Oliver Perez — will have Jason attend spring training in an attempt to 1) build some sort of trade value or 2) hope that he can somehow return to the player he once was (doubtful). And then, when neither happens they will eat the remainder of his contract. Just as they did with both Castillo and Perez. As Alderson has done so many times before, he left open the option to change his mind saying, "That is our position now, nothing is 100 percent certainty in baseball."
Meanwhile, according to Rubin, Alderson said Bay will play in a platoon for the remainder of the season (versus left handed pitchers) in an attempt to get his bat going:
Photo taken by Michael Baron
"He is just has not been able to get on the field except for a few games at a time because of the injuries. It has shown up in his performance. It really has been a hard luck story since he arrived here with a number of injuries that have caused him to be on the field and off the field on an intermittent basis. So hopefully, we can keep him healthy and have him play over a more prolong period, maybe primarily against left-handed pitching and let's see if we can get him going."
Which, manager Terry Collins later confirmed, according to Matthew Cerrone of MetsBlog.com.
"We are going to, depending on who is on the mound, make some adjustments out there," Collins said with regards to Bay's usage, according to Cerrone. "We have to get our left-handed bats in the lineup."
When you consider just how abysmal Bay has been this year he is lucky to be on the roster, never mind in any type of significant role. In 134 at-bats for the Mets this year, Bay has just 21 hits, five homeruns and 11 runs batted in and is mired in a 6-for-55 slump lowering his season average to a putrid .157 in the process:
Original Story:
http://www.metszilla.com/2012/08/08/a...
THE BACKYARD
BEST OF MAXIM
RELATED ARTICLES
In what was an exciting day for the Mets as they unveiled their logo for next seasons All-Star Game, Met fans got what they should now be used to by now. Good news in one hand and bad news in the other. The bad news pertains to, as it lately always does, Jason Bay. Mets GM Sandy Alderson stated that the Mets would not be eating Jason Bay's current contract with the team in order...
The very hot topic lately with the Metsmerized Nation, and with Mets fans in general, has been the future of the Metropolitans' outfield, and more specifically, Jason Bay's future with the team. Mike B noted in his post earlier that Sandy Alderson has stated that the Mets are not simply going to eat Bay's contract and release him. This all but crushes many Mets fans dreams...
Terry Collins told reporters after the game yesterday, that Jason Bay is now a platoon player in the outfield. His playing time will be dependent on who is on the mound. "We're going to make some, certainly depending on who is on the mound, some adjustments out there," Collins said. "We've got to get our left-handed bats in the lineup. Those guys have given us some good...
As the New York Mets returned home, one of the big questions surrounding the team was the future of outfielder Jason Bay. General Manager Sandy Alderson had hinted before the team's road trip that Bay would get an 11 game opportunity to show where he fit into the team's plans for the remainder of this season and beyond. When Bay disappointed on the trip...
Jose Reyes and his 24 game hitting streak return to Flushing. The former (it still kills me to write this) Mets SS has been on a rampage in raising his average to .288 and his OBP to .351. Hopefully this time the Flushing Faithful will cheer Jose and Jeer the Marlins. Jason Bay will sit start tonight against the Marlin lefty Wade LeBlanc. Why it should matter whether the pitcher is right handed
Apologies for not being able to blog Tuesday night's extravaganza. My laptop had a corrupted kernel and had to be restored to factory settings. If only we could do the same for Jason Bay.Speaking of Bay, what is this about platooning Bay so he can find some favorable matchups? We're going to play him against lefthanders? He's hitting .140 against lefties!!! Not that...
Brian and David did a 30-minute podcast Wednesday afternoon discussing both the major and minor leagues. Tune in to hear David defend Sandy Alderson on Jason Bay, Gavin Cecchini and other topics. Also be on the lookout for discussion around the Mets' bullpen, Jeurys Familia, Jenrry Mejia, Cory Mazzoni, Michael Fulmer and Brandon Nimmo. You can find the podcast at: http://www.blogtalkradio...
When Sandy Alderson and company selected Brandon Nimmo with the Mets first round (13th overall) pick in the 2011 draft it was hardly a slam dunk.  This is because Nimmo's home state, Wyoming, might have a higher population of endangered American Buffalo than high-school athletes. (Also… Wyoming is pretty cold).  Nimmo's talents were only truly put on display with his play...
Mets News and Notes: Tim Byrdak is due to get an MRI to help determine the extent of the damage to his left shoulder today. There may be word as well whether Kirk Nieuwenhuis requires surgery for the plantar fascia tear in his right foot, which he suffered with Buffalo. Johan Santana tossed three scoreless innings in a rehab start for Brooklyn on Sunday night. Terry Collins expects...
Right now the Mets outfield situation is a disaster. Who would have thought that not one single player would solidify himself this season as a starter for 2013. Just about everyone we have thrown out there has left something to be desired. There is still time for that to change, but time is running out quickly. The Amazin: Where would we be without Scott Hairston?  He is so scary...
MLB News

Delivered to your inbox

You'll also receive Yardbarker's daily Top 10, featuring the best sports stories from around the web. Customize your newsletter to get articles on your favorite sports and teams. And the best part? It's free!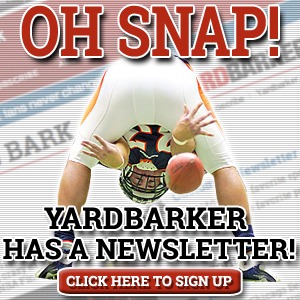 Latest Rumors
Best of Yardbarker

Today's Best Stuff

For Bloggers

Join the Yardbarker Network for more promotion, traffic, and money.

Company Info

Help

What is Yardbarker?

Yardbarker is the largest network of sports blogs and pro athlete blogs on the web. This site is the hub of the Yardbarker Network, where our editors and algorithms curate the best sports content from our network and beyond.