Found July 09, 2013 on Suicide Squeeze:
Hyun-Jin Ryu has handled a cultural shift with grace. His infectious personality, friendly smile, and positive attitude in the dugout and the clubhouse have gained him a place on the team. His 7-3 record, 2.82 ERA, 90 strikeouts in 111 2/3 innings pitched and 1.23 WHIP should have gotten him serious All Star consideration. (Image source: Yahoo Sports at http://l.yimg.com/bt/api/res/1.2/HKBOIyST5w6l4wHPXmZR.A–/YXBwaWQ9eW5ld3M7cT04NQ–/http://media.zenfs.com/en/blogs/sptusmlbexperts/ryudebut040313.jpg) Lost in PuigMania, hidden behind one of the game's true gems in Clayton Kershaw, the Dodgers had an All Star candidate worth talking about. While both Yasiel Puig and first baseman Adrian Gonzalez may find themselves on the outside looking in next week when the festivities begin at Citi Field next week, they at least have a chance to get in on the final fan ballot.  Ryu is the odd man out on the roster, and it's a shame when you look at his numbers and consider the cultural shift he's undergone this year in adapting to the Major Leagues. All Hyun-Jin Ryu has done over the first half of the season is put up a 7-3 record.  His ERA, at 2.82, ranks 12th in the National League, but has also gradually improved over the course of the season.  He's struck out 90 batters in 111 2/3 innings.  And while Zack Greinke leads team pitchers in hitting with an astounding .370 batting average, the 6'2″, 255 lb. South Korean lefty has put together a pretty impressive hitting resume himself.  His .235 batting average comes with two doubles, a triple and 4 RBIs.  He's amassed eight hits in 34 at bats and even managed to walk once.  He does have 17 strikeouts, but tends to go down swinging and is not an easy out, as evidenced by an at-bat against Matt Cain last Friday when he fouled off several pitches hard down the right field line before striking out.  Ryu then managed a sharp single to right field his next at-bat that he hit so hard, Hunter Pence made an attempt to throw Ryu out at first (he was safe.) Not bad for a guy in his first year in the big leagues who had very limited experience swinging the bat prior to coming to the U.S. Hyun-Jin Ryu has taken Los Angeles by such a storm with his pitching efforts that Pop Star Psy made a trip to Dodger Stadium to meet the young pitcher and exchange autographed pieces with him. (Image source: http://thesuicidesqueeze.com/wp-content/uploads/2013/07/67522-psy-ryu-exchange-souvenirs-after-dodgers-game.jpg) We should also mention that Ryu has risen to such national prominence and celebrity both in his native South Korea and amongst the Korean population here in the United States that Pop Star Psy actually made the effort to meet him. Oppum Gangham Style! Ryu leads teammates Matt Kemp and Clayton Kershaw in a "Gangham Style" dance in the Dodger clubhouse. (Image source: USA Today at http://thesuicidesqueeze.com/wp-content/uploads/2013/07/HyunJinRyuMattKempClaytonKershawGangnamStyle.gif) Ryu, as you can see, had already used Psy's music to build clubhouse chemistry and have a little fun with teammates Matt Kemp and Clayton Kershaw. The All Star Game is supposed to pit the league's best talent as well as its most fan-friendly figures.  While no one will deny what Yasiel Puig has done in his first month and a fraction in the Major Leagues, Ryu's considerable efforts are now being largely overlooked.  Despite this fact, the left-hander has continued to dazzle while helping to fuel the positive dugout and clubhouse attitude that has the Dodgers back in the race in the National League West. A continued strong effort from Hyun-Jin Ryu might be one of the keys to the second half of the Dodgers' season.  Tucked safely behind the solid arms of Clayton Kershaw and Zack Greinke and now somewhat shielded from the hype generated by Yasiel Puig, Ryu might just be the best #3 starter in baseball.  He's now flying mostly under the radar, though his popularity amongst the Korean fans in Los Angeles and his celebrity amongst the Korean media means that the buzz around him remains, at minimum, a dull roar.  But if these efforts continue, Ryu might find himself center stage with the bright lights shining on him in Game 3 of a playoff series come October. Dodger fans would certainly love to see that. Hyun-Jin Ryu might have been snubbed by the All Star Game, but the Korean lefty could find himself on baseball's biggest stage come this October if the Dodgers are able to capitalize on their recent hot streak that finds them back within 3 1/2 games of the National League West-leading Arizona Diamondbacks. (Image source: ESPN at http://thesuicidesqueeze.com/wp-content/uploads/2013/07/mlb_a_ryu_gb1_400.jpg) Related articles Ryu Goes Gangham Style, Puig Pulverizes, Schumaker Skips Home. Dodgers 2, Braves 1 (ericsdodgersblog.wordpress.com) Uribe's 7 RBIs Land Dodgers in 2nd (breitbart.com) This article has been read (1) times
Original Story:
http://thesuicidesqueeze.com/?p=3604
THE BACKYARD
BEST OF MAXIM
RELATED ARTICLES
Source: Christian Petersen/Getty Images The debate will continue whether Yasiel Puig should go to the All-Star game or not until MLB finds a way to place him on the NL roster. Of course that has little to do with the way the Los Angeles Dodgers outfielder gave Luis Gonzalez the cold shoulder on Monday. As Dan Dickley reported on Wednesday the Dodgers youngster ignored the former...
The Dodgers want Yasiel Puig to be an All-Star. Yasiel Puig wants Yasiel Puig to be an All-Star. They are both desperate. This is the only reason I can think of that this plug happened. Regardless, I've never been more grateful for whatever string of awesome/terrible decision making led to this. 1) Puig can talk to animals. 2) Puig can do … things blindfolded. 3) Puig can...
Los Angeles pitcher Zack Greinke drew a walk in the 10th inning against the Arizona Diamondbacks after the Dodgers ran low on position players. The Dodgers were already down a player with second baseman Skip Schumaker serving the first game of a two-game suspension and had one position player left after rallying to tie the game at 5-all in the ninth inning Wednesday night. Instead...
Writing the Los Angeles Dodgers off in April (as some may have done) was probably a mistake, if for no other reason than it was so early in the schedule. There was so much more baseball to be played.  We also didn't know how the Dodgers' competition in the NL West would play. The Diamondbacks, Rockies and Giants had a chance to bury the Dodgers after they had dug such...
Following weeks of uncertainty, Ricky Nolasco was sent to the surging Dodgers over the weekend. He appears more than pleased with how everything played out. Nolasco will try to come out strong in his Dodgers debut Tuesday night opposite Diamondbacks starter Ian Kennedy, who played a big role in last month's brawl between the two clubs. After several teams showed interest in...
Ricky Nolasco looked right at home in Dodger blue. The right-hander made a sparkling debut for surging Los Angeles on Tuesday night, limiting Arizona to four hits in seven innings in a 6-1 victory, the Dodgers' 14th win in 17 games. "I was pretty pumped up," Nolasco said. "I haven't been that locked in in a long time. It worked out great. I was able to make...
PHOENIX -- Kirk Gibson sees a lot of his younger self in rambunctious, sometimes reckless Dodgers rookie Yasiel Puig. He approves. "That's refreshing to watch," said Gibson, the Diamondbacks manager. "Honestly, even from an opponent's point of view, that's refreshing." Former Tigers manager Sparky Anderson once said Gibson played 150 percent at...
If you think Yasiel Puig is arrogant now, just wait until he signs with Jay-Z. The LA Dodgers phenom, who in little more than a month has become the biggest thing in baseball, spent Monday and Tuesday catching the ire of several Arizona Diamondbacks, who ripped him to the media . But by the time he took the field Wednesday, a Yahoo Sports report surfaced claiming that Jay-Z'...
Major League Baseball has upheld a two-game suspension of Los Angeles Dodgers second baseman Skip Schumaker for his involvement in a fight with the Arizona Diamondbacks. Schumaker served the first game of his suspension Wednesday night against the Diamondbacks and was expected to be out of the lineup again Thursday against Colorado. Schumaker was one of eight people suspended after...
With two wins this week for the red-hot Dodgers, Clayton Kershaw has helped the Boys in Blue claw out of the cellar, and he's not done yet.
Your browser does not support iframes. Yasiel Puig made a rookie mistake on Tuesday, and Miguel Montero taught the youngster a lesson. Puig ignored his third base coach when he tried to score from first on a fly ball to center by Adrian Gonzalez in the top of the 5th of the Los Angeles Dodgers' [...]
MLB News

Delivered to your inbox

You'll also receive Yardbarker's daily Top 10, featuring the best sports stories from around the web. Customize your newsletter to get articles on your favorite sports and teams. And the best part? It's free!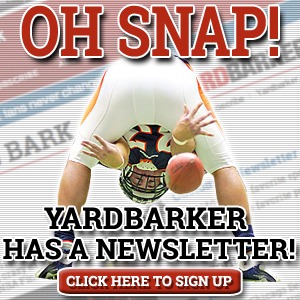 Latest Rumors
Best of Yardbarker

Today's Best Stuff

For Bloggers

Join the Yardbarker Network for more promotion, traffic, and money.

Company Info

Help

What is Yardbarker?

Yardbarker is the largest network of sports blogs and pro athlete blogs on the web. This site is the hub of the Yardbarker Network, where our editors and algorithms curate the best sports content from our network and beyond.