Found September 14, 2012 on Mets Merized Online:
PLAYERS:
Angel Pagan
,
Sandy Alderson
,
Shane Victorino
,
Michael Bourn
,
Josh Hamilton
,
BJ Upton
,
Reed Johnson
,
Rick Ankiel
,
Lucas Duda
,
Andres Torres
,
Jordany Valdespin
,
Jason Bay
,
Kirk Nieuwenhuis
,
Scott Hairston
TEAMS:
San Francisco Giants
,
New York Mets
,
Los Angeles Dodgers
,
Atlanta Braves
,
Texas Rangers
,
Tampa Bay Rays
,
Washington Nationals
Angel Pagan is the #3 ranked free agent outfielder this offseason. Could any of you have ever imagined this? Me doing a post gathering data from Fangraphs and even using WAR to illustrate the point of this post? Who says you can't teach an old dog a new trick… Anyway, I'm still trying to wrap my brain around all these wholesale changes that are apparently coming this offseason according to Sandy Alderson. The Mets GM Sandy always loves to talk about "options" and "possibilities", and you find him using those words whenever he's asked about any particular player, in-season and offseason strategies, or just the plan for the future in general. Last offseason, I considered fixing the bullpen and replacing Reyes at the top of the order as two of our primary objectives. Alderson recently admitted that we failed on both those fronts and even took responsibility for those failures publicly  I'm glad he recognized how badly he misfired because it gives me hope that he might get it right this...
Original Story:
http://metsmerizedonline.com/2012/09/...
THE BACKYARD
BEST OF MAXIM
RELATED ARTICLES
Lets have some fun today. After reading something Jim Callis said in his Prospect Chat on Baseball America yesterday, I was inspired to bring out my crystal ball and predict when we'll see some of the Mets top prospect's. But first take a look at this: Wow, that's a pretty optimistic view, and one that could certainly be construed as rushing one's number one prospect...
Hi Mets fans! We have a very special show in store for you tonight at 6:00 PM as we bring you an Extended Edition of Metsmerized Radio. Join our host Matt Falkenbury of the Daily Stache as he welcomes not just one special guest, but two of them in what's bound to be our best show ever! Steven Matz, New York Mets Mets 2009 top draft pick Steve Matz has agreed to come onto our...
Stop me if you've heard this one before: The Mets starter was outstanding, the bullpen was strong and the offense didn't do a thing. The Mets lost their sixth straight game on Wednesday night, dropping the series finale with the Washington Nationals, 2-0, and were swept for the second straight series. They're now 13 games under .500 for the first time this season and the offense...
Up is down, black is white is short is long and everything that you thought which was SO important, doesn't matter. These prophetic words were sung by Weird Al Yankovich in his Album, Bad Hair Day.  The reality remains that with or without David Wright, the Mets are far from being a World Series competitor.  That's the goal, right?  We're not shooting for mid-season relevance…...
It hard to think that after the stunning exit from the 2006 NLCS, the consecutive collapses that followed, the mediocre baseball since, and the gut check that was the departure of Jose Reyes, that things could actually get worse for our beloved Mets.  With the team poised to close out its worst campaign in at least four years, the organization isn't exactly entering the offseason...
Aubrey Huff almost breaks his hand smacking Ryan Theriot on the ass. While amusing, it's a bit frightening to me as well. What exactly is his ass made out of? Don't answer that. —– Carlos Gomez eats it in center field … on a grounder to second base Jordany Valdespin May Have Misread This Fly ...
Remember the good old days when you could run on the field and tackle Chris Chambliss after a home run or throw on your tightest t-shirt and kiss random ballplayers?Welp, those days are gone, my friend, and if you make your way to the playing field now...it'll cost you.Just ask Rafael Diaz.Following Johan Santana's no-hitter back in June, the 32-year-old New York Mets fan...
Mets fans are just hoping this season ends as soon as possible. It's been another lost year in New York, but maybe, just maybe, the team will be able to get at least one win in their series against Milwaukee this weekend. New York has lost six in a row, putting their record at a miserable 65-78 for the season. They were just swept consecutively by the Atlanta Braves and Washington...
Jon Heyman of CBSSports.com is reporting, that Terry Collins job as manager of the Mets is safe for next season. Despite the Team has had one of the worse second halfs you can ever imagined. It was obvious he wasn't getting fired. This team is in the middle of rebuilding mode which won't end anytime soons until Mets GM Sandy Alderson says so! The Mets did pickup his 2013...
I usually miss a night of blogging due to logistics, vacation, beer, things like that. But I'll admit that I didn't blog about Tuesday night's game yesterday because it felt silly to wail about how horrible a baseball team while the country marked the passing of the darkest date in its history, and in New York City's history. Seemed silly. But I've said it before...
The Mets went into their minor league system and pulled a giant rabbit out of their hat with Matt Harvey.  *terrible Jimmy Stewart impression*  Mr. Potter, I knew a Harvey once.    Back in 1955, see, and Danny Kaye asked me to sneak this guy named Harvey out of his bedroom at 2 AM.  Nice fella, that Harvey.  He told me a story that involved Ethel Merman and ping pong balls...
The New York Mets (66-78) beat the Milwaukee Brewers (72-72) 7-3, last night at Miller Park from Milwaukee, WI. W - Jon Niese (11-9), L - Mike Fiers (9-8) Game Stats: Jon Niese had a quality start going 6 innings, allowed 2 runs, 6 hits, walked 3 and struck out 5 hitters. Lucas Duda had an RBI ground rule and a solo HR (14). Daniel Murphy had a two-run HR (6). David Wright...
MLB News

Delivered to your inbox

You'll also receive Yardbarker's daily Top 10, featuring the best sports stories from around the web. Customize your newsletter to get articles on your favorite sports and teams. And the best part? It's free!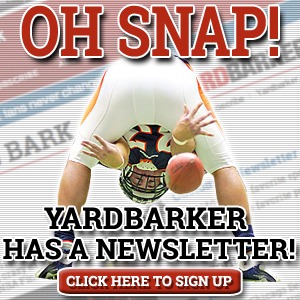 Latest Rumors
The Backyard

Today's Best Stuff

For Bloggers

Join the Yardbarker Network for more promotion, traffic, and money.

Company Info

Help

What is Yardbarker?

Yardbarker is the largest network of sports blogs and pro athlete blogs on the web. This site is the hub of the Yardbarker Network, where our editors and algorithms curate the best sports content from our network and beyond.