Found January 08, 2013 on Monkey with a Halo:
With the new year off to a jump-start, the gyms are packed, the e-cigarettes are flying off the shelves and self-improvement is on everyone's mind. Every new year brings a clean slate. It can be seen as a 365-day chance for people to re-evaluate and improve themselves. Professional athletes are no exception. Far from it, the pinnacle of human ability is only achieved by continuing to refine and improve one's mental and physical well being. If Angels players haven't given any consideration to their New Year's resolutions, perhaps some suggestions are in order. Joe Blanton, for example, may wish to consider the most time-honored of resolutions. Blanton is the most zoftig pitcher in the Angels rotation since Cy Young award winner Bartolo Colon. With corpulent masses the world over taking up jogging and saying "no" to dessert, Blanton would have millions of people to help him hold accountable as he drops a few pounds. Who knows? Should he slim down enough, he may build speed, With that speed, he may be counted on to burn the basepaths in interleague play as the very first pitcher-pinch runner hybrid. Josh Hamilton, the newest high-profile Angel is a very rich man. Although his contract is backloaded, it is still more than enough to share. The Texas colors that ran through his blood until recently may still taint him in the minds of fans. Hamilton's resolution then, is to embrace the Southern California life and prove himself a true Orange County boy. When CJ Wilson arrived at the Big A, he showed his Anaheim chops by proclaiming his love for Disneyland churros. That's a good start, but Hamilton is making almost double what Wilson is. So, if Joshua wants to embrace the city and it's fans, he may wish to purchase a couple hundred-thousand SoCal residents a basic Disneyland annual pass. There, the fans' only responsibility will be to share Wilson's beloved churros with Hamilton, fully ingraining him into SoCal culture and shaking off any of the dust that may have been leftover from his time in Arlington. Speaking of Texas, UT alumnus Vernon Wells is another several-million-dollar man in need of direction. Vernon does his level best to live up to his far-too-large contract. He's the first to tell you he's overpaid and he's willing to bust his ass in the gym to live up to expectations. However, maybe it's not Vernon's body that needs strengthening, but his spirit. Many make a resolution to give more to charity. Wells took charity a step further by founding the Perfect 10 Charity to help single mothers and children in need. How much more can one man do? The idea for this charitable donation is a little bit different. Vernon's resolution is a donation of sorts. The suggestion is that he take half (or more) of his contract earnings, and donate them to the "Help Arte Moreno Pull His Head Out Of His Ass And Sign A Mike Trout Extension" fund. If the Torii Hunter/Josh Hamilton outfielder swap showed us anything, it's that Arte Moreno is not afraid to spend money, as long as it comes out of someone else's pocket, and Vernon's pockets are deep indeed. Speaking of Mike Trout, what might his resolution be? The answer is simple: He doesn't need to make New Year's resolutions. If anything, 2013 should get ready to make itself greater just to keep up. [follow]
Original Story:
http://www.monkeywithahalo.com/2013-a...
THE BACKYARD
BEST OF MAXIM
RELATED ARTICLES
The January 8th, 2013 edition of daily news for the Los Angeles Angels of Anaheim including ZiPS projects the Angels, thoughts on Bourjos' job security and much more... The Story: The 2013 ZiPS projections are now available for the Angels. The Monkey Says: The good news is that the rotation shapes up a bit better than most expect.  The bad news is that ZiPS does not...
Dan Szymborski's ZiPS projections, which have typically appeared in the pages of Baseball Think Factory, are being released at FanGraphs this year. Below are the projections for the Los Angeles Angels of You-Know-Where. Szymborski can be found on Twitter at @DSzymborski. Other 2013 Projections: Astros / Athletics / Cubs / Giants / Nationals / Phillies / Rangers. Batters It's...
While Albert Pujols is hitting home runs for the Los Angeles Angels...his wife Deidre is swinging for the fences in the kitchen.Sorry.  I had to go there.What apparently began as a "hobby" in 2008 is now a full-fledged business.  Introducing...Pujols Kichen cookware!  No, seriously, the Pujols family is in the business of selling pots and pans.From the website:Pujols...
By Greg Bird - AngelsWin.com Columnist This began as a single article about who should hit number 2 in the line-up and as I looked into the stats I figured we first needed to talk about the most successful Angels' two-hole hitter last year, Torii Hunter. As I researched Torii's performance last year this article developed into two parts, both of which, I believe, are necessary...
The January 9th, 2013 edition of daily news for the Los Angeles Angels of Anaheim including getting excited about Mike Trout, Pujols now selling a line of cookware and much more... The Story: Getting excited about Mike Trout's improvement in 2013. The Monkey Says: You know what's weird?  Everyone writes about how Trout will regress.  Nobody is talking about the...
The MWAH prospect countdown marches on with a college legend who is big on results but not so much on raw talent.  Can he continue to overachieve and defy expectations or will his winning magic finally run out? Michael Roth Position: Pitcher  Highest Level: Rookie Throws: Left Height: 6'1" Weight: 210 lbs. Age: 22  Born: 2/15/90 2012 Season Stats Rookie...
The MWAH prospect countdown marches on with a former first-rounder looking to rebuild his prospect stock after nearly two years after losing nearly two years to Tommy John surgery. Cam Bedrosian Position: Pitcher  Highest Level: Low-A Throws: Right  Height: 6'0" Weight: 205 lbs. Age: 21  Born: 10/2/91 2012 Season Stats Low-A: 82.2 IP, 3-11, 6.31 ERA,...
The January 7th, 2013 edition of daily news for the Los Angeles Angels of Anaheim including the Angels lineup ranks as the best, C.J. Wilson developed a 'zombie-proof' SUV and much more... The Story: Buster Olney ranks the Angels' lineup as the best in the majors. The Monkey Says: This shouldn't come as a surprise, but I think it might to some even after the...
MLB News

Delivered to your inbox

You'll also receive Yardbarker's daily Top 10, featuring the best sports stories from around the web. Customize your newsletter to get articles on your favorite sports and teams. And the best part? It's free!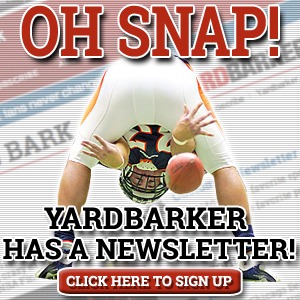 Latest Rumors
Best of Yardbarker

Today's Best Stuff

For Bloggers

Join the Yardbarker Network for more promotion, traffic, and money.

Company Info

Help

What is Yardbarker?

Yardbarker is the largest network of sports blogs and pro athlete blogs on the web. This site is the hub of the Yardbarker Network, where our editors and algorithms curate the best sports content from our network and beyond.