Found April 09, 2012 on Monkey with a Halo:
PLAYERS:
Jered Weaver
,
Albert Pujols
,
Howie Kendrick
,
Danny Haren
,
Erick Aybar
,
Peter Bourjos
,
CJ Wilson
,
Mike Napoli
,
Torii Hunter
,
Scott Downs
,
Chris Iannetta
,
Ervin Santana
,
Jordan Walden
,
Mark Trumbo
,
Vernon Wells
,
Bobby Abreu
,
Alberto Callaspo
,
LaTroy Hawkins
,
Maicer Izturis
,
Mike Scioscia
,
Hisanori Takahashi
,
Rich Thompson
,
Bobby Wilson
,
Jason Isringhausen
,
Kevin Jepsen
,
Alexi Amarista
TEAMS:
Los Angeles Angels
,
Texas Rangers
The first Angel Player Power Rankings of the season are here!  We may only be three games into the season, but it is already pretty apparent which players are deserving of praise (that Pujols guy) and which aren't (that Wells guy). As always, the rankings are based on a player's overall season performance with a weight on recent performance. RANK PLAYER COMMENTS 1 Jered Weaver - Really, Scioscia?  You couldn't let him go for the Opening Day shutout?  Also, is it too early to start a Cy Young campaign?
2
Albert Pujols - I thought he would be in the top spot all season long, but hitting into two double plays in your first two games has a way of taking the shine off of things.
3
Howie Kendrick - Maybe 2011 wasn't a fluke?  No hitter on the Angels looks more locked in than Howie.  I know that's not hard to accomplish, but he is hitting everything hard right now.
4
Kendrys Morales - He's back.  And I don't mean that he is back in the lineup.  I mean he is back.  Back to being an offensive threat.  Maybe I am overreacting, but he just looks so good so far.
5
Dan Haren - This week, he gets the benefit of the doubt in the rankings as his below average start was hopefully just the result of lingering dead arm.
6
Erick Aybar - He doesn't have much power, but when he chooses to turn on a ball, he can really crank it just like he did with that huge bases clearing triple on Opening Day.
7
Peter Bourjos - After seeing what the outfield defense looked like without Petey and with Abreu, I think we can all agree that particular defensive alignment should never see the light of day again.
8
C.J. Wilson - He probably should be ranked higher, but he hasn't pitched yet so all I have to judge him on is his lame "prank" on Mike Napoli.
9
Torii Hunter - Someone please let Torii know that just because the offense isn't on his shoulders anymore that it doesn't mean he is no longer obligated to come up with hits with runners in scoring position.
10
Scott Downs - A new season and Downs is still great and it is still impossible to come up with anything interesting to say about him.
11
Chris Iannetta - I didn't think it was possible for an Angel catcher to ever rank about 20th in these Power Rankings, yet here it is.  It feels good.
12
Ervin Santana - He looked lousy on Sunday, but he should still be the best fourth starter in baseball by season's end.
13
Jordan Walden - He was the last Angel reliever to make an appearance this season, hopefully his lack of use won't become a trend.
14
Mark Trumbo - He looks bad in the field, but he does look to be more in control at the plate.
15
Vernon Wells - He looks to be off to another terrible start, but I can't in good conscience rank him any lower when he is the owner of the sole Angel home run.
16
Bobby Abreu - I'm willing to give him credit for a nice RBI double, but the man has the range of a tranquilized sloth in the outfield. 17
Alberto Callaspo - Just putting it out there, but when do we start hearing reports on Beto complaining about his lack of playing time? 18
LaTroy Hawkins - Not the best debut for him, but he is the best right-handed setup option until proven otherwise.  It would be nice to have an actual setup situation to prove that in.
19
Maicer Izturis - Three games into the season and Izturis has just one at-bat.  Is Mike Scioscia feeling OK? 20
Hisanori Takahashi - The only Angel reliever to allow an earned run this season and it wasn't even really his fault.
21
Rich Thompson - He got into a game before Jepsen did.  Turns out Mike Scioscia is aware that Chopper is on the team this season.
22
Bobby Wilson - Like Mathis, Wilson has a great defensive reputation.  Like Mathis, he air mails throws to third into the left field corner.
23
Jason Isringhausen - He seems to have Mike Scioscia's trust pretty early, but he still looks shaky to me.  I'm willing to be proven wrong. 24
Kevin Jepsen - Jepsen looks much better than last season already, but I am withholding final judgment until I see if he can successfully intentionally walk a batter first.
25
Alexi Amarista - Pinch-runners get bottom billing, no exceptions. [follow]
Original Story:
http://www.monkeywithahalo.com/2012-a...
THE BACKYARD
BEST OF MAXIM
RELATED ARTICLES
Albert Pujols is hitless (in large part due to the mastery of China-manian Bruce Chen) as an Angel and the St. Louis Cardinals are undefeated without their former MVP slugger.  This is the worst possible start to the season for those that are envious of the St. Louis Cardinals baseball franchise (see Cub fans), and the best possible outcome for goober* Cardinal enthusiast that...
ANAHEIM, Calif. (AP) -- Eric Hosmer and Billy Butler homered and drove in three runs apiece, and the Kansas City Royals beat the Los Angeles Angels 7-3 Sunday, taking two of three in their season-opening series. Jonathan Sanchez (1-0) survived through five innings to win his first start with the Royals, who dampened the revamped Angels' much-hyped home debut with two victories...
This is exactly the kind of game the offense needed to get the ball rolling on getting this offense together. The 1st inning of the game is exactly what we needed to see out of the Angels to give us some piece of mind that this offense can and will perform. There were some bright positives with the offense in today's game, as well as some glaring negatives (I'm looking at...
ANAHEIM, Calif. (AP) -- Luke Hochevar took a shutout into the seventh inning and the Kansas City Royals got solo homers from Eric Hosmer and Mike Moustakas against Dan Haren in a 6-3 victory over the Los Angeles Angels on Saturday. Albert Pujols got his first hit with Los Angeles, a double in the fourth. Hochevar (1-0) was charged with two runs and five hits over 6 1-3 innings...
They say that the more things change the more things stay the same.  For the Angels in 2012, that adage rings particularly true through the first series of the season. Royals 7, Angels 3 The Angels have a new slugger in Albert Pujols and a new old slugger in Kendrys Morales.  The Angels have a new catcher.  The Angels have a new set of high expectations. The Angels still can...
Although opening day was a thrill, the opening weekend of the season didn't go the way the Los Angeles Angels hoped. With 159 games and nine more seasons left on Albert Pujols' contract, nobody is terribly worried about it just yet. Eric Hosmer and Billy Butler homered and drove in three runs apiece, and the Royals beat the Angels 7-3 Sunday, taking two straight victories...
Tonight, the Baltimore Orioles play their second game of the season as they face the Minnesota Twins at 7:05 p.m. This is the second contest in a three-game set. Right-hander Tommy Hunter squares off against southpaw Francisco Liriano on the mound. Hunter, who came into this season slimmer and more fit is looking to establish himself as the number two starter. Much like with the...
In the marathon that is a 162-game baseball season, a three-game losing streak is barely reason to panic. But after Minnesota was swept in their three-game season-opening series against the Baltimore Orioles, Twins fans seem to believe that not much has changed from last year's 99-loss season. Indeed, it was a rough opening series for the Twins, who scored just five runs in...
 Angels' Starting Line-up: Aybar, SS Kendrick, 2B Pujols, 1B Morales, DH Hunter, RF Abreu, LF Callaspo, 3B Iannetta, C Bourjos, CF Game Notes: The Angels bounced back nicely after losing two consecutive games this past weekend as they beat the Minnesota Twins 5-1 in front of 39,414 at Target Field on Monday. C.J. Wilson took the mound for the Halos opposite...
You could see this one coming from a mile away, what with the glow of the Angels' Opening Day win shining brightly. After last night, I would have bet money the Royals were going to come out and do what they could to win. And even though I believe Dan Haren will have a great year, it was apparent from the outset that he didn't have it today. Couple that with the fact that...
The Kansas City Royals opened their 2012 campaign sending a message that they truly do believe in the "Our Time" slogan. They headed out west to open this season and took two of three from an Angels team that many are picking to win their division.  The contained the mighty Albert Pujols, unleashed Eric Hosmer season two, and survived Bruce Chen and Yuniesky Betancourt showcasing...
The Kansas City Royals are only 3 games into the season, however, they have already given fans much reason to believe things could truly be exciting in 2012. Coming into this season, there have been a wide array of opinions on what the Royals record might be when the 2012 season comes to an end. The most optimistic of prognosticators predicted as many as 85 wins for the Royals on...
MLB News

Delivered to your inbox

You'll also receive Yardbarker's daily Top 10, featuring the best sports stories from around the web. Customize your newsletter to get articles on your favorite sports and teams. And the best part? It's free!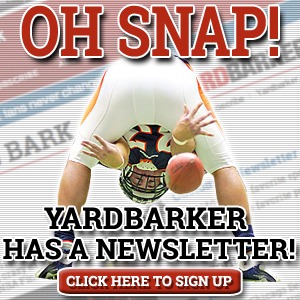 Latest Rumors
Best of Yardbarker

Today's Best Stuff

For Bloggers

Join the Yardbarker Network for more promotion, traffic, and money.

Company Info

Help

What is Yardbarker?

Yardbarker is the largest network of sports blogs and pro athlete blogs on the web. This site is the hub of the Yardbarker Network, where our editors and algorithms curate the best sports content from our network and beyond.