Found May 31, 2012 on Sports Blog Net:
What he did: I always thought Nolan Ryan got screwed playing nine seasons on the Houston Astros. That's what I used to think at least, looking at years like 1987 when Ryan led the National League with a 2.76 ERA but finished 8-16. Certainly, those Astros went 76-86 and scored two runs or less in about half of Ryan's starts with him going 1-13 in those games. But there's a silver lining from 1987, Ryan's 2.21 ERA at home. In fact, I doubt he'd have won the ERA title with a different home ballpark. Ryan benefited from good pitchers' parks much of his career, going 59-44 with a 2.77 ERA in the Astrodome, 85-58 with a 2.36 ERA at Angel Stadium, and 180-190 with a 3.66 ERA elsewhere. And the Astros weren't that bad while Ryan was in town: They had a record above .500 six of the years he played for them.
The Ryan Express has a reputation as one of the best pitchers in baseball history, though some of his success may have been due to luck -- good home ballparks, a .269 opponents' batting average on balls in play, and the fortune to play in an era that mostly favored pitchers. Take these things away, and Ryan may have faced a longer road to Cooperstown, nothing close to the coronation he received with 98.8 percent of the vote on his first ballot in 1999. Sure, he might still have the 5,000 lifetime strikeouts and seven no-hitters, but I doubt it'd enough for some Hall voters, at least his first few times on the ballot. I assume he'd be enshrined at some point, it just might take awhile. Look what happened to Bert Blyleven, who needed 14 ballots for his plaque.
So while Ryan's combination of legendary power and durability makes him a rare pitcher I have no problem projecting across any number of different eras, finding him a point in baseball history where he could've boosted or at least maintained his case for Cooperstown is tricky. Put Ryan in Coors Field in the late 1990s and he'd be the second coming of Mike Hampton, Darryl Kile, or some other hapless free agent ace lured to Colorado. Put Ryan in the Baker Bowl, Fenway Park, or another offensive launching pad in the late 1920s or early '30s, and I assume his ERA would wind up somewhere near 5.00, win-loss record equally garish. But I can think of at least one place where he might have shined.
Era he might have thrived in: The story of Ryan's rise to greatness is well-told, detailing how he debuted as a wild young reliever with the New York Mets in 1967 before being traded to the Angels in December 1971 and finding command enough to become an ace (though he led his league in walks eight times.) So there are two options: Find Ryan a similar formative environment; or, place him in a free-swinging era where batters walked far less, where the few Hall of Fame pitchers were either fireballers or on great teams or both. I'm speaking of the 1930s. Playing then, on a ball club like the New York Giants, Ryan may have excelled.
Why:
The Giants ballpark, the Polo Grounds was the Astrodome of its era, center field a place where home runs went to die. Pitching there, Ryan could make a more-than competent sidekick to Carl Hubbell, and with the '30s Giants, he'd have the elite caliber of club he rarely found himself on in 27 seasons, a chance to go the World Series in his prime. And if his power translated to the era, Ryan could bring unprecedented strikeout totals, perhaps breaking the dry spell between 1912 and 1946 where no hurler had 300 K's. Ryan could be the Bob Feller of the National League. Could this help Ryan's legacy? Consider that in 1962, Feller and Jackie Robinson were first-ballot inductees for Cooperstown, the first time any player earned a plaque without multiple tries since 1937. It's not to say Ryan would've automatically been enshrined through acclimation, facing consideration in an era of Hall voting where dozens of future honorees generally got at least one vote. Hubbell needed three tries before he was inducted, Lefty Grove four, Dizzy Dean nine. And Rapid Robert was and maybe still is the greatest teenage player in baseball history and a war hero to boot. I don't know what kind of comparable PR that Ryan might have generated with voters. Still, I assume he'd have had as good a chance as any to do so.
Any player/Any era is a Thursday feature that looks at how a player might have done in an era besides his own.
Other '30s pitchers written of in this series: Bob Feller, Lefty Grove, Paul Derringer, Satchel Paige, Wes Ferrell
Original Story:
http://baseballpastandpresent.sportsb...
THE BACKYARD
BEST OF MAXIM
RELATED ARTICLES
Roy Oswalt officially joined the Rangers with a one-year contract. He expects to join the big league rotation after about four starts. Oswalt told reporters that thrown bullpen sessions every other day for the past six weeks. His first start is excepted to come at Triple-A Round Rock, on Saturday. "My arm feels great, my body feels great," Oswalt said during a conference...
The Rangers are the best team since the '98 Yankees. Do you agree? Tom Verducci made this statement yesterday to John Feinstein and Bruce Murray during their mid-day show on Mad Dog Radio. I think Nolan Ryan and Jon Daniels have done a fabulous job turning around that ballclub, but they should not be discussed in the same breath as one of the best baseball teams...
You know how the Angels just salvaged their season by beating up on a soft portion of their schedule?  Yeah, that was pretty cool, right?  They should totally do that more often. Now, back at .500, the Halos are within striking distance of the Texas Rangers in the AL West.  If they want to continue closing that gap, they have a perfect opportunity to do so this weekend.  Actually...
Recently departed Phillies pitcher Roy Oswalt is no longer on the market, as he signed with the Rangers on Tuesday. The Rangers deemed his help necessary with the injury to starting pitcher Neftali Feliz. The deal is pending a physical, which is to be taken on Thursday, and will join Triple A Round Rock for a few starts before he makes his way to the majors. Sources say that the...
The Texas Rangers already had a pitching surplus, and atop of that they signed free agent Roy Oswalt last week. According to Jon Heyman of CBSSports the Rangers will shop right-handed pitchers Scott Feldman and Mark Lowe. Heyman adds that the Rangers are looking for a right handed hitting outfielder in return. Among the right handed hitting outfielders that could be available we...
They just Ridley Scotted from my belly, gushed out after I heard the news:  Texas signed Roy Oswalt. "OF COURSE THE F====G RANGERS SIGNED HIM. THEY GET F====G EVERYBODY." Yes, people…  the Rangers are the Yankees. Unable to dominate the NFL, the malevolent, George Bushian state of Texas has chosen to exert its oily blood money in baseball. And we, the Eastern dandy...
The Single-A Hickory Crawdads won their fourth consecutive game on Thursday, as Nick Martinez turned in five strong innings. Lone Star Dugout takes a look at all of the day's minor league action in the Texas Rangers' system.
ARLINGTON, Texas (AP) -- Justin Smoak hit two three-run homers against his former team and the Seattle Mariners used a pair of early eight-run innings to rout the Texas Rangers for the second straight game, winning 21-8 Wednesday night. Smoak had three hits to go with his career high for RBIs as Seattle reached double digits in back-to-back games against the AL West leaders. Jesus...
Hot News for OF Julio Borbon
Tonight, the Rangers held a press conference at 8:15 p.m. to announce the signing of Roy Oswalt. Oh, and they also played a game that started at 7:05 p.m.  Clearly, one of those things was more important than the other. And the team seemed to sense that too. They didn't really show up tonight.  Or rather, I didn't recognize the team that showed up tonight. Scott Feldman didn't...
By David Saltzer, AngelsWin.com Senior Writer In college, I once wrote a paper about a baseball player entitled "Why There's a G-d, and Why He's a Baseball Fan". It was about the greatest pitcher I have ever had the pleasure to watch play the game, Nolan Ryan. When I was a kid, Nolan Ryan was synonymous with the Angels. One couldn't think of one without the other...
Seattle bats erupt, win another series The Headline: The Seattle Mariners make this one look like a football game, as they put up a 21 spot on the Rangers. Blackjack! Seattle Mariners 21, Texas Rangers 8 When: 8:05 ET, Wednesday, March 30, 2012 Where: Rangers Ballpark, Arlington Temperature: 90 Umpires: Home — Jim Wolf, 1B — Derryl Cousins, 2B — Ron Kulpa, 3B — D.J....
MLB News

Delivered to your inbox

You'll also receive Yardbarker's daily Top 10, featuring the best sports stories from around the web. Customize your newsletter to get articles on your favorite sports and teams. And the best part? It's free!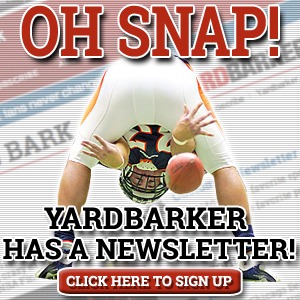 Latest Rumors
The Backyard

Today's Best Stuff

For Bloggers

Join the Yardbarker Network for more promotion, traffic, and money.

Company Info

Help

What is Yardbarker?

Yardbarker is the largest network of sports blogs and pro athlete blogs on the web. This site is the hub of the Yardbarker Network, where our editors and algorithms curate the best sports content from our network and beyond.