Found April 11, 2013 on Grab Some Bench:
PLAYERS:
Dylan Axelrod
,
Robin Ventura
,
Chris Sale
,
Jake Peavy
,
Mark Buehrle
,
Alex Rios
,
Jeff Keppinger
,
Ryan Mattheus
,
Tyler Clippard
,
Rafael Soriano
,
Drew Storen
,
Jose Quintana
,
Justin Masterson
,
Alejandro De Aza
TEAMS:
Washington Nationals
,
Chicago White Sox
,
Toronto Blue Jays
,
Cleveland Indians
The Washington Nationals completed the sweep of our beloved White Sox Thursday night when they defeated the Pale Hose 7-4. The Sox are now 4-5 as they head back to American League play where they'll face the Indians and Blue Jays in two more road series. AXELROD'S ROUGH OUTING It wasn't a good start for Dylan Axelrod, and in all honesty, he's lucky it wasn't worse than it ended up being. He was not efficient from a pitch count standpoint (40 through one inning and 100 through not even four innings), and he got countless pitches up in the zone. People are going to blame Robin for leaving Axelrod in too long, but as a manager, you have to be able to expect your starter to get you through four innings. I can't get myself to put any blame on Robin Ventura for this one. You have to do your job and be more efficient than Dylan was out there tonight. I've always said that I think Dylan Axelrod would be OK as a fifth starter for this team, but he has got to keep the ball down in the zone. Since Axelrod doesn't have "make you miss" stuff and doesn't have an out pitch, this is critically important to him. He cannot miss his spots as often as guys like Chris Sale and Jake Peavy. That doesn't mean he can't be a good pitcher (see guys like Mark Buehrle), but it does mean he has got to make sure he gets everything down. If he doesn't, he's going to have nights like this often. DOWN, BUT NOT WITHOUT A FIGHT There aren't many positives to take away from a sweep, but one of them is the way this offense hit when it was trailing. After Washington was able to score some runs, the Sox made the Nats' pitchers work and got some runs across the plate themselves an inning or two later. Guys like Alex Rios (man, what a start he's had), Jeff Keppinger and Alejandro De Aza just made Washington's pitchers work this series. With all of that said, however, this team just could not get that one big, game-changing hit to take the lead back: tonight and all series long. NATIONALS BULLPEN A lot of things this series impressed me about the Nationals (man, they are gritty up there at the plate). Tonight, it was that bullpen that impressed me the most. Ryan Mattheus, Tyler Clippard, and Rafael Soriano is a pretty powerful threesome to close a game out with, and we didn't even see Drew Storen tonight. That's  unit that is going to be making it hard on teams all season. ON TO CLEVELAND It sucks to get swept, but at least it's early in the season and this was an interleague series. The two series that we'd rather see the Sox dominate in on this road trip are Cleveland and Toronto, and the Sox have a chance to put this behind them now with seven games left before returning home. It will be Jose Quintana against Justin Masterson tomorrow. It's a pretty simple formula for both guys. Like Axelrod, they both must keep it down in the zone. Whichever pitcher does that better probably wins the ballgame. Box Scores via USA Today Online
Original Story:
http://www.grabsomebench.com/2013/apr...
THE BACKYARD
BEST OF MAXIM
RELATED ARTICLES
Up above, Bryce Harper's new 34/BH logo, which he Tweeted a picture of Friday afternoon. Apparently this is how all of Harper's new Under Armour cleats, gear, etc. will be branded; here's a pic of the cleats, also Tweeted by Harper on Friday: (Photos by @Bharper3407) Befriend Nats Enquirer on Facebook. Follow on Twitter.
So Jayson Werth threw the first pitch before McLean (VA) Little League Opening Day this morning. Davey might want to consider using Werth in the bullpen mix? (Photo thaks to @NatsBandwagon) Befriend Nats Enquirer on Facebook. Follow on Twitter.
Up above, video from MLB.com of the baseball Bryce Harper put into orbit last night at Nationals Park. Poor little baseball never stood a chance...almost made it to the third deck. (Screencap via MLB.com) Befriend Nats Enquirer on Facebook. Follow on Twitter.
Cherry blossom! Very cool thing to see! #DC twitter.com/Bharper3407/st… — Bryce Harper (@Bharper3407) April 10, 2013 Since arriving back in D.C. for the summer, several Nats players have Tweeted their displeasure with DC traffic; this week Denard Span Tweeted his complaints while stuck in a traffic jam on his way to Nationals Park. And of course, Wednesday night's...
ONLY FOR THE BEST
Tweet   At just 20-years old Washington Nationals outfielder Bryce Harper is a pretty big deal. Among baseball's most highly touted prospects while in the minor leagues Harper lived up to the hype by putting together one of the best seasons by a teenager in MLB history in 2012, one that resulted in a trip [...]
Nationals sensation Bryce Harper is going to be one of the premiere faces of the MLB, if he is not already. Baseball players aren't generally known for their outgoing personalities like their football and basketball counterparts, but Harper certainly has some to go along with his incredible ability on the field. One of the biggest perks of having such an outgoing personality is...
Washington Nationals ace Stephen Strasburg was not shy about the fact that his innings cap in 2012 frustrated him a great deal. This year, however, the Nationals have not put a limit on how much the 24-year-old can throw. That doesn't mean the team will stop being careful with him. For example, Strasburg threw seven shutout innings against the Cincinnati Reds in his first start...
WIZARDLY PERFORMANCE
And so, John Wall has redeemed himself after throwing one of the worst ceremonial first pitches in the history of ceremonial first pitches back in 2011. Wall got a second chance tonight at Nationals Park -- see video above. Wall lobbed it, but didn't bounce it. Good enough. And here's more video from CSNWashington.com of Wall practicing his pitching technique today at Wizards...
Everyone deserves a second chance, and that's exactly what the Washington Nationals gave Wizards guard John Wall on Thursday night. In 2011, Wall threw out one of the worst ceremonial first pitches of all time. This time, Wall got a shot at redemption. After Wall was reminded of his failure by the Nationals' mascot, the Wizards point guard took the hill and lofted a pitch that...
The Nationals successfully swept the White Sox with a 7-4 win in the final game of the series, and they remained an undefeated 6-0 at home on the season. It's another key win as the Nationals prepare to host their main rival, the Atlanta Braves, this weekend. Dan Haren had a chance at redemption on Thursday after having a disastrous Nationals opener in Cincinnati in what...
The White Sox dropped their 2nd straight game at the hands of the Washington Nationals and now stand at 4-4 on the young season. When discussing this game, two main takeaways need to be brought up ... and not much of the discussion comes as much of a shock. The game started off positively, as starter Gavin Floyd seemed to have his good 'stuff' and the offense...
Morning, Its game one of a three game series at Progressive Field against the Cleveland Indians. Jose Quintana gets the residence on the mound tonight against a an Indians team who are currently at just three wins with five loses before the opening of this series. Tyler Flowers with a well deserved night off, Hector Gimenez directing things behind the plate tonight. Best wishes...
MLB News

Delivered to your inbox

You'll also receive Yardbarker's daily Top 10, featuring the best sports stories from around the web. Customize your newsletter to get articles on your favorite sports and teams. And the best part? It's free!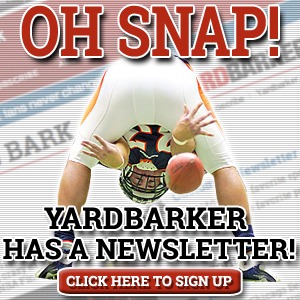 Latest Rumors
Best of Yardbarker

Today's Best Stuff

For Bloggers

Join the Yardbarker Network for more promotion, traffic, and money.

Company Info

Help

What is Yardbarker?

Yardbarker is the largest network of sports blogs and pro athlete blogs on the web. This site is the hub of the Yardbarker Network, where our editors and algorithms curate the best sports content from our network and beyond.