Found November 03, 2011 on MetsZilla:
PLAYERS:
Jose Reyes
,
Carl Crawford
,
Jayson Werth
,
Stephen Strasburg
,
Scott Boras
,
Yuniesky Betancourt
,
Ryan Braun
,
Ian Desmond
,
Prince Fielder
TEAMS:
New York Mets
,
Boston Red Sox
,
Washington Nationals
,
Milwaukee Brewers
In his column this morning (click here to read in full) Mike Puma of the New York Post wrote that  "One major league executive yesterday put the Nationals and Brewers atop the list of favorites to land Reyes, who is expected to command less than the $142 million over seven years that Carl Crawford received from Boston last winter."  The reasoning behind the early prognostication is simple….but maybe a little too simple if you ask me:
The Nationals have proven they aren't afraid to overspend, after blowing away the competition last winter with a seven-year deal worth $126 million for Jayson Werth.

Reyes could be viewed as the missing piece that turns the Nationals into an instant contender, with Stephen Strasburg back from Tommy John surgery and the team in position to perhaps add another starting pitcher.

Reyes' chances of landing with the Brewers are tied directly to Fielder. The Brewers aren't in strong position to re-sign their franchise first baseman, who is represented by Scott Boras and expected to shoot for $200 million in his next deal.

Reyes could be had for significantly less in Milwaukee and fill a void created at shortstop, when the team earlier this week declined Yuniesky Betancourt's option for next season. The team's best player, Ryan Braun, has lobbied openly for the Brewers to sign Reyes."
Photo by Michael G. Baron
I dunno, this seems like a reach to me.  Just because the Nationals have spent money hand over fist doesn't mean they're going to do it every chance they get.  Also, Ian Desmond showed a marked improvement over the second half of last year, batting .289 with 5 HR after the All-Star break.  As for Milwaukee, telling your fan base you don't have the money to sign Fielder and then ponying up to sign Reyes doesn't come across as a likely scenario, at least not at face value.  The reverse also holds true for the Mets; I can't envision Alderson and company letting Jose leave New York and making a serious bid at Prince, though some have suggested that might be a possibility.
Adam Rubin of ESPNNewYork.com polled various beat writers around the league to get their opinion as to where Reyes might land.  The comments from  Tom Haudricourt, who covers the Brewers for the Milwaukee Journal-Sentinel, and Adam Kilgore of the Washington-Post, don't necessarily jive with those of the major league executive with whom Puma spoke.  Regarding the possibility of the Brewers bringing in Reyes, Haudricourt said:
Photo by Michael G. Baron

If they lose Prince Fielder, they will need to make up some of that offense somewhere. And, having declined their option on Yuniesky Betancourt, the Brewers must make a decision at shortstop. Having said that, I doubt if they'd want to pay what Reyes is seeking, and his recent injury history would be a concern, also. So, I don't expect them to make a serious play for Reyes."
As for the Nats, Kilgore explained:
The Nationals need to add a legitimate top-of-the-order threat to their lineup, but Reyes seems an unlikely fit. Team officials, particularly Manager Davey Johnson, remain high on 26-year-old shortstop Ian Desmond, who's entering his third season and cost-controlled for the near future. You can't count the Nationals out of anything after the Jayson Werth shocker last winter, but the Nationals prefer to fill their leadoff need by adding a center fielder, not a shortstop like Reyes."
To me this round of rumor roulette goes to Haudricourt and Kilgore, but the fact of the matter is that there really doesn't seem to be a favorite in the Reyes sweepstakes just yet.  To me, that's probably the most frustrating thing, because it would be nice if the Mets were widely viewed as just that.  A wise man once said you can wish in one hand and crap in the other, and see which one gets filled first.  Not sure I'm ready to solve that puzzle just yet but I'll go ahead and start wishing.
Original Story:
http://www.metszilla.com/2011/11/03/a...
THE BACKYARD
BEST OF MAXIM
RELATED ARTICLES
There's been a lot of talk lately about Jose Reyes not re-signing with the Mets. I still believe that he will, and if he doesn't, I'll be heartbroken. But if they don't re-sign Reyes that frees up a lot of money for this organization. That would leave them with about $40M to fill out the roster with. So who are my top 5 free agent choices after Reyes, you ask? Well even if...
According to David Lennon of Newsday, teams are lining up for Jose Reyes, which could make it a tough market for Reyes. However, Lennon says the Mets should also not elminate themselves from contention until the team believes they are "priced out." Matthew Cerrone: I know it seems bleak right now, and I know it's natural for reporters and talk show hosts to hate on the...
Here are summaries of updates about Jose Reyes from the last two days… When asked if the Mets have a chance to sign Reyes, SI's Jon Heyman replied: Photo: By Michael G. Baron (2011) "Slim, though not none. There's little evidence the Mets would go over five years for Reyes, the very talented and beloved but injury-prone homegrown star. And that just isn't likely to be good...
In a report to the New York Post, Mike Puma says "there is almost no chance that [Jose Reyes] will accept a hometown discount to remain with the Mets," according to a person close to Reyes. According to Puma, "a second person, who regularly spends time with Jose," believes the fact the Mets may be years away from playoff contention may kill the team's chances of re-signing...
The New York Mets called a news conference Monday to announce how reasonable Citi Field's outfield dimensions will be in 2012 (finally), which probably made David Wright and Jason Bay happy. But it wasn't the news Mets fans were hoping to hear as Jose Reyes heads for the door as a free agent. Instead of unveiling a plan to keep their popular shortstop in Flushing for years...
Teams can now begin bidding on Jose Reyes, the New York Mets free agent All-Star shortstop.
The Mets laid off about 10 percent of their front-office staff, which is not a good omen in the Jose Reyes sweepstakes.
The Mets laid off about 10 percent of their front-office staff, which is not a good omen in the Jose Reyes sweepstakes.
It is well known that outside of an outside shot at resigning Jose Reyes, the Mets will not be a major player in any of the other franchise players who hit the market this offseason. The Omar Minaya days of signing the biggest name on the market have come and gone—to some fan's glee and to other's dismay. So rather than lament the fact that there will not be a shiny, new toy...
Andy Martino of the Daily News believes that there will be no shortage of David Wright rumors this hot stove season. After speaking with various NL executives as well as team sources, Martino comes up with three things to keep in mind: * No matter what happens with Jose Reyes this winter, it is highly unlikely that Wright will be traded before spring training. "(Sandy Alderson...
At the All-Star break, this award looked like Jose Reyes' to lose. The Mets shortstop was having a dominant year, and had piled up 5.2 fWAR in 80 games. In the 46 games after the break, he was worth just 1.0 fWAR, and tailed off in the race. Other candidates stepped up big time, and the award looked a lot more competitive at the end of the day. But when all the votes were tabulated...
MLB News

Delivered to your inbox

You'll also receive Yardbarker's daily Top 10, featuring the best sports stories from around the web. Customize your newsletter to get articles on your favorite sports and teams. And the best part? It's free!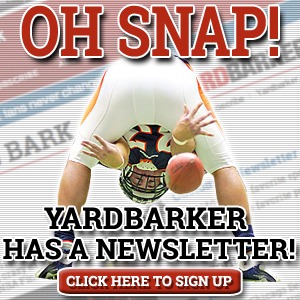 Latest Rumors
Best of Yardbarker

Today's Best Stuff

For Bloggers

Join the Yardbarker Network for more promotion, traffic, and money.

Company Info

Help

What is Yardbarker?

Yardbarker is the largest network of sports blogs and pro athlete blogs on the web. This site is the hub of the Yardbarker Network, where our editors and algorithms curate the best sports content from our network and beyond.