Found February 20, 2013 on isportsweb.com:
The Arizona Diamondbacks went from 2011's MLB darlings to 2012's disappointment. A lot has to go wrong for a team to go from 94-68 and division winners by 8 games to 81-81 and 13 games out of first place just one year later. A closer examination of the numbers show that the D'backs actually scored 3 more runs in 2012 than in '11 and only allowed 26 more. The big difference was that they had trouble winning games late. GM Kevin Towers and Manager Kirk Gibson seemed to think that they just didn't have their type of guys on the roster. What that really meant was shipping out or letting go of Justin Upton, Chris Young, and Stephen Drew. These 3 won't be officially labeled the fall guys for 2012's drop-off but they might as well be. New faces that will see major playing time in 2013 include starting pitcher Brandon McCarthy, OF Cody Ross, and new 3B Martin Prado, who came over in the Upton trade. Cliff Pennington came to town via the Chris Young deal and will log the majority of the starts at shortstop. 3 Up                                                                      Best Case Scenario for 2012 The D'backs play in a division that houses the World champions from 2010 and 2012 in the San Francisco Giants as well as the Los Angeles Dodgers, whose new ownership just spent a major fortune to prove that they are ready to contend once again. But if Gibson can get these guys playing baseball with the same tenacity that he did, they will be able to contend for the division. In the end though, I feel that their best-case scenario is to grab a wild card spot and hope for the best. Most Important Diamondbacks Miguel Montero Look around the 25-man roster and you quickly realize that Miguel Montero is the longest tenured member of the everyday players. No catcher across the league gets less respect for his accomplishments than Montero. Over the last 2 years he has caught 140 and 141 games respectively while posting impressive offensive numbers and improving his game-calling and defense along the way. In 2011 and '12, Montero has hit over .280 while averaging 16.5 homers and 87 RBI's per season. He improved his contact rate against left-handed pitching last year, which was his last hurdle toward catcher stardom. Montero is 29 now, smack dab in the middle of his prime. Look for him to take the on-field leadership role that he has been given and run with it. Ian Kennedy frontlines a rotation that promises to be one of the better National League units in 2013. But for it to be considered among the elite, Kennedy needs to resume his role as a true ace, ala his 2011 season. He has been a workhorse since coming over from the Yankees, averaging 208 innings/year since 2010. In 2012, his walks and strikeouts were right in line with his breakout 2011 season but he proved to be much more hittable. In 14 less innings he allowed 30 more hits, which pumped up his 2.88 ERA and 1.09 WHIP from 2011 to 4.02 and 1.30 respectively. If he can keep the bases a little cleaner this season, and Trevor Cahill, Wade Miley, and McCarthy do what is expected of them, they will be right there in the end. Potential Breakout Players With Chris Young moving on to Oakland via trade, the centerfield gig has been opened up for Adam Eaton. The 24-year old stands just 5'8'' and weight 185 pounds, but he can flat out play ball. He nabbed 103 plate appearances late last year in Arizona and posted a .382 on-base %, showing his superior on-base skills. Eaton literally has nothing left to prove at the minor league level. In 130 games between AA and AAA in 2012, he hit a whopping .375 with a .456 on-base %. His stat line included 130 runs, 47 doubles, 5 triples, 7 homers, and 44 steals. Eaton projects as a top of the order terror that should be a very fun player to watch. With Kennedy, Cahill, Miley, and McCarthy occupying the top 4 spots in the rotation, there will be a nice spring training battle for the #5 spot. Candidates include Patrick Corbin, Tyler Skaggs, and potentially Randall Delgado, who came over in the Upton trade. To me, Skaggs is the one to be most excited about. He was recently ranked the #10 prospect by MLB.com. His minor league numbers are much like Eaton's – videogame like. Skaggs will turn 22 in July, yet was good enough to get a 6-start cameo last season. In 2011, in High A and AA ball, he K'd 198 in just 158.1 innings alongside a 2.96 ERA and 1.11 WHIP. He followed that up in 2012 with a 2.87 ERA, 1.22 WHIP and 116 K's over 122.1 innings between AA and AAA. He's pitched enough innings the last 2 years that Arizona can feel comfortable handing him the ball every 5th day if he earns the right in camp. He is regarded as having the best curveball in the minor leagues and can spot his 92 MPH fastball as needed. When you have a proven top 4 such as what Gibson can call upon, having a high upside guy like Skaggs in the 5-hole is a gamble worth taking. 3 Down Worst Case Scenario Adam Eaton The D'backs have decided to trade high profile talent for gritty players who know how to get on base. Can that formula work in the NL West? It's not going to be easy but I like the pitching, both in terms of starters and relievers, and the lineup could click. This has the feeling of a team that sort of resembles some of Billy Beane's better teams in Oakland. If they don't find enough firepower from an offensive standpoint, they could struggle and fall to the middle or back of the NL West pack once again. If they hang in the race long enough, they have the minor league pieces to move at the deadline to upgrade the major league roster. Again, this is straight out of Beane's playbook. This season is truly anyone's guess as to how good or bad things could go. Areas of Concern Cohesiveness instantly comes to mind. The entire 2012 season seemed to get off on the wrong foot for the D'backs. Chris Young missed a lot of time due to injury after a red-hot start, Stephen Drew was slow to return from an ankle injury, and Upton battled injury much of the year, which turned an expected year of dominance into a very mediocre campaign for a player of his caliber. Noise was coming from the front office all year long about how they weren't happy with certain players. Trade rumors swirled nonstop around Upton for about a year and a half. It was just plain messy. Credit the AZ brass for making the team look how they want it to. Now it's all on them. Failure and success will be theirs to claim. Who Needs to Bounce Back From a Down 2012 Cliff Pennington was brought over in the Chris Young deal to play shortstop. Arizona expects top-shelf defense from him and is realistic about his meager bat. But hitting .215 with a .278 on-base % like he did in 2012 is pathetic even by Pennington's standards. If the D'backs can get him to hit along his career averages of .249 with a .313 on-base % they would be absolutely thrilled. Arizona brought in Tony Sipp from Cleveland and Heath Bell from the Marlins to beef up the bullpen. Bell lost his closer's role in Miami last year as he was brutal for the season's first 5 months. Suddenly in September, he rolled out a 0.82 ERA by allowing just 1 run in 11 innings, striking out 12. That's the player Arizona hopes they traded for. The one who finished the year with a 5.09 ERA and 1.55 WHIP has no business being on any team with pennant aspirations. [Follow me on Twitter @isportsJoe]
Original Story:
http://feedproxy.google.com/~r/isport...
THE BACKYARD
BEST OF MAXIM
RELATED ARTICLES
Tweet   The Arizona Diamondbacks may very well be the top contender for Most Fun Spring Training: 2013. They wasted no time joining the Harlem Shake craze by giving us this video and with new members on the team like Brandon McCarthy, Eric Chavez, and Martin Prado next on the agenda was a little team-building [...]
SCOTTSDALE, Ariz. -- After a rookie season that saw Diamondbacks starting pitcher Wade Miley win 16 games, make the All-Star team and finish second in National League Rookie of the Year voting, it might seem natural he'd come to spring training this year with a little swagger. Save a little seniority in the clubhouse, that has not been the case. Instead, Miley showed up for...
ap photo On Monday Brandon McCarthy faced hitters for the first time since fracturing his skull. "It honestly is completely normal," said McCarthy, who threw behind a protective screen like most of his other teammates. "Anything you would have thought might have been there wasn't. I was more nervous about where my command was at, where my stuff was at." Diamondbacks manager...
Courtesy of @CharlesBrewerAZ Heath Bell was acquired by the Arizona Diamondbacks last October in a trade with the Miami Marlins. And it appears as though the big right-hander is blending in just fine with his new club, literally.The D'backs held a Paintball Day as part of a team-building exercise at their spring training facility in Arizona on Tuesday, and as you can see, Bell...
The whole point of moving to Arizona, or holding baseball or golf events there, is that the weather will be nice. But, thanks to global warming — or just weather trickery at its best — that's no longer the case. The World Golf Championships-Accenture Match Play Championship found that out the hard way Wednesday when a freak snowstorm stalled play. Now, the Arizona Diamondbacks...
The Arizona Diamondbacks have acquired outfielder Tony Campana in a trade that sent right-handed pitchers Jesus Castillo and Erick Leal to the Chicago Cubs., http://juicedsportsblog.com/sports-news/news/diamondbacks-trade-for-campana
SCOTTSDALE, Ariz. Spring training in Arizona often features a rainy day or two, but rarely has a Cactus League team had to adjust for snow. That's what the Diamondbacks faced Thursday, as a Wednesday's snowfall forced them to move the day's workouts to the Athletics' minor league training facility in Phoenix. "It's pretty weird," starting pitcher...
SCOTTSDALE, Ariz. -- After the Chicago Cubs designated outfielder Tony Campana for assignment on Feb. 10, he wasn't sure where he'd go next or how he'd stay sharp -- he ended up utilizing a local gym and a public batting cage. Now with the Diamondbacks following his trade to the team Monday, Campana still faces some uncertainty, but he's pleased to at least have...
Photo credit: Sports Crazy At the tender age of 24, Paul Goldschmidt batted .286/.359/.490 with 20 HRs and 18 SBs (against just three caught stealings). He scored and knocked in 82 runs in just 145 games. This followed up a somewhat impressive debut in 2011, during which he socked eight dingers in just 48 games. However, there is a reason Goldschmidt only played 145 games last season...
SCOTTSDALE, Ariz. In a perfect world, the Diamondbacks would break camp with two left-handers in the starting rotation, the better to match up against the likes of division lefties Carlos Gonzalez, Adrian Gonzalez, Yonder Alonso and even switch-hitter Chase Headley, who hits better from that side. But general manager Kevin Towers has made it perfectly clear that the competition...
Welcome to warm and sunny Scottsdale, Arizona, home of MLB Cactus League Spring Training. Or, welcome to the snow.  This picture was taken today just west of Salt River Fields, where the Arizona Diamondbacks and Colorado Rockies train. Picture by me, taken as I was driving my sled. Yes Pedro Guerrero, it's really snow. Cactus League games start Friday....
I am Bear Jew, hear me roar. It wasn't long ago that the Diamondbacks were the feel good story in all of baseball. It seemed like that 2011 team was Justin Upton and a bunch of guys, and they rolled into the NLDS against the Milwaukee Brewers where they came ever so close to advancing to the 2011 NLCS. The model worked as it should, a team built around a young superstar overachieved...
Diamondbacks News

Delivered to your inbox

You'll also receive Yardbarker's daily Top 10, featuring the best sports stories from around the web. Customize your newsletter to get articles on your favorite sports and teams. And the best part? It's free!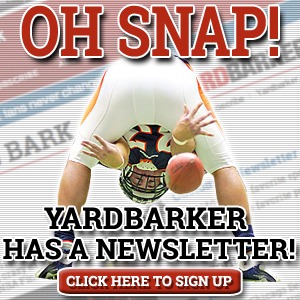 Latest Rumors
Best of Yardbarker

Today's Best Stuff

For Bloggers

Join the Yardbarker Network for more promotion, traffic, and money.

Company Info

Help

What is Yardbarker?

Yardbarker is the largest network of sports blogs and pro athlete blogs on the web. This site is the hub of the Yardbarker Network, where our editors and algorithms curate the best sports content from our network and beyond.