Found December 11, 2012 on ChadMoriyama.com:
"If you are what you say you are…" —– Dodgers Now: Bill Shaikin reveals that the Dodgers are no longer exclusively talking with Fox, as they've met with Time Warner now. The Dodgers and Time Warner Cable have met to discuss a potential deal for the team's television rights, according to two people familiar with the talks but not authorized to comment on them. The Dodgers are considering at least three options for their next television home: the Prime Ticket cable channel owned by Fox Sports, the SportsNet cable channel owned by TWC or a new channel owned by the team. Not sure whether this is a positive or a negative in terms of potential television money, but I figure competition rarely generates a lower return. Baseball Prospectus: Maury Brown had an interview with Stan Kasten at the Winter Meetings. —– Los Angeles Times: Bill Shaikin warns about the perils of long-term big-money contracts. But… They do take players to 2017, and beyond. If the Dodgers win in 2013, well, who cares? …that's always the rub. If they win, even if the players start to implode in the context of their contracts, it's justifiable. Flags fly forever, after all. But they have to win. FanGraphs: Jeff Sullivan reminds us that even if the Dodgers literally had an unlimited payroll and bought every top player they could on the free agent market, it still wouldn't have resulted in a division winner in 2012. Smarts still matter. The limit though becomes roster spots. —– FanGraphs: Dave Cameron questions why people assume prospects are always unknown quantities but are fine assuming that veterans always provide consistent results. Wil Myers is a risk, but so is James Shields. So is Albert Pujols. So is Justin Verlander. So is everyone. When we start using labels like "prospect" or "proven veteran" to describe players, we lose that reality. Myers and Shields both have the chance to be good, bad, or anything in between. Let's not let the terms we use to describe player types obscure that fact. The Royals didn't trade a lottery ticket for a paycheck; they traded a few lottery tickets for a scratch-off card. They probably did reduce their overall performance risk for 2013, but it didn't go to zero. Let's not pretend that we know so much about projecting the future of Major League players that we create an artificial divide where one does not exist. Prospects come with uncertainty, but so do Major League players. Everyone is a risk. You weigh that risk against the potential rewards, and you figure out which trade-offs are worth making. Once you cross over into treating some players as non-risks, though, you've stopped evaluating players properly. And then you make trades like the one the Royals just made. This is precisely how I've thought since I started blogging. Everybody has a percentage of relative success, and things can always go against that, but what you want to try and do is play the odds as best you can and hopefully the cards go your way.
Original Story:
http://feedproxy.google.com/~r/ChadMo...
THE BACKYARD
BEST OF MAXIM
RELATED ARTICLES
In a somewhat surprising move, the Dodgers on Wednesday designated Scott Van Slyke for assignment to make room for the newly acquired Skip Schumaker. The Dodgers had a few options from which to choose -- Justin Sellers, John Ely, Stephen Fife and Juan Uribe -- but theey decided to ditch Van Slyke. The most obvious choice would have been Sellers, as he was coming off...
LOS ANGELES Finally. An honest man. Maybe even two. Zack Greinke said that when it came down to choosing the Dodgers over other teams pursuing him, it was all about the money. The new Dodgers right-hander said that he was leaning toward joining the Texas Rangers before taking the Dodgers offer of 147 million over six years. The negotiations changed, he said. Was it the money...
Mike Petriello of Mike Scioscia's Tragic Illness reported tonight the Dodgers have sent infield prospect Jake Lemmerman to the Cardinals for infielder/outfielder Skip Schumaker. The Dodgers, in need of a bench player, land a versatile player in Schumaker, 32, who can play second base and the outfield (including center field). He isn't going to unseat Mark Ellis as...
Over the weekend, the Los Angeles Dodgers broke the proverbial bank when they added free agent pitchers Zack Greinke and Hyun-Jin Ryu to their already bloated payroll.But they only made one go "Gangnam Style" during his first photo shoot with the team.Seriously, is that how we welcome a Korean-born baseball player to the Majors?  I can't imagine that dude donned the...
On Saturday, the Los Angeles Dodgers gave one of the biggest contracts in baseball history to Zack Greinke. On Sunday, the Dodgers gave a big contract to Ryu Hyun-Jin, who has never before pitched in the majors. The Dodgers still might not even be done, and neither of the moves this weekend came as a surprise, because as we've established, the Dodgers have all of the money. The...
By SBRForum.com It was announced this past Sunday that the Los Angeles Dodgers have signed left handed pitching sensation Hyun-Jin Ryu to a huge, six year contract. With the signing, the team will see a lot more depth in their starting pitching position that will surely make them more dangerous as a team in 2013. Ultimately, this signing makes the Los Angeles Dodgers viable MLB picks...
It must be good to be a Dodger fan nowadays. With Frank McCourt a distant memory, a roster full of talent, and an ownership group willing to use its vast resources to aggressively sign free agents, it seems that optimism abounds once again at Chavez Ravine. Case in point: the Los Angeles Dodgers today announced the signing of left-handed starting pitcher Hyun-Jin Ryu to a six...
Earlier today, the deal that has been the talk of  the town, was finally consummated when new starting pitcher Zack Greinke donned his new Dodger jersey and ball cap for the first time amid an army of reporters. Having recently signed a league record six-year deal for $147 million, the Dodgers continued to show the rest of baseball that they planned to be a force to be reckoned...
So what's next for the 2012-2013 off-season champion Dodgers? Danny Knobler says Anibal Sanchez has been discussed, but Buster Olney says the Dodgers aren't going to be signing any more pitchers. As far as Sanchez goes, I'm inclined to believe Olney, because while I believe the team's budget is comically high, I do believe they have one and that it would simply be overkill...
The Los Angeles Dodgers acquired infielder-outfielder Skip Schumaker from St. Louis for minor league infielder Jake Lemmerman on Wednesday. Schumaker hit .288 with 23 home runs and 211 RBIs in 810 games from 2005-12 with the Cardinals, where he had spent his entire career. The left-handed hitter has a .305 career batting average against right-handers. The 32-year-old Schumaker...
Maybe Mick Jagger and Keith Richards were wrong. The Los Angeles Dodgers may prove you can get what you want and what you need.  The only question left is whether Dodgers fans will get satisfaction. Ryu Hyun-jin pitched for Korea in the 2009 World Baseball Classic at Dodger Stadium. After the 2012 season ended, Dodgers GM Ned Colletti made it clear he would be looking for a couple...
Well, it happened.  Zack Greinke is staying in Southern California, but he'll be doing so wearing Dodger Blue and all the Angels have to show for it is a wobbly rotation and a giant hole in their farm system where three quality prospects used to be. Some corners of the baseball world are applauding Jerry Dipoto for the restraint he showed in not giving into Greinke's...
MLB News

Delivered to your inbox

You'll also receive Yardbarker's daily Top 10, featuring the best sports stories from around the web. Customize your newsletter to get articles on your favorite sports and teams. And the best part? It's free!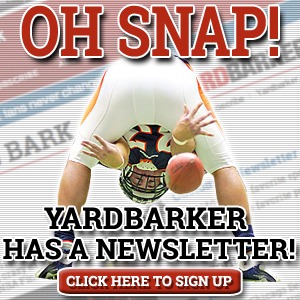 Latest Rumors
Best of Yardbarker

Today's Best Stuff

For Bloggers

Join the Yardbarker Network for more promotion, traffic, and money.

Company Info

Help

What is Yardbarker?

Yardbarker is the largest network of sports blogs and pro athlete blogs on the web. This site is the hub of the Yardbarker Network, where our editors and algorithms curate the best sports content from our network and beyond.