Found February 04, 2013 on Obstructed View OLD:
PLAYERS:
Starlin Castro
,
Matt Tolbert
,
Junior Lake
,
Brett Jackson
,
Javier Baez
,
Yuniel Escobar
,
Alexei Ramirez
,
Stephen Drew
TEAMS:
Chicago Cubs
,
Tampa Bay Rays
,
Chicago White Sox
,
Boston Red Sox
The future at SS is pretty bright. The Cubs' minor league system features a consensus Top 20 prospect (albeit one with a low floor), an organizational Top 15 prospect (albeit one with a huge issue), and a guy that has incredible tools (though SS might not be his final destination). Without further ado, lets get to it.       Last Year       2013 Career         Name Age AVG OBP SLG wOBA pwOBA AVG OBP SLG wOBA MLB Castro 23 0.283 0.323 0.430 0.323 0.341 0.297 0.336 0.425 0.330 AAA Tolbert 31 0.240 0.313 0.304 0.282           AA Lake 23 0.248 0.300 0.380 0.356             Soto 23 0.220 0.310 0.282 0.286           A+ Alcantara 21 0.302 0.339 0.447 0.356             Baez 20 0.188 0.244 0.400 0.288           A Baez 20 0.333 0.383 0.596 0.432             Hernandez 20 0.210 0.249 0.299 0.251           A- Hernandez 20 0.283 0.306 0.413 0.333           Rk Penalver 19 0.273 0.341 0.322 0.321           The league average SS had a wOBA of .300 last season. MLB Starlin Castro is the real deal. 2012 was arguably his worst season as a professional: he was still 7th among qualified shortstops last year in wOBA. He turns 23 this year: we are lucky to have him. Sure, he could walk more or commit fewer errors, but there comes a point when you just have to accept that Castro isn't perfect, but he does a ton of things very well, and he's improving as a player in many areas. AAA Only Matt Tolbert's parents care about Matt Tolbert. He's over 30 and can't hack it in the PCL. I can't find information regarding his status with the club: I'm assuming he's gone, and he should be.  AA Junior Lake is a curious sort. He's got incredible tools (the only 80 arm in baseball, according to some scouts), and he's generated some pretty decent numbers in his slog through the minors. The knock on Lake is his apparent inability to hit a baseball (or field one, either). He's got Brett Jackson-like strikeout numbers, but he doesn't walk like Brett Jackson does (though his walks aren't always completely terrible). He's been in the Cubs' system for 5 years now and only made it to AA: some people thought he was going to beat Castro up to SS and that obviously hasn't happened. He should break with AAA this year, maybe at 3B, and have one last year to put it together. Their is clear talent there, but it may never materialize. (Aside: I saw him play in person once during the 2011 season. He looked like complete *******, for what's it's worth (almost nothing.)) Elliot Soto is an afterthought, as many who can't outslug their OBP are. A+ Arismendy Alcantara showed some pop last year (.145 ISO) and some speed (24 SB), two parts of his game that are relatively new in the toolbox. Alcantara is cutting down on the strikeouts as he ages: this is a good thing, because they were at a terrible rate. Arismendy does not walk nearly enough to get by, so he'll really need to cut down on strikeouts if he wants to play in the majors some day. He's moving in the right direction; an increase in his walk rate would elevate him to the next level of prospecthood. Javier Baez is the real deal. He annihilated A ball this year, with an absurd .263 ISO and .432 wOBA. Just for *****, I put in his Peoria numbers into a MLE generator, and his line was .235/.269/.377: that OPS is basically Yunel Escobar or Alexei Ramirez or Stephen Drew. He can definitely field SS: the reservations on that have basically been laid to rest. He's no sure thing, and he did struggle in a late-season promotion to A+. I'm not at all worried about that, though: his BABIP in A+ was .200: his walk numbers were actually up (and his K%), and his power was still a very nice .213 ISO. There are whispers that Baez could just start 2013 in AA. I'm not sure I like that (Alcantara deserves to start there), but it would be a nice sign that the Cubs FO is as in love with Baez as we are. A Marco Hernandez is an all-glove prospect. He draws rave reviews for his defense, and in A- he even hit fairly well (he puts the ball in play with alarming frequency). The wheels fell off in a promotion to A ball, and he's got plenty of interesting prospects in front of him. If he grows into his size, he might get some more power (he has some already) and be a really interesting piece; if he doesn't, he might end up on a major league roster some day as a backup middle infielder.  A- None. Hernandez was here, and got promoted. Stephen Bruno is a 3B prospect, to me. Rk Carlos Penalver actually has quite a bit of data on him (516 PA over two years). He's shown an ability to take walks and put the ball in play… but he has very, very little power (see Elliot Soto for my thoughts on people with OBP higher than SLG). I can't pretend to know his body (6-0, 170, so he'll likely grow into some power), but it has to be encouraging to see a 19-year old with his plate discipline. He's still a few years away from being in the periphery. There are some huge talents here. Baez is the #1 prospect in the organization. Alcantara and Hernandez or almost certainly in the Top 15, and Lake has more tools than both of them (and might be in my Top 15 or so as well). All of this is moot because the guy in the majors is already a franchise cornerstone. SS is one of the hardest positions to fill, and the Cubs are absolutely loaded with prospects there (even if Baez ends up at 3B (which I doubt unless it's because of Castro), Lake ends up at LF, and Alcantara ends up at 3B) . Get happy! Projected Rosters MLB: Castro/Barney AAA: NRI (Lake will play 3B, likely?) AA: Alcantara/Soto A+: Baez A: Hernandez A-: Penalver   The post Assume the Position: SS appeared first on Obstructed View.
Original Story:
http://www.obstructedview.net/comment...
THE BACKYARD
BEST OF MAXIM
RELATED ARTICLES
There is no doubt that a team which lost 101 games is going to have more than a few question marks, but Theo Epstein and company have done their best this off-season to limit the amount of uncertainty for the Cubs going into 2013.  While the Cubs brass has done their best to improve the team this winter, there are still a few big questions that Cubs fans everywhere should be asking...
I was working on an idea for a post using the 2013 Cubs projections. The idea was to calculate an approximation of the best case scenario win total. I was going to use the 65th percentile projection for every player just for fun. I'll finish that before the season, but as I was getting the position player projections into a spreadsheet of their own, I noticed four players that...
The Chicago Cubs are taking a big chance on a player returning from injury and who was oft-injured in the past three years. Third baseman Ian Stewart played in only 55 games for the Cubs in 2012 due to a lingering wrist injury, hitting a disappointing .201. His season ended in June, and he had surgery to repair the wrist in July. Stewart resumed baseball activities...
There is good news for the Chicago Cubs and their fans. Starting pitcher Matt Garza threw his first pain-free and discomfort-free bullpen session since last July. CBS Sports.com's Matt Snyder reports that Garza threw 30 pitches with no discomfort to his triceps or elbow. Garza suffered from elbow stress last July, and it ended his 2012 season. Cubs' pitching coach...
Northwestern and the Chicago Cubs have announced a partnership that includes five college football games at Wrigley Field. The dates of the games are still to be determined due to construction work at the Cubs' storied ballpark. In 2010, Illinois beat Northwestern 48-27 at Wrigley Field in a game that required both teams to run offensive plays only toward the west end zone...
There are crushes, there are man-crushes, there are bro-mances, heck, I even have my advanced stat man-crush, Ben Zobrist! But I am going to add a new kind of crush to the list. A rotation crush! See, I was pouring over pitching stats, preparing for upcoming fantasy drafts, as I am want to do and came across the Chicago Cubs starting rotation and well, woah, mama! After just a quick...
When Denny Garkey built his little league park to replicate Wrigley Field, he paid attention to every detail. In Freeport, IL he brought to life a little league baseball field that recreated every aspect of his own field of dreams. Now he's adding bleachers to his masterpiece, Little Cubs Field. A fundraising drive is starting now, with Cubs fans being offered a chance to make...
In some ways, the Northwestern Wildcats and Chicago Cubs were meant for each other. Both had/have major droughts. The NU college football team just won their first bowl game since 1949, and the college basketball has never ever made the NCAA Tournament, 70+ tries. As you've heard a million times, the Cubs haven't been to the World Series since 1945 and won one since 1908. The...
At Wrigley Field on Tuesday, Northwestern University and the Chicago Cubs organization announced a historic business partnership.
Northwestern uses the term "Chicago's Big Ten Team" and they've taken more and more steps to claim that territory for their own in recent years, including a historic football game played at venerable Wrigley Field in 2011. Well, on Tuesday the school and the Chicago Cubs announced an agreement to hold at least five future football games at the "Friendly Confines...
MLB News

Delivered to your inbox

You'll also receive Yardbarker's daily Top 10, featuring the best sports stories from around the web. Customize your newsletter to get articles on your favorite sports and teams. And the best part? It's free!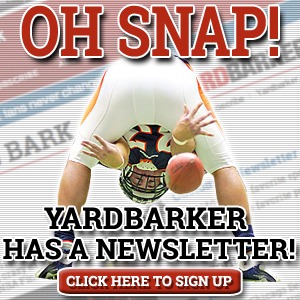 Latest Rumors
The Backyard

Today's Best Stuff

For Bloggers

Join the Yardbarker Network for more promotion, traffic, and money.

Company Info

Help

What is Yardbarker?

Yardbarker is the largest network of sports blogs and pro athlete blogs on the web. This site is the hub of the Yardbarker Network, where our editors and algorithms curate the best sports content from our network and beyond.