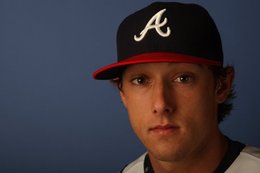 Houston Astros outfielder Jordan Schafer was arrested early Tuesday morning in Tampa, Fla. for felony possession of marijuana, the St. Petersburg Times reported.
The report said Schafer was released after 5 a.m. after spending three hours in custody and posting $2,000 bond. He was stopped by police for having an expired registration on his vehicle, which had a strong smell of marijuana coming from it, according to the report.
Schafer was in possession of 25 grams of marijuana, five above the threshold for a third-degree felony rather than a misdemeanor, the report said. There are just over 28 grams in an ounce.
Schafer, 25, was traded by Atlanta to Houston this summer in the Michael Bourn deal. He batted .242 with two homers, 13 RBI and 22 steals this season.
Read the rest of this story...
MORE FROM YARDBARKER
MLB News

Delivered to your inbox

You'll also receive Yardbarker's daily Top 10, featuring the best sports stories from around the web. Customize your newsletter to get articles on your favorite sports and teams. And the best part? It's free!