Found June 13, 2012 on Fox Sports:
PLAYERS:
Nolan Reimold
,
Brian Roberts
,
Chris Davis
,
Starlin Castro
,
Ryan Dempster
,
Brett Gardner
,
Omar Infante
,
Jason Kubel
,
Matt Wieters
,
Melky Cabrera
,
Scott Podsednik
,
Clayton Kershaw
,
Johnny Cueto
,
Jered Weaver
,
Justin Verlander
,
Ryan Vogelsong
,
Cliff Lee
,
Fernando Rodney
,
Jose Bautista
,
Albert Pujols
,
Alfonso Soriano
,
Carlos Gonzalez
TEAMS:
Baltimore Orioles
,
Chicago Cubs
,
New York Yankees
,
Miami Marlins
,
Arizona Diamondbacks
,
San Francisco Giants
,
Boston Red Sox
,
Los Angeles Dodgers
,
Cincinnati Reds
,
Los Angeles Angels
,
Detroit Tigers
,
Philadelphia Phillies
,
Tampa Bay Rays
,
Toronto Blue Jays
,
Colorado Rockies
ORIOLES IN THE NEWS Nolan Reimold, who started out the season on fire, looking like he was going to be a mixed league force in the outfield, continues to linger on the sidelines with that herniated disk in his neck (the pain has subsided, but there is still weakness in the area). Tuesday he was moved from the 15 day DL to the 60 day DL pushing back his return to action even farther. The move had to be made to activate, wait for it, Brian Roberts. You know, the former All-Star who used to steal 30 bases, hit .290, and score 90 runs a year. Roberts is being thrust right into the leadoff role Tuesday in his first game of the season as the Birds want to see if he is truly over the concussion woes that have plagued him for a couple of years now. Roberts last appeared in 60 games in the 2009 season, so he's far from a lock as someone you have to add in a 10 or 12 team mixed league, but if you're in a 15 team mixed, or if you're in an AL-only league, Roberts is someone that should really be piquing your interest right about now. It's time to give Chris Davis some props. Long thought of as power bat with a potentially dangerously low batting average, the guy has 10 homers putting him on pace for about 27 homers, but look at that batting average ? it's at .298 thanks to a nice run of late that has seen him hit .338 over his last 71 at-bats. The walk rate is down at 4.9 percent, a five year low but he's offset the lack of free passes by lower his K-rate to his lowest rate at 27.6 percent. Some quick analysis leads to a 0.18 BB/K rate, and that's awful. It's not impossible for a guy to have a mark that low and hit .300, but it's nearly impossible for a guy to do it. I realize the double-talk nature here, but here's the facts. Last season only one player who qualified for the batting crown hit .300 with a BB/K mark under 0.35 and that was Michael Morse at .303 and .029. Expect the average to dip a bit, but we could still be looking at a career best mark this season for Davis (he hit .285 in 295 at-bats as a rookie and then followed it up with three seasons under .267). CUBS IN THE NEWS Starlin Castro is hitting an impressive .308, one point better than he hit last year. He's hitting .328 against lefties and .301 against righties. He's hitting .306 at home and .309 on the road. He's hitting .304 under the sun and .312 under the lights. He hit .333 in April. He hit .304 in May. So with all those .300's what is he doing hitting .262 in June? Perhaps it has something to do with his continued defiance at taking a walk. After walking three times in April he walked just twice in May and he's down to one in June. When you're hitting .308 and your OBP is merely .320 you have a problem that can certainly lead to a dip in production as you lack the patience needed to whether the tough times. It would also help if he focused on what he was doing out there. Think about that. How good could he be if he was applying himself 100 percent? Scary. Ryan Dempster is drawing interest from the Dodgers who apparently want him to be part of their starting rotation (pretty much any team should). Dempster has said he would accept a trade if the right situation arose, he's a 10-5 guy so he would have to OK any deal, and the Dodgers certainly seem like a squad he would accept being dealt to. Look past the 2-3 record and focus on the 2.31 ERA, 1.03 WHIP, 7.66 K/9 and 3.15 K/BB. The walk rate and K/BB ratio would both be career bests, but the fact is the guy is just locked in right now. AROUND THE LEAGUE Brett Gardner is still out with that wonky elbow. He's killing me. He's killing you. He's killing the Yankees. Setback after setback has come his way, and now we get this from Gardner after he visited Dr. James Andrews. "It really doesn't matter what he said. I think I'm going to play." He thinks he's going to play? It seems like there is a chance that he may not play against this season. You're killing me smalls. Edwin Jackson has a 3.02 ERA and a 1.01 WHIP through 12 starts as he continues to show the one trait he has always lacked ? consistency. Over his last seven outings he's failed to go six innings just one time and he's also allowed three or fewer earned runs each time on the hill. The walks are starting to creep back into his game with 10 in his last three starts, but the Nats and his owners are getting an impressive effort from the hard throwing righty. Omar Infante is hitting .296 with six homers, and that's an excellent effort anyone would have accepted from him three months ago when you drafted him. Still, he's hit just .182 the last 13 games and the last time he hit a homer was ... May 8th. That's over a month folks. Did you listen when we warned you that (A) the average would come down and that (B) his homer pace would evaporate? This has nothing to do with anything, but I saw Lil' Kim in concert last night, and she brought the passion. I know, you literally wish you were me, don't you? BY THE NUMBERS .309: The batting average of Jason Kubel in 68 at-bats against the southpaws. The reason that is so impressive is that Kubel has hit .246 against lefties in his career often leading him to a platoon roll. He's not sitting against many lefties at this point, and the overall results have been pretty solid with a .299 average, six homers and 36 RBI this season. .389: The batting average of Matt Wieters over his last 36 at-bats, that coming on the heels of his .071 batting average over the previous .071 at-bats. In the end he's hitting .255, just off his career .263 batting average. Not great, but at least he's going in the right direction right now. .405: BABIP off Melky Cabrera who is back in action for the Giants on Tuesday after missing time with a hamstring issue. You don't need a long dissertation to explain why Cabrera is unlikely to keep that up, do you? He's especially unlikely to keep the pace given that his line drive rate is solid at 20.9 but not anywhere near elite. .405: The batting average of Scott Podsednik since he was called up by the Red Sox. Moreover, that mark in 42 at-bats leads all AL batters with a minimum of 25 plate appearances. He didn't have an at-bat in 2011 but he did hit .297 in 2010 and .304 in 2009. Who knew? 1: The amount of hits that Allen Craig has over his last three games (11 at-bats). This comes on the heels of a run of 10 hits in five games, and the guy is hitting .345 over 87 at-bats so it's far from time to panic. Still, you do realize that he's struck out in 5-straight games and that after hitting .373 with a 1.188 OPS in his first 13 games that the numbers have started to regress over his last nine games with a .306 average and .875 OPS? 2.38: The majors league leading ERA since the start of last season belonging to Clayton Kershaw. Here's the others with an ERA under 2.60 (minimum 200 innings pitched) - Johnny Cueto (2.42), Jered Weaver (2.45), Justin Verlander (2.48), Ryan Vogelsong (2.57) and Cliff Lee (2.58). 6: The number of pitchers who have had 18 saves with an ERA of lower than 0.95 on June 12 of a season. That list numbered five hurlers before Fernando Rodney joined the list (18 saves, 0.94 ERA). Good luck on that continuing. 26: The league's leading RBI total of Jose Bautista since May 15, one RBI ahead of Albert Pujols who has 25. The NL leader in RBI in that time is Alfonso Soriano with 23 though Soriano gets even in the homer category with 12 homers, three more than Bautista and Carlos Gonzalez for the highest total in the game. 30: The major league ranking of the Athletics in batting average (.220) and SLG (.347). They are much better in OBP as they rank 29th, while they're even better in scoring runs at 28th. Yes, they are awful on offense. Get a FREE RotoWire 10-day trial (no credit card required) at RotoWire.com .
Original Story:
http://msn.foxsports.com/fantasy/base...
THE BACKYARD
BEST OF MAXIM
RELATED ARTICLES
Brian Roberts has returned to the Baltimore Orioles after being out for 13 months with a concussion. The Orioles planned to activate the two-time All-Star second baseman from the 60-day disabled list on Tuesday. He was penciled into the lineup at his customary leadoff spot against the Pittsburgh Pirates - although wet weather threatened to delay Roberts' season debut for at...
Give the Baltimore Orioles a leadoff hitter, and watch the offense come to life. Brian Roberts returned to the team Tuesday, playing in a major league game for the first time since May 16, 2011. The veteran went 3-for-4 from the leadoff spot, sparking an offense that had 15 hits in an 8-6 win over the Pittsburgh Pirates. Every Oriole who appeared in Tuesday's game reached...
Many thought he'd never play again, yet barring a last-minute setback, second baseman Brian Roberts is due to return to the Baltimore Orioles on Tuesday. Roberts, who suffered a concussion in September 2010 and another in May 2011, wrapped up his rehab assignment Sunday and is expected to rejoin the 25-man roster Tuesday after spending the past year on the disabled list. ...
Brian Roberts is set to play tonight for the first time in 13 months, so what better time to dust off some three-year-old, half-baked research? I put this together in the fall of 2009 to see where B-Rob ranked among the best 2B of the past decade, and I don't know why I didn't post it then. But here it is, the top 2B of the '00s ranked by WAR (with OPS+ and plate appearances...
On Wednesday Brian Roberts completed a long road back from injury making his first start with the Orioles since May 16, 2011. I never thought I would be writing those words this year. I honestly doubted I would ever write those words again. Brian Roberts' recovery was so long and his body seemed so delicate this spring that I never thought he would get back to Camden Yards....
Soon after a concussion interrupted his baseball career, Brian Roberts was more concerned with simply living a normal life than returning to the game he loves. ''There were times throughout the process that the future looked so bleak,'' the Baltimore Orioles second baseman said Tuesday, hours before he was to play his first major league game in 13 months. Roberts...
With Brian Roberts coming back tonight, infielder Steve Tolleson was optioned to Triple-A Norfolk. We will be watching to see what Roberts does in his return; however, Tolleson did a decent job while up with the Orioles and had a few big hits. Tolleson was a victim of the numbers game, and since Ryan Flaherty is a Rule 5 guy, he can't be sent down. I would imagine Tolleson...
Last night, the Orioles won their third straight game in a row as they defeated the Pittsburgh Pirates in interleague action, by a score of 8-6. Wei-Yin Chen (6-2) won another game – he went 6 1/3 innings, gave up four runs, Adam Jones had four hits, along with his 18th homer of the year; in addition, Mark Reynolds and Chris Davis went deep. Jim Johnson got his 19th save of the...
Brian Roberts returned from a 13-month layoff to get three hits and an RBI, and the Baltimore Orioles homered three times in an 8-6 victory over the Pittsburgh Pirates on Tuesday night. Activated from the 60-day disabled list before the game, Roberts went 3 for 4 with a sacrifice fly. Playing in the majors for the first time since sustaining a concussion on May 16, 2011, Baltimore...
Football remains the flash point for the still-evolving discussion of concussions and brain injuries in American sports. Last week saw the latest development, as litigation involving thousands of former players coalesced into a master complaint against the NFL. The issue is less prevalent in baseball, where the risk of neurologic injury is dramatically lower. But the awareness of...
MLB News

Delivered to your inbox

You'll also receive Yardbarker's daily Top 10, featuring the best sports stories from around the web. Customize your newsletter to get articles on your favorite sports and teams. And the best part? It's free!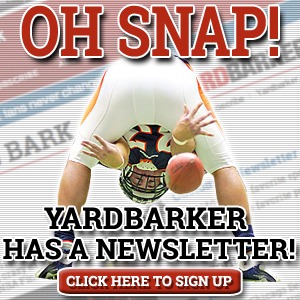 Latest Rumors
The Backyard

Today's Best Stuff

For Bloggers

Join the Yardbarker Network for more promotion, traffic, and money.

Company Info

Help

What is Yardbarker?

Yardbarker is the largest network of sports blogs and pro athlete blogs on the web. This site is the hub of the Yardbarker Network, where our editors and algorithms curate the best sports content from our network and beyond.