Found January 29, 2013 on Fox Sports Wisconsin:
MILWAUKEE -- Mark Attanasio learned a valuable lesson last season: Spending more money doesn't always result in more wins. The Brewers owner stretched his wallet thin last season with payroll at 98.2 million, and the team failed to make the playoffs. This season, Attanasio is quite alright with payroll dropping to somewhere in the 80 million range because it provides him and general manager Doug Melvin with something they didn't have last season: flexibility. The Brewers aren't going to spend just to spend. It's something Attanasio has learned over the course of his eight years writing the checks. "I think it really is the function of the quality of your players and not your payroll," Attanasio said at Brewers on Deck. "We did learn in 2009 and 2010 where we filled payroll and that just doesn't work. "Had the right player come in, we would have spent the money. But we are not going to say OK we don't have that player, so let's go spend 10 million on another player.' It has to be the right player and he has to fill what we are trying to do." Since purchasing the Brewers in January 2005, Attanasio has shown a willingness to add pieces when Melvin feels the club is close to competing, especially at midseason. With the payroll as high as it was a year ago, Attanasio would have felt comfortable adding more salary only if the Brewers were really in the race at the time of the trade deadline and they weren't. However, another lesson learned was how quickly a team can get back into the race even after July 31 thanks to the new second wild-card spot. "We saw last year with our ability to get back into the playoff race with two (wild cards), you can be seven or 10 games out at midseason and still have a shot," Attanasio said. "Now we are in position this year, even if we are back seven, eight, nine or 10 games, to add at midseason given where we have our payroll if we have the right kind of player come up depending how we see the division playing out at that time." The area where the notion of "spending just to spend" could have come into play was in the team's starting rotation. Melvin has said there are three types of spending in baseball: spending wisely, spending badly and spending just to spend. This year, the Brewers opted for wise spending. Attanasio and Melvin weren't going to toss out big money to free-agent pitchers because they felt they had younger, better options in-house. Now those decisions are being questioned and called a gamble, but Attanasio is comfortable handing the ball to his inexperienced starting rotation. "I'm really excited to see how these guys do," Attanasio said. "They not only kept us in the race, they got us back in the race last year. "One thing we can measure is how many of these guys are getting asked about in trades, and the answer is all of them. If other teams, including winning teams, want these guys, why not us use them?" The word flexibility doesn't just apply to making trades down the road. Attanasio believes it also is important the club isn't weighed down by big major league contracts preventing the team from checking out other arms in the organization. "I think it gives us the ability to move guys back and forth from Triple-A," Attanasio said. "Having open roster spots gives you flexibility to bring other guys up. Not all of these guys are out of options. We have other good pitchers in the minor leagues; we have a list of five or six (other) guys who we think are major league-ready." Despite all of the inexperience in the rotation and offseason changes in the bullpen, Attanasio fully expects the 2013 Milwaukee Brewers to compete for the postseason. He never expected the bullpen he spent so much money on building would have collapsed the way it did last season nobody did. "It was durability of the starters and then performance of the bullpen," Attanasio said of the 2012 Brewers' demise. "Hopefully with younger pitchers we aren't going to have durability issues, and hopefully with the new bullpen guys we aren't going to have performance issues in the bullpen." With 14 players playing in the World Baseball Classic, Attanasio isn't concerned about an added risk of injury and believes the earlier competition could help the ballclub. To him, Jonathan Lucroy or Martin Maldonado have the same chance of catching a foul tip off the hand in a spring training game as they do competing for their nations. "I'm hoping we have a faster start this year," Attanasio said. "We've had a little trouble coming out of the gates in other years with slower starts. I hope with a lot of guys playing at a higher level we get out to a faster start this year. "We do aim to compete this year. We do expect to compete for the National League Central." And with the added flexibility, the Brewers are in position to be able to add a piece down the road if they are indeed competing in the loaded division, or even for a wild-card berth. "I'm aware come midseason whether it's (pitching) or somewhere else we may need back and fill," Attanasio said. "We're ready to do that." Follow Andrew Gruman on Twitter.
Original Story:
http://www.foxsportswisconsin.com/01/...
THE BACKYARD
BEST OF MAXIM
RELATED ARTICLES
MILWAUKEE -- In the game of baseball, struggles are inevitable. The game requires players to learn from their miscues, but also to have an ability to let go of the past and forget about it. Nobody knows this better than a closer. With his team so close to winning when he appears in the game, failures are magnified tenfold. Brewers closer John Axford knows this better than anyone...
The Milwaukee Brewers have signed free-agent shortstop Alex Gonzalez to a one-year major league deal, according to a source. Gonzalez will make $1.5 million and will have the opportunity to earn nearly $1 million more in performance bonuses. Gonzalez played just 24 games for the Brewers last season. In 2011 he hit .241 with 15 home runs and 56 RBI in 149 games for the Atlanta Braves...
MILWAUKEE -- For most of his career, Yovani Gallardo has been overshadowed at the top of the Milwaukee Brewers rotation. From Ben Sheets to C.C. Sabathia and then Zack Greinke, Milwaukee has had three bona fide aces for the majority of Gallardo's six years in the big leagues. With Greinke and the other established veterans gone from the Brewers rotation, Gallardo is now the...
As slugger Corey Hart recovers from right knee surgery that is expected to sideline him for the start of the regular season, the Milwaukee Brewers continue to look to bring a first baseman into camp to offer in-house replacement candidate Mat Gamel competition, according to Adam McCalvy of MLB.com. "There's still the possibility that Doug [Melvin, the Brewers'...
We've reached that point in the offseason where there's not much to write about. Well, the Brewers offseason moves up to this point (or lack thereof) haven't given us much fodder either, and it's not like we capitalized on writing something the few times a post was warranted... like that clutch Kelvim Escobar inking. But this post-Winter Meetings, pre-Spring Training...
Perhaps, through his pen, Milwaukee Brewers closer John Axford passed down some of his athletic abilities to this not-yet-born baby.Axford signed Kristin Corcoran's belly and then she posted the picture to twitter with the caption,  "Thanks for the autographs & for reassuring that signing my belly wasn't the strangest request you've had!"
This is a guest post by reader Raymond Bureau. If you are interested in contributing a guest post and having your work featured on MLB Injury News email blaine@mlbinjurynews.com. The Milwaukee Brewers got a big blow to the heart when they learned the fate of their star first baseman / right fielder. Corey Hart will miss four months after having surgery to repair a torn meniscus...
The Milwaukee Brewers are talking to free agent first baseman Lyle Overbay about a potential minor league contract, according to Ken Rosenthal of FOX Sports. #Brewers talking to free-agent 1B Overbay about minor-league deal. Gamel will be regular 1B with Hart out. Overbay played in MIL 2004-05. — Ken Rosenthal (@Ken_Rosenthal) January 28, 2013 Rosenthal adds that...
Brewers News

Delivered to your inbox

You'll also receive Yardbarker's daily Top 10, featuring the best sports stories from around the web. Customize your newsletter to get articles on your favorite sports and teams. And the best part? It's free!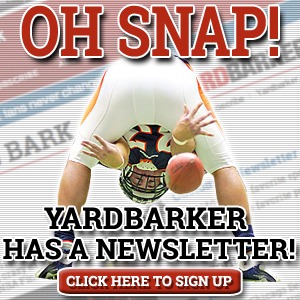 Latest Rumors
The Backyard

Today's Best Stuff

For Bloggers

Join the Yardbarker Network for more promotion, traffic, and money.

Company Info

Help

What is Yardbarker?

Yardbarker is the largest network of sports blogs and pro athlete blogs on the web. This site is the hub of the Yardbarker Network, where our editors and algorithms curate the best sports content from our network and beyond.