Found April 13, 2013 on Seed Spitters:
It's been a while since I've heard the name "Barry" being echoed throughout AT&T Park, but with the recent success of longtime Giant scapegoat Barry Zito, it's the least the fans can do. Zito is the Giants' best pitcher right now. He has yet to surrender a run – an accomplishment even Sergio Romo was unable to hold. Looking back at the first day Zito became a Giant, those words mean more to Giants fans now than they ever have. The dude can pitch. He signed a 7-year $126 million contract before the 2007 season with the Giants after spending his first seven years in the big leagues across the bay in Oakland. He was the best pitcher in the free agent market at the time and Giants' GM Brian Sabean swooped him up with a top-dollar offer. The agony of that contract was realized when the Giants "ace" put up a losing record for the first time in his career (11-13) and a mediocre 4.53 ERA. He also was unable to pitch more than 200 innings for the first time since his rookie season in 2000. Since the first disappointing season, fans have swayed from "He'll be back to the old Zito" to "Why Sabean, why!?" for the last six years. His ERA with Oakland was an impressive 3.55, including a Cy Young award back in 2002. His ERA as a Giant? 4.41 Nearly a run difference has been the dagger in the otherwise legendary man's career. I use "legendary" not in a Babe Ruth, Willie Mays kind of way, but in a way of respect. Zito has been boo'ed by his own fans more than Armando Benitez, Jeff Kent (post-Giants) and Eric Gagne combined. He was even benched during the 2010 playoffs so rookie Madison Bumgarner and "Sir-Walks-A-Lot" Jonathan Sanchez could start. Did he complain, ask for a trade or pout about not being able to help his team win? No, he knew he didn't deserve it. I believe it takes a special man to battle like he has and as of now, he is winning the war. So what has changed recently? Well for starters, his curveball looks as good as it did in 2002 – still one of the best in the game. When his curveball is working, he is nearly un-hittable. Since he cracked the playoff roster last year, he made use of all of his innings to prove what he can do on the big stage. With the world doubting he could pitch to the World's best lineups, he delivered. 3 starts, 16 innings pitched, 16 hits, 6 walks, 13 strikeouts and a 1.69 ERA Dating back to last season, the Giants are 16-0 in the last 16 Zito starts. They have outscored their opponents 100 (6.25 runs per game) to 45 (2.8 runs per game) in those games. Zito is 11-0 in those starts. Some of you may be questioning his ability to pitch this well all year long. Of course you are! You have every reason to be skeptical. In the last three seasons his first two starts of the year have gone like this: 2010: 2-0, 12.0 IP, 8 H, 3 ER, 6 K, 4 BB, 2.25 ERA 2011: 0-1, 11.1 IP, 9 H, 7 ER, 7 K, 7 BB, 5.56 ERA 2012: 1-0, 16.0 IP, 10 H, 2 ER, 8 K, 1 BB, 1.13 ERA In 2010 and 2012, his total ERA by the end of the season was 4.15 – his best as a Giant outside of the 4.03 season in 2009. This year is different. The last two games Zito has pitched, the Giants have shut out their opponents, 10-0 and 1-0. He lasted seven innings in both contests and never surrendered more than eight base runners per game. He has confidence in his pitches and challenges hitters with his fastball – something hitters used to drool over before they smacked a home run off of him. His next start will be in Milwaukee against a Brewers team that has only hit five home runs this year and has only picked up two wins as of Friday. If Zito wants to prove he can win, another win versus the Brewers will have me convinced. In the meantime, let's sit back and watch Zito slowly rebuild his once amazing career – one curveball at a time. #rallyzito
Original Story:
http://seedspitters.com/2013/04/barry...
THE BACKYARD
BEST OF MAXIM
RELATED ARTICLES
Nick Noonan Yesterday was a great way to start the road trip for the San Francisco Giants! They were down 5-0 but didn't throw in the towel. The scratched and clawed their way back into the game, and ended up winning 7-6. Closer Sergio Romo added another save  to the back of his baseball card under the 2013 season stats section. Romo has been perfect thus far, and is 6-for-6 in...
Let me introduce another new writer (his bio is coming soon) Nathan Mendolowitz. He's a Giants fan but can root for the A's on occasion. He will be doing installments of "Hot or Not" of Nor Cal baseball and much more. Sorry ladies, he doesn't rate them on levels of attractiveness. by Nathan Mendolowitz Barry Zito – Hot Who would have thought Barry Zito would be the shining...
Start 'Em Barry Zito (@MIL, SD) Is that...it is! It's BARRY ZITO'S MUSIC! WHAT'S HE DOIN' HERE?!?!?! Zito's 14 scoreless innings may seem like a blast from the past, yet the left-hander posted a 3.03 ERA last September and was stellar in his final two playoff starts in the Giants' playoff run (13 1/3 innings, one earned run, nine strikeouts). One...
Nick Noonan's journey from 1st round pick in the 2007 amateur baseball draft (32nd overall) to getting his first Major League start as a San Francisco Giant this week could be described as circuitous. In the same way that Barry Zito's curve ball drifts up, describes a parabola, then drops through that 17 inch square target umpires hopefully recognize as a strike. ...
Allowing only two scores over 6 2/3 innings Saturday in a 3-2 win over the Chicago Cubs at Wrigley Field, it is more evident than ever that Madison Bumgarner is the San Francisco Giants' burgeoning ace. The 23-year-old Bumgarner (3-0, 1.77 ERA), who San Francisco took out of high school with the 10th pick in the 2007 Major League Baseball Draft, is now 39-30 with a 3.15 ERA over...
RUMBLE AND TUMBLE
Video:  Down goes the big man!
Or have I just gone plain insane? Fearing the impending Joey Votto 2012 injury to sink my team, I perhaps overcompensated a tad bit this year regarding my everyday players. By doing that, I neglected my starting pitching. Ok. I only have five starting pitchers and three of them go on the same day. This is not the wisest move you can make when playing head-to-head. So, it was time...
Sometimes, a little comment can send you down a wormhole. Brandon Crawford is a glovely young man, and we talked about platoon splits — he doesn't remember having trouble with lefties in the minors — and a few other topics, but it was one thing he said about his defense that popped. I asked him what he did specifically that made him good at defense — last year, Crawford...
Madison Bumgarner allowed two runs while pitching neatly into the seventh inning, Marco Scutaro had three hits and the San Francisco Giants held off the Chicago Cubs 3-2 on Saturday. Pinch-hitter Dioner Navarro hit a two-out, two-run homer off Bumgarner in the seventh to pull the Cubs to 3-2. It was Navarro's second career pinch home run in two days, each hit from a different...
Interesting matchups abound in the Giants series, but the rightfielders in today's game could be one of the more intriguing matchups. The comparison comes naturally from the fact that Nate Schierholtz and Hunter Pence were traded for each other last trade deadline. The comparison would seem to breakdown at that point. Pence has been a solid everyday rightfielder for his whole career...
Giants News

Delivered to your inbox

You'll also receive Yardbarker's daily Top 10, featuring the best sports stories from around the web. Customize your newsletter to get articles on your favorite sports and teams. And the best part? It's free!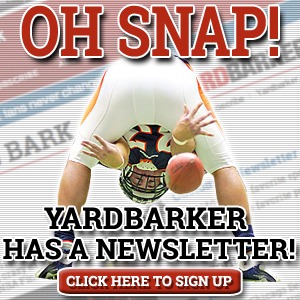 Latest Rumors
Best of Yardbarker

Today's Best Stuff

For Bloggers

Join the Yardbarker Network for more promotion, traffic, and money.

Company Info

Help

What is Yardbarker?

Yardbarker is the largest network of sports blogs and pro athlete blogs on the web. This site is the hub of the Yardbarker Network, where our editors and algorithms curate the best sports content from our network and beyond.