Found January 17, 2013 on World Series Dreaming:
Ok, so it's "Cubs Convention Eve", and the bags are packed, batteries for the camera are charged, sharpies placed in a strategic place in my purse for easy grabbing for those unexpected run-in's with any of the 75+ current, former, and future players, not to mention the management, ownership, broadcasters, etc that will be easily accessible this weekend!  I kind of feel like a little kid on Christmas Eve, although, I have to say, there aren't nearly as many of the "big names" as there were last year (my first convention), but it's just the fact that in just a few short hours, my entire weekend is going to revolve around BASEBALL!    Here is the schedule of events for the weekend (according to Cubs.com) + Friday January 18 Opening Ceremony, Fri, Jan 18: 5:00PM – 5:45PM Autograph Hunt Game, Fri, Jan 18: 6:00PM – 6:45PM Cubs Bingo, Fri, Jan 18: 7:00PM – 8:30PM WGN Radio's Sports Night, Fri, Jan 18: 7:00PM – 10:00PM + Saturday January 19 Ricketts Family Forum, Sat, Jan 19: 9:00AM – 10:00AM Meet Cubs Baseball Management, Sat, Jan 19: 10:00AM – 11:00AM Cubs Jeopardy, Sat, Jan 19: 10:30AM – 11:30AM From Draft Day to the Big Leagues, Sat, Jan 19: 11:15AM – 12:15PM Dale Sveum and the Coaching Staff, Sat, Jan 19: 12:00PM – 1:00PM For Kids Only Press Conference, presented by Advocate Health Care, Sat, Jan 19: 12:30PM – 1:30PM Restoring Wrigley Field, Sat, Jan 19: 1:30PM – 2:30PM Not for Women Only, Sat, Jan 19: 2:00PM – 3:00PM Cubs Family Feud, Sat, Jan 19: 3:00PM – 4:00PM WGN Radio's Sports Central, Sat, Jan 19: 4:00PM – 6:00PM Meet the New Cubs, Sat, Jan 19: 4:30PM – 5:30PM Rookie of the Year, presented by the Cubs Kids Club, Sat, Jan 19: 6:30PM – 8:00PM Cubs Sock Hop, Sat, Jan 19: 8:00PM – 12:00AM + Sunday January 20 Down on the Farm, Sun, Jan 20: 9:00AM – 10:00AM Stats Sunday, Sun, Jan 20: 10:30AM – 11:30AM INTERACTIVE ZONE Walgreens Field Located on the north end of the Interactive Zone, kids will have a blast this year playing on the miniature turf diamond! Walgreens Field will be open to fans for stretching, batting practice, professional instruction clinics, pick-up wiffle ball games and other skills training. You may even find a Cubs player or coach looking to play! Be sure to check out the field during open floor hours Saturday and Sunday. Baseball Interactive Zone, hosted by Illinois Baseball Academy Illinois Baseball Academy is back at the 28th Annual Cubs Convention with two batting cages and many more clinics enhanced by their professional instructors. Throughout the weekend, instructors from Illinois Baseball Academy, along with select Cubs players and coaches, will conduct a series of training opportunities for fans of all ages. New this year, many of these opportunities will be held at Walgreens Field, located behind the batting cages in the Kids Interactive Zone. Check out the schedule below and don't miss your chance to learn directly from Illinois Baseball Academy and the Chicago Cubs. LEGOLAND® Discovery Center LEGOLAND® is back this year with an area dedicated to the small building blocks! Swing on by the LEGOLAND® Discovery Center's Baseball Building area and use your imagination to construct some cool creations. Challenge your children to make it a fun event for the whole family. Sony PlayStation Gaming Zone Experience a gaming homerun this year with the entertainment provided by Sony PlayStation. Take a break from reality and jump into MLB 12 The Show at one of the PS3 kiosks located in the Interactive Zone. So real it's unreal. Get your game on and take the Cubs to the World Series! MLB Network Strike Zone Test your arm speed at an inflatable speed pitch, provided by MLB Network. Stop by the Strike Zone to test your skills, have some fun and win prizes. Blue Bunny Bucket Toss Come by the Blue Bunny station to win ice cream prizes in a bucket toss game. Kids, challenge your accuracy and get rewarded with frozen treats! Chicago Sun-Times Photo Kiosk Walk up to this unique photo kiosk to have your picture taken and get on the front page of the Chicago Sun-Times. Customize the headlines to generate an individual front page for you to keep. The page can be emailed or uploaded directly to select social media sites right from the kiosk so you can save your Cubs Convention memories forever! Located in the Sheraton Ballroom Promenade. American Girl Activity Area Bring your girls to play in the American Girl activity zone, located in the Sheraton Ballroom Promenade, with fun and games for kids of all ages. And NEW THIS YEAR: Autograph Line Process In an effort to make the autograph process more enjoyable for attendees, you will find the following operation at autograph stages this year: • Two queues will exist at each stage identified as (1) or (2) • Indicated by time slot, each queue will be exclusively filled for the "On Deck" celebrity signing • Lines will be monitored by event staff and guests will not be permitted to hold space in a queue or "squat" for later celebrity autographs • Within 15 minutes of the scheduled signing time, a limited number of vouchers will be issued-one per credentialed convention attendee-solely to those individuals present in the queue. • Note, guests may not exit and re-enter the line and vouchers must be redeemed for the celebrity autograph on the stage. Fantasy Broadcasting Booth New this year, Comcast SportsNet Chicago is having YOU make the call! The Chicago Cubs have custom-built a replica broadcast booth so you can live out your fantasy broadcasting dream. If you've ever wondered what it feels like to be Harry Caray or Len Kasper, the technology at this unique booth allows you to choose a highlight and test your play-by-play skills. You'll be able to keep a copy for yourself so make sure to take advantage of this fun opportunity to become a Cubs broadcaster! Live Comcast SportsNet Chicago Broadcasts Make sure to spend some time at the Java Bar on the main lobby level to be a part of live remote broadcasts. The Comcast SportsNet Chicago set will play host to live player interviews Friday evening. Keep checking the Java Bar periodically during the night to see which players or coaches will be making appearances. Then, watch Comcast SportsNet Chicago on Sunday to see if you made any of their highlights from this weekend So many things to do and see, it's going to be nearly impossible to do/see it all!   I'm taking some backup with me this year (my dad and brother) so my son can stay in the kids area and I can maybe catch one of the panels.  Last year, I was only able to catch the kids' panel and the very last half hour of Sports Night on Friday night after the autograph hunt, (which I was TOTALLY unsuccessful in getting ANY autographs during the hunt, but my son managed to come up with three!) I'm hoping to have a little better phone reception at the Sheraton than I had at the Hilton last year, and if I do, I will try to tweet as much as I can (follow me at https://twitter.com/hmcalvey),   I'll use the hashtag #CubsCon (which was the "official" convention hashtag last year as ell.  I'll be sure to post some pictures, as well! So, on that note, I'm off to bed… our train leaves bright and early!  To all Cub fans, this is the unofficial start to the season, so GO CUBS!
Original Story:
http://worldseriesdreaming.com/2013/0...
THE BACKYARD
BEST OF MAXIM
RELATED ARTICLES
There have been several trade rumors swirling around Chicago Cubs outfielder Alfonso Soriano this offseason, but the veteran told Carrie Muskat of MLB.com that he hopes to remain with the club and be a part of their next winning team. "I want to stay here and finish my career here and try to win before I retire," Soriano said. "I signed here to bring a ...
Although the Chicago Cubs are coming off a 61-101 season, team president Theo Epstein sounded an optimistic tone in recent days as the team's push toward spring training heated up. "It's postseason or bust every year," Epstein said. "That's what our goal is." If teams and their executives, even realistic ones like Epstein, can't be optimistic...
 Jesse Rogers of ESPN-Chicago reports that Theo Epstein, Chicago Cubs GM, spoke optimistically about two of his projected starting pitchers for 2013, Matt Garza and Scott Baker. "Both guys should be ready to start the year," Epstein said Wednesday. Baker, 31, was acquired via free agency on November 13.  The righty starter has spent his entire career with...
Matt Garza and the Chicago Cubs have agreed to a $10.25 million, one-year contract that avoids salary arbitration. Creative Artists Agency, which represents the right-hander, announced the deal Thursday night on Twitter. Garza also posted on his account, ''Business side over! Hooray! Time to focus on what really matters 2013.'' Garza avoided arbitration a year ago...
There isn't much to be excited about in this Chicago Cubs pitching staff. There is depth sure, but there are only two or three true quality arms in the rotation. One of those arms is the breakout pitcher of 2012, Jeff Samardzija. After the laughter subsided following Samardzija's declaration that he wanted to be in the rotation, he went out and dazzled all of us in spring...
Jeff Samardzija can see the big picture coming into focus for the Chicago Cubs. They're about to begin their second season with Theo Epstein leading the front office, and the right-hander believes the pieces are starting to fall into place. Samardzija said he ''absolutely'' likes what he's seeing from management, and he wasn't referring to the one-year...
After years of being the golden boy and fan favorite who couldn't quite get there, Jeff Samardzija arrived as a starter in 2012. His record and ERA perhaps belittle the type of season he really had. His record of 9-13 with an ERA of 3.89 in 28 starts might not excite anyone. If you dig a little deeper, there was a lot of impressive stuff about his season considering it was his...
The Chicago Cubs announced a five-year, $300 million plan to renovate Wrigley Field at the annual Cubs convention on Saturday. There are still several hurdles to clear, including funding for the project, but owner Tom Ricketts is confident renovations can begin as early as October, starting with the home clubhouse. Cubs president of business operations Crane Kenney said the Ricketts...
The 2013 Cubs Convention is this weekend, and you can check out the schedule and the list of invitees that unfortunately (to me, at least) does not include a certain former Cub.  For those of you who can't go, please follow the WSD Twitter (check the sidebar to follow) and our forum thread where most of the news will end up once stories and updates are ready.  There is also a...
Cubs News

Delivered to your inbox

You'll also receive Yardbarker's daily Top 10, featuring the best sports stories from around the web. Customize your newsletter to get articles on your favorite sports and teams. And the best part? It's free!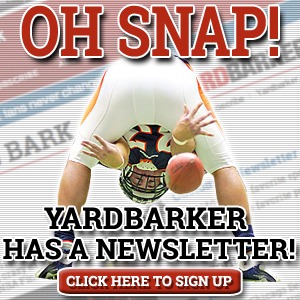 Latest Rumors
Best of Yardbarker

Today's Best Stuff

For Bloggers

Join the Yardbarker Network for more promotion, traffic, and money.

Company Info

Help

What is Yardbarker?

Yardbarker is the largest network of sports blogs and pro athlete blogs on the web. This site is the hub of the Yardbarker Network, where our editors and algorithms curate the best sports content from our network and beyond.