Found March 16, 2012 on SPORTS by BROOKS:
Any chance of Fred Wilpon maintaining ownership of the Mets likely ended this week thanks to a U.S district court judge named Jed Rakoff.
(Opening Day: Mets Fans No Longer Pay To Watch "Pon Stars")
On the eve of a federal court proceeding to determine if the Mets owe up to $383 million to the victims of the $50 billion Bernie Madoff Ponzi, and with Wilpon and the Mets already facing long odds in their attempt to "restructure" hundreds of millions in debt directly attributed to their intimate and unorthodox financial arrangement with Madoff, Wednesday Rakoff issued the following requirements of the MLB team's counsel in its bid to stave off additional creditors:
A central issue in the forthcoming trial is whether the transfers that Madoff Securities made to the defendants during the two years preceding Madoff Securities' filing for bankruptcy –up to an amount equal to their investment with Madoff Securities during the same period -were received by the defendants in good faith, i.e., without their having willfully blinded themselves to Madoff's scheme.

At the in-court conference on March 9, 2012, the parties raised the question of whether, on the facts of this case, this issue should be viewed as an issue under 11 U.S.C. § 548(a) (1) (A), in which case the burden of proving willful blindness would be on the plaintiff, or as an issue under 11 U.S.C. § 548(c), in which case the burden of proving the absence of willful blindness would be on the defendants.

Having considered the parties' submissions, the Court adheres to its prior determination that this is an issue under § 548(c), and that therefore the burden of proving, by a preponderance of the evidence, that the defendants received the aforementioned transfers in good faith (i.e.,in the absence of willful blindness) rests on the defendants.
Ingested without an Everest-like level of evidence against Wilpon and the Mets in relation to the nature of their "faith" in the legitimacy of their Madoff investments, Rakoff's order may seem somewhat innocuous.
But as such evidence exists, including the documentation of a phony $54 million "investment" by Ruth Madoff (on Mets letterheard!) and the son of Mets co-Owner Saul Katz stating under oath that the team initially tried to keep their "investments" with Madoff a secret, even if Wilpon & Co. win a satisfactory judgement the necessary court defense required to provide such an outcome completely defeats their subsequent reasoning for being allowed to keep the team.Thus far the defense profferred by Wilpon - who is unquestionably the front man of the Mets - is that the unflinching, decades-long level of trust he placed with Madoff in "investing" billions in assets was solely based on the Ponzi schemer being his "family friend."
But in the same breath Wilpon has also stated as part of that defense that he wasn't that close to Madoff.
Excerpt from Wilpon discussing his relationship to Madoff during a sworn July 10, 2010, deposition in New York:
Our kids', you know, we were family friends, I just didn't discuss business with him.

So my conversations with Bernie Madoff were really of a, just of a personal nature.

Of what was happening in their lives and what was happening in our lives.

Not in a context of, you know, what's happening in the business, how are you investing these funds?

Because, frankly, I wouldn't — that's not my expertise. I wouldn't really know, and I didn't want to mix the two.

So, once a year we'd go and have a conversation, mostly schmoozing. You know what schmoozing is.

That's the kind of relationship it was. Very trusting relationship.

There's no person that you will talk to, none, that is more betrayed than I am.
So Wilpon wasn't a close friend with the man the Mets tied up most of their money with while also vigorously transacting that cash to purposefully extract as much of Madoff's phony "interest" as possible.
Yet Wilpon also claims he nor anyone with the Mets ever investigated Madoff's "investment" firm to see if transacting billions with Madoff was a safe, prudent investment for the Mets - because they trusted him so much!
If Wilpon was unsophisticated enough to think the Mets should not investigate the man - with whom he did not have a close relationship - in sole possession of the vast majortiy of the team's money over the years, how does Wilpon possibly possess the level of sophistication and credibility required to continue to run a Major League Baseball franchise in the country's #1 market?
The answer probably no longer matters.
Today Howard Megdal of CapitalNewYork.com reported of the current financial quagmire facing Wilpon's Mets:
A $40 million bridge loan from Bank of America, taken out late last November, is due back this month. The minority stakes would also go toward paying a past-due loan of $25 million due back to Major League Baseball, and a portion–likely at least $100 million–of the $430 million debt against the team due back in June 2014.

But while Wilpon assured reporters, yet again, that those other sales were imminent, we are now more than halfway through March without any news on that front.
Then there's this excerpt from a recent post by Mike Ozanian of Forbes.com that also ponders the immediate solvency of Wilpon's Mets:
The Mets are praying that their season ticket sales will look good enough by the end of April that they can restructure $430 million of debt due in two years. If not, two sports bankers familiar with the team's finances I have spoken with believe it is likely the Mets will follow the Dodgers into Chapter 11.
As of this morning you could still buy seats for the Mets home opener against the Braves on April 5 for yourself and 11 of your closest friends - together - in at least three Citi Field sections spanning low-mid-high prices.
On the bright side for the Wilpon and Katz families, at least the full-size image their last money shot is safe for work.
Follow Brooks on Twitter or join him on Facebook for real-time updates
Original Story:
http://www.sportsbybrooks.com/money-s...
THE BACKYARD
BEST OF MAXIM
RELATED ARTICLES
One of the main concerns for the Mets heading into this season was how they would go about filling the void at the top of the order that was left when Jose Reyes left for Miami. While some petitioned for perhaps Daniel Murphy or Ruben Tejada to land the role, the odds on favorite was always Andres Torres. And if Spring Training games are any indication, Torres is off to a running...
In four seasons in the minors Josh Satin has a .307/.397/.467 line, including a .325/.423/.538 line at Double-A last year. He's a little bit like Daniel Murphy in that he can hit but he's not an exceptional fielder. Also like Murphy, Satin has experience playing numerous positions, having played 1B, 2B and 3B last year in the high minors. Satin is getting an extended look...
With all the injuries in big league camp this spring, it would have been really nice if some of the young kids could have stepped in and helped out. It would have been a help to the big league team, a valuable experience for the kids, a learning experience, and who knows? One of them might have won a big league job. Injuries to Captain Kirk have robbed him of any chance this year...
The Greatest Infield Ever, Ordonez, Ventura, Fonzi and Olerud MLB Network's show Prime 9, recently did a show ranking the top nine infields Major League Baseball history, the Mets were 7th on their list. While the show ranks the infields by all around stats and defense, it is clear that the 1999 Mets infield are the best defensive quartet in history. In 1999 the New York Mets infield...
Terry Collins has always been known as a manager with a lot of fire. There were some Mets fans who followed his career and did not want him as a manager for the New York Mets. It was felt among some that because he never managed a playoff team and players from Anaheim wanted him out, left many thinking he was not the right fit. However, Collins has proven his detractors wrong....
Photo by Michael BaronThe Mets made their first round of cuts today, in all 12 players were sent to minor league camp. Of those 12 players, 9 players were on the 40 man roster which means they can not be used in major league spring training games.  Only Val Pascucci, Matt Den Dekker and Matt Harvey are eligible to be used in spring training games because they're not on the roster...
Photo by Michael BaronAs expected Dan Murphy has put u solid numbers in spring training, in 9 games, 22 at-bats he's hitting .273 with a .333 OBP, .273 Slugging pct. and a .605 OPS.For those defending using Murphy as the starting 2B they general draw their comparison to Jeff Kent.  Like Murphy, Kent was in the line-up for his bat and his glove was often described as robotic...
According Andy Martino of the Daily News, manager Terry Collins does not believe Johan Santana will open the season on the disabled list, but he's not yet decided if Santana will be his Opening Day starter. "I have not decided who is pitching Opening Day. Now, my point is, right now, as we get through spring training, we may have to make adjustments. If Johan is, 'Hey...
PORT ST. LUCIE - Carlos Beltran's trade to the Giants last year signaled the beginning of the Mets' rebuilding effort that was only accelerated when Jose Reyes left for the Marlins without a contract offer from his old team. Despite the dire outlook for his former team, Beltran, who ultimately signed with the Cardinals, understands the strategy. "Every team has a different...
New York Mets ace Johan Santana struggled for the first time this spring and was pulled in the third inning Friday of a 9-0 loss to the Detroit Tigers. Out of the majors last year while recovering from shoulder surgery, Santana had not allowed a run in his first two exhibition starts. But the two-time Cy Young gave up five runs - four earned - on four hits and two walks in 2 2-3...
The New York Mets selected outfielder Cory Vaughn in the fourth round of the 2010 MLB Draft out of the San Diego State University. Athletically gifted and possessing a lot of tools, his numbers last year belie his overall talent.
Andrew Vazzano over at The 'Ropolitans has put together the definitive list of players in the New York Mets organization who are on twitter. Here you go. Let them know in the comments if there are... Full story at Bob's Blitz ~ http://www.bobsblitz.com
Mets News

Delivered to your inbox

You'll also receive Yardbarker's daily Top 10, featuring the best sports stories from around the web. Customize your newsletter to get articles on your favorite sports and teams. And the best part? It's free!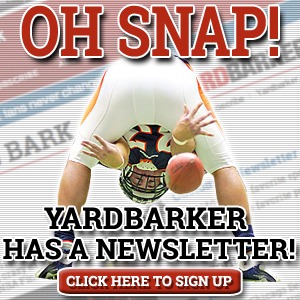 Latest Rumors
The Backyard

Today's Best Stuff

For Bloggers

Join the Yardbarker Network for more promotion, traffic, and money.

Company Info

Help

What is Yardbarker?

Yardbarker is the largest network of sports blogs and pro athlete blogs on the web. This site is the hub of the Yardbarker Network, where our editors and algorithms curate the best sports content from our network and beyond.