Found May 01, 2013 on Fox Sports:
PLAYERS:
Carlos Ruiz
,
Erik Kratz
,
Brandon Belt
,
Rickie Weeks
,
Darwin Barney
,
Pedro Alvarez
,
Jimmy Rollins
,
Dexter Fowler
,
Bryce Harper
,
Matt Kemp
,
Yovani Gallardo
,
Collin Cowgill
,
Billy Hamilton
,
Jordan Pacheco
,
Ty Wigginton
,
Jose Bautista
,
Adrian Beltre
,
BJ Upton
,
Josh Reddick
,
Will Middlebrooks
,
Tyler Pastornicky
,
Mike Moustakas
,
Ben Revere
,
Jesse Biddle
TEAMS:
Philadelphia Phillies
,
Milwaukee Brewers
,
Chicago Cubs
,
Pittsburgh Pirates
,
Colorado Rockies
,
Washington Nationals
,
Los Angeles Dodgers
,
New York Mets
,
Cincinnati Reds
,
St. Louis Cardinals
,
Toronto Blue Jays
,
Texas Rangers
,
Atlanta Braves
,
Oakland Athletics
,
Boston Red Sox
,
Kansas City Royals
I'll start this by saying that I've never been one of the more aggressive fantasy owners. Sometimes my patience gets rewarded, while other times having slow-starting hitters on my roster brings my batting average down to a point where recovery is impossible. For instance, my NL-only team has a boatload of slow starters: C - Carlos Ruiz is back, thankfully, as I endured 100 percent of Erik Kratz's .191 average. Don't even ask about my No. 2 catcher. 1B - Brandon Belt is finally heating up. 2B - Still not sure why I just didn't bench Rickie Weeks for the first month. Darwin Barney and his "bat" could fill in, but Barney is my MI. More on Weeks later. 3B - Pedro Alvarez doesn't exactly help a owner's average. SS - Jimmy Rollins has been OK. OF - Dexter Fowler and Bryce Harper - no complaints there. Oh, but I did spend $55 on Matt Kemp, who has half as many home runs as Yovani Gallardo. Spring training hero Collin Cowgill and the great Tyler Moore round out my OF. As for the rest of the roster, I'm left waiting for Billy Hamilton and Travis d'Arnaud to arrive, but Jordan Pacheco and Gaby Sanchez have at least contributed somewhat. The point of all this is that sometimes due to your league structure, you simply HAVE to ride out a Brandon Belt-like slump, as the waiver-wire alternatives (hey, Ty Wigginton) are less than stellar, and dealing an underperforming bat could very well come back to bite you. Let's look at some of the hitters off to slow starts and see what to expect: Jose Bautista (3B-TOR) - Bautista is off to a .192/.280/.521 start, and though fantasy owners certainly appreciate that his power is still there (seven home runs), and though he hit just .241 last year, we certainly hoped a return to somewhere close to 2011's .302 mark, or even 2010's .260. We could point to his .152 BABIP as a number that will come around and drive an AVG increase, but Bautista's BABIPs have been low before: 2009 - .275 2010 - .233 2011 - .309 2012 - .215 Bautista's walk rate also sits at just 11 percent versus the 14-20 percent rates we've seen from him previously, and his fly-ball rate of 41.5 percent is well off his prior year rates. So he's walking less and hitting the ball on the ground more, and those ground balls are not finding holes. Some of them will start to, but it would serve Bautista well to mix in a few more fly balls, as when he does, good things happen given his above-average HR/FB rates in recent years - 31.8 percent this year and 20-plus percent in each of the prior years. Bottom line: I think we can expect 40 home runs, but it looks like it wil be a challenge to get his average above .250 by season's end. Adrian Beltre (3B-TEX) - After posting an MVP-caliber 2012, Beltre is off to a .221/.282/.400 start in 2013. Beltre is striking out less (8.7 percent vs. 2012's 12.5 percent) and walking more (7.8 BB% vs. 5.5), so that's not the issue. His line-drive rate is down slightly, but not alarmingly so, and Beltre is swinging at fewer pitches outside the zone and missing fewer pitches when he does swing. All positive signs, right? So what's with the batting average? Here it seems to come down to simple bad luck on balls in play. A. .293 B. .207 C. .319 These are Beltre's BABIP numbers. "A" represents his career BABIP, "B" his 2013 number and "C" last year's number. The 34-year-old Beltre may have already posted his last 6-plus WAR season in 2012, but the batting average is going to come around, and I expect him in the .285-.290 range by season's end. Bottom line: This is a good buy-low opportunity. B.J. Upton (OF-ATL) - While his brother has already stroked 12 home runs to open a three-HR lead on his nearest competitors, B.J. is off to a .146/.222/.281 start that includes three home runs and three stolen bases. I guess the low average shouldn't be a big surprise considering that since Upton hit .300 and .273 in 2007 and 2008, respectively, he's failed to top .246 since. Even Upton's BB%, which once clocked in regularly in the 11-plus percent range, has fallen to 7.1 percent last year and a still-disappointing 8.1 percent this season. He's also hitting more balls on the ground this year than ever, and even when the balls do get in the air, Upton is hitting a huge percentage (27.3 vs. 8.6 percent for his career) as infield pop-ups. Mix in a 32.3 K% and you have a player who at age 28 should be in the prime of his career, but also a guy who leaves us wondering if the talent he showed as a rookie is still there. Bottom line: Last year's 28 homers and 31 steals show he can still be a fantasy contributor, but while we know that a .182 BABIP isn't going to happen over the course of a full season, I just don't see how he's going to even approach a .250 average. He looks like a hitter with far more OBP-league value given his ability to at least maintain a league average walk rate. Josh Reddick (OF-OAK) - Reddick broke out last year with a 32-homer season, though his overall slash line was fairly modest at .242/.305/.463. We had to enter 2013 with the expectation that the average wasn't going to be anything special, but .147 through 23 games? Sure, a .182 BABIP is a big chunk of that, but Reddick also isn't hitting for power with a .107 ISO and just one home run. Reddick has seen his BB% rise from 8.2 to 10.3 percent year over year while his strikeout rate has modestly increased from 22.4 to 24.1 percent. It's certainly not a plate-discipline issue given the walk rate and that he's swinging at fewer pitches outside the strike zone. Reddick has added five stolen bases already versus 11 last year, so there's apparently nothing wrong physically. Bottom line: The downside on his average is probably .230, but Reddick will start hitting for more power, the average will rise, and should Reddick continue to run, 20-25 steals will be a nice bonus. I'm on board with a buy-low here. Will Middlebrooks (3B-BOS) - I once passed on Middlebrooks for Tyler Pastornicky in a Strat-o-Matic minor league draft because Pastornicky was having a good spring and was in line for the 2012 starting shortstop job. While I likely will continue to regret that move, Middlebrooks is far from an established commodity. He's hitting just .202/.236/.436, so with a .234 ISO, the power is there, but the plate discipline is not. Middlebrooks has fanned in 30.3 percent of his plate appearances while walking just 4.0 percent of the time. Both are trending the wrong way over last year. Part of the issue relates to Middlebrooks swinging at more pitches out of the zone while making contact with fewer as a percentage. He's even making less contact swinging at strikes this year than last (12.4-percent swinging strike rate vs. 10.5 percent). Middlebrooks is 6-for-15 in his last four games, so expect that .220 BABIP to continue to rise, but he may be no more than a .260 hitter barring a radical change in approach. Bottom line: Six home runs are nice to see, and he could finish with 30-plus this year, but it might come with a .240 average unless Middlebrooks changes his approach at the plate and/or simply matures as a hitter. Mike Moustakas (3B-KC) - I tend to give the benefit of the doubt to high draft picks, but I'm starting to lose patience with Moustakas, who has ended up on more than one of my teams. He's hitting just .176/.265/.243 with nary a home run. I am, however, encouraged that he's fanned in just 13.3 percent of his plate appearances and walked in 10.8 percent, numbers that are significant improvements over last year's 20.2 and 6.4 percent, respectively. Moustakas' 25.4 GB% is the second-lowest in the game, and while fly balls are good because they turn into home runs (well, not for this guy), when you combine a lot of ground balls with a .206 BABIP, you get a .508 OPS. Bottom line: Moustakas isn't a player to give up on. Some of these fly balls will start leaving the yard, and the BABIP, of course, will rise. He's making good contact and laying off pitches outside the zone, so at some point, I have to think that the adjustments he's working on with hitting coach Jack Maloof wil pay off. He does have three hits and three walks over his last three games, so perhaps this is a small step in the right direction. Ben Revere (OF-PHI) - Ultimately, the Phillies didn't give up a lot of value to acquire Revere from Minnesota, particularly considering they still have top pitching prospect Jesse Biddle. However, they certainly expected more than .207/.242/.230. We know Revere has little power, but he finished April with one extra-base hit (a triple) and four walks. He's also been dropped to the seventh spot after leading off to start the year, and that has resulted in fewer SB opportunities (he's 5-for-7), giving him little value outside NL-only formats. One thing to provide at least some encouragement is that for his career, Revere is a .219 hitter in the first month of the season who seems to heat up once May rolls around. Bottom line: I worry that his 15.1 K% is by far a career high (9.8 percent career), though eventually his BABIP (.247) is going to edge closer to last year's .325. But Revere needs to not only make more contact, but better contact. His line-drive rate of 11.4 percent is way down off his 18.5-percent career mark, and I think we all know that hitting the ball hard is more likely to result in a hit than a chopper to second base. I'd buy Revere in deeper leagues, but in 12-team mixed formats, I simply can't take the lack of power and the low average. Rather get my steals elsewhere. Rickie Weeks (2B-MIL) - My attachment to Weeks' skillset (perceived skillset?) is probably unhealthy for the state of many of my teams. After Weeks hit .261/.343/.457 with 13 homers, 10 steals and 31 fewer strikeouts in the second half of 2012 versus the first half (similar PA totals), I was really optimistic that he was ready to carry that into 2013 and be a consistent force. Weeks posted a .914 OPS this spring, so that was just one more data point for me to wind up with him on what seems like most of my teams this year. Oops. Weeks through Monday's action was batting just .167/.272/.256, striking out in a whopping 33 percent of his plate appearances (seventh-highest rate in the game) with just one home run. Sad to think that the knock on Weeks has always been his lack of ability to stay healthy, but this year he's been healthy, and it would be better for his fantasy owners if he'd torn his ACL on Opening Day. So is there hope here? Well, Tuesday he had his best day at the plate this season, going 3-for-5, including a double and a home run, with a walk and five RBI. Let's look at a few positives: BABIP: Sits at .276 versus a career .304, so this will certainly rise. (It was .255 before Tuesday's outburst.) BB%: 12.0, which would be his best mark since 2007 if it holds. Line drive rate: This is at 19.6 percent, which would be his highest mark since 2006. That said, a few more negatives: Ground ball rate: At 57.1, Weeks' GB% is way out of line with his career mark of 46.3 percent, meaning fewer chances of balls finding gaps or the outfield bleachers. Contact rate: Weeks is making contact with just 77.7 percent of strikes versus the 86.4-percent league average and his 84-percent career rate. HR total: Weeks has compiled three consecutive seasons of 20-plus home runs but has just two through 108 plate appearances this season. There's no science here, but I wonder whether the lack of home runs is on his mind as he steps into the box. Bottom line: He's better than this, but I'm going to try to kick Weeks like a bad habit. I probably will hold onto him this year given the trade offers for his services won't be anything special, but perhaps if I can avoid him in 2014, then it will be easier to avoid him in 2015, 2016, ... That said, look for an MVP-caliber performance next year. Regan is a five-time Fantasy Sports Writers Association award winner. Follow @vtadave on Twitter. Get a FREE RotoWire 10-day trial (no credit card required) at RotoWire.com
Original Story:
http://msn.foxsports.com/fantasy/base...
THE BACKYARD
BEST OF MAXIM
RELATED ARTICLES
MILWAUKEE -- Rickie Weeks was frustrated, so he picked up the phone and called Brewers hitting coach Johnny Narron. He doesn't usually like to get early work in unless it's after a day off, but Weeks met Narron at the park at 12:30 and went to work in the cage and then on the field during batting practice. It's hard to know if his diligent efforts paid off Tuesday night...
Rickie Weeks was so fed up with his season-long slump that he called Brewers hitting coach Johnny Narron for some early batting practice Tuesday. The extra work sure paid off for Weeks, who broke out with a three-run homer and five RBIs to lead Milwaukee over the Pittsburgh Pirates 12-8. Weeks, who began the night batting .167, said he was at Miller Park by 12:30 in the afternoon...
Brett Lawrie, Jose Bautista and Munenori Kawasaki showed off some of their dance moves this week as the Torointo Blue Jays looked to jump-start their poor 2013 campaign. The Jays spent a large amount of money in the off-season but it hasn't translated into wins as the team is sitting at a measly 10-18 record and are bottom dwellers in the AL East. Team = Bad. Dance Moves = Good...
The Blue Jays have been a disappointment after the coup of a trade they pulled on the Marlins over the winter.  Jose Reyes is out with a bum knee, Josh Johnson has been more like Ladybird Johnson and Emilio Bonafacio has contributed as much as I have. But, that hasn't stopped third baseman Brett Lawrie, outfielder Jose Bautista and infielder Munenori Kawasaki from getting groovy...
NASHVILLE, Tenn. Rubber boots encased with dried mud sit in the corner of Brad Tammens office at Herschel Greer Stadium. On the back of the door hangs a bright yellow rain jacket, underneath yet another jacket for when the unpredictable spring weather around these parts hits a cold spell. I bought that rain jacket a few weeks ago, the Nashville Sounds vice president and general...
The Red Sox lost 9-7 to Toronto yesterday, April 30. One of the key plays of the games was an error by Boston catcher Jarrod Saltalamacchia. Salty threw the ball down the right field line, trying to pick off Jose Bautista with the bases loaded. Two runs scored on the error. Maybe the Red Sox need to add a MLB Rule Book class for all players, a crash course to learn all the rules...
Coming in to Tuesday night's series opener against the American League East leading Boston Red Sox, the Toronto Blue Jays desperately needed a win. After being swept by the New York Yankees in a four game set over the weekend, the hometown fans at Rogers Center in Toronto were anxious to see their 
The Red Sox power could not lead the team to victory tonight as they lost the first game of the series against Toronto. Starting pitcher Jon Lester did not have a fantastic performance and the teams home runs came with no runners on the bases. The Blue Jays simply outplayed the Red Sox tonight and earned the victory. Here are your three stars of the game: Star 3: Jose Bautista Bautista...
In last night's 9-7 loss against the Toronto Blue Jays, replacement umpire Clint Fagan quite possibly gave two runs to the Blue Jays. With the bases juiced in the third inning, Jarrod Saltalamacchia attempted to pick off Jose Bautista with a snap throw to first base. Salty had a good chance to get him at first but his elbow caught Fagan's mask and the ball ended up in right...
THOSE were the Pirates we came to know and love during the past few weeks. After falling behind yet again at Miller Park, the Bucs pulled off a big comeback and managed to shut Milwaukee down late to get out of Wisconsin with a rare victory. Jeanmar Gomez's start went about how most expected it to go. He labored early on and only managed to go four innings and gave up a couple...
Long story short: the lock at my apartment got jammed shut last night and no one answered the emergency maintenance number, so I couldn't get into my apartment and as a result didn't see much of last night's game besides Rickie Weeks's homer that sealed the deal for Milwaukee. There were home runs, bad pitching, the Pirates lost at Miller Park. Frankly, I've heard...
MLB News

Delivered to your inbox

You'll also receive Yardbarker's daily Top 10, featuring the best sports stories from around the web. Customize your newsletter to get articles on your favorite sports and teams. And the best part? It's free!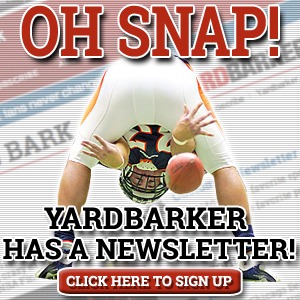 Latest Rumors
The Backyard

Today's Best Stuff

For Bloggers

Join the Yardbarker Network for more promotion, traffic, and money.

Company Info

Help

What is Yardbarker?

Yardbarker is the largest network of sports blogs and pro athlete blogs on the web. This site is the hub of the Yardbarker Network, where our editors and algorithms curate the best sports content from our network and beyond.