Found May 22, 2012 on Fox Sports South:
Brandon Beachy has a tendency to lose things when hes on the road. He left his phone charger on the Braves first road trip. He replaced it, but lost the new one on the next trip. Beachy had no trouble remembering his charger in Chicago earlier this month, but wasnt afraid to let his 17,000-plus Twitter followers know that he left his wallet and phone in a cab in the Windy City. Got em back but idiocy streak is alive! he tweeted. Perhaps his forgetfulness can be tracked to his focus on pitching. Beachys intensity is obvious, from his offseason workouts, to his study of the craft, to the determined zone he places himself into when its his day to start. Beachys glare is unwavering when hes on the mound, as if he can use brainwaves to make the ball start and stop and shudder and shake. Hes been able to put it exactly where he wants it go, like some kind of Jedi mind trick. Hes certainly playing tricks on the minds of NL hitters this spring. Nobody has figured out Beachy, who has rocketed from unheralded rookie to one of the leagues top pitchers in a little more than a year. This time last season, Beachy was a guy only a few fans knew much about, a former infielder and closer at Indiana Wesleyan from a town called Kokomo, appropriately enough. (Remember, the Beach Boys had a hit song called Kokomo in the late 80s). He wasnt even drafted in 2008. Four years later, Beachy is a dominant force. Hes the guy who leads the majors in ERA and who is drawing comparisons to Greg Maddux because of the numbers hes put up this spring. He will take a 1.33 ERA into tonights start at Cincinnati. It is the third lowest ERA for an Atlanta Brave after eight starts, according to the Elias Sports Bureau, behind only Buzz Capras 1.06 in 1974 and Madduxs 1.13 in 94. Braves fans sure hope Beachys career is more similar to the Hall of Fame numbers that Maddux compiled than the one Capra had in the mid-70s. Capra had one good season, going 16-8 with a 2.24 ERA for the Braves that year, but never again won more than six games and was out of the league four years later. My bet is that Beachy will be more than a one-year wonder. Hes serious about what he does. He led NL rookies with 169 strikeouts last year, but was only 7-3 because he struggled going deep in games, which led to 15 no decisions. So he worked on his endurance and arm strength this winter. Beachy told me earlier this year that he doesnt care about the strikeouts as long as he can consistently pitch into the seventh and eighth, and even the ninth inning. Thats exactly what he did last Thursday. Thats when he threw his first career complete game, a 7-0 shut out of the Miami Marlins, a performance so dominant that he allowed only five hits and didnt walk anyone. Beachy pitched into the seventh or later in only three of his 25 starts in 2011, and had never lasted as many as eight innings in his career prior to last week. This season, hes already done it in six of his eight starts, another reason why hes 5-1. Hes allowed only 34 hits and 14 walks in his 54 innings, contributing to his miniscule 0.89 WHIP. When it comes to pitching, Beachy measures his words. He talks like he pitches, analytical and full of thought before making his delivery, both in conversation and on the mound. But when it comes to his hitting, Beachy is quick to needle nearby pitchers especially if Tim Hudson is around -- that he leads the Braves pitchers with a .167 average, to go with two walks and four RBIs. That doesnt count Kris Medlens 1.000 mark, a result of a hit in his one at-bat. Pitching, not hitting, is where Beachy will make his mark. If he continues pitching like this, it will come sooner than later.
Original Story:
http://www.foxsportssouth.com/05/22/1...
THE BACKYARD
BEST OF MAXIM
RELATED ARTICLES
Martin Prado is in the perfect place. The guy in front of him is hitting .323 and knows what to do when he reaches first. Michael Bourns 13 steals are tied for second in the NL. And the guy behind him is becoming one of the leagues top run producers. Freddie Freeman has taken over the No. 3 spot in the Braves order, and his 32 RBIs are tied for third in the league. In between...
HONORING A LEGEND
The Reds have planned a unique way to honor the longtime Braves star during his farewell tour before retiring when the teams play a series this week in Cincinnati.
Drew Sutton has been traded to Tampa Bay for ptbnl or cash. — Kristy Robinson (@Kristy_Robinson) May 21, 2012   It was over before it ever started. Just yesterday, the Pirates acquired Drew Sutton from Atlanta for cash. He now has been traded to Tampa Bay for a player to be named later or cash. I would assume that it is going to be for a player, because if not, it means the Pirates...
The entire Atlanta Braves bullpen got all over Rays' ball boy for misplaying this foul ball. Livan Hernandez capped the fun by showering the kid with sunflower seeds. Every time you check twitter... Full story at Bob's Blitz ~ http://www.bobsblitz.com
Atlanta BravesHitters: A. The Braves team OPS has risen from .695 last year under old hitting coach Larry Parrish to .737 this year under brand new hitting coach Greg Walker. The major improvements include Michael Bourn, in a career year, posting an .815 OPS with three homers and 13 stolen bases, and Martin Prado, fully healthy this year and OPSing .864 behind Bourn at the top of...
For all you New York fans wondering what ever happened former-Mets starter Livan Hernandez— well, he's throwing balls for the Atlanta Braves bullpen and picking on opposing team's ballboys for fun. During Sunday's game against the Tampa Bay Rays, the 37-year old Hernandez tossed what looked like a couple of handfuls of sunflower seeds at a ballboy after the youngster...
Your browser does not support iframes. A couple days late on this video, but it's far too amusing to pass up briefly mentioning it. One of the more important responsibilities of a ball boy at work in a major league ballpark is to ensure the safety of members of both teams' bullpens if those bullpens [...]
CINCINNATI (AP) -- Right-hander Mike Leake hit his first career homer -- part of three solo shots in a row by the Cincinnati Reds -- and allowed only two hits over eight innings Monday night for a 4-1 victory over the Atlanta Braves. Drew Stubbs hit two of the career-high four homers allowed by Atlanta starter Mike Minor (2-4). All the runs scored on solo homers at one of the majors...
Yeah, it's as goofy as you'd think that it would be. But it is an athlete, albeit a now former one trying to do what people at the Weather Channel do for a living; forecast the weather. Smoltz was a guest on the Your Weather Today morning show shot in the metro Atlanta area. In this video, the former ace pitcher for the Atlanta Braves and current game analyst for TBS...
Schedule Monday: Atlanta at Cincinnati, 7:10 p.m. (SportSouth); Probable starters: Mike Minor (2-3, 7.09 ERA) vs. Mike Leake (0-5, 6.21)Tuesday: Atlanta at Cincinnati, 7:10 p.m. (SportSouth); Brandon Beachy (5-1, 1.33) vs. Mat Latos (2-2, 4.63)Wednesday: Atlanta at Cincinnati, 7:10 p.m. (SportSouth); Tommy Hanson (5-3, 3.31) vs. Bronson Arroyo (2-2, 3.46)Thursday: Atlanta at Cincinnati...
The Reds (21-19) and the Braves (26-16) will renew acquaintances for the second time in a week after splitting a brief, two-game set in Atlanta last week. The two squads will have a more traditional three-game meeting this time around, beginning with Monday's nationally televised game on ESPN. For all the info Monday, 7:10 Mike Leake (0-5, 6.21) vs. Mike Minor...
CINCINNATI (AP) -- Brandon Phillips drove in three runs with a pair of homers off Brandon Beachy on Tuesday night, leading the Cincinnati Reds to a 4-3 victory over the Atlanta Braves in another game of all-or-nothing. Rookie shortstop Zack Cozart also homered off Beachy (5-2) as the Reds got the best of another high-powered game. The teams have combined for 10 homers in the two...
MLB News

Delivered to your inbox

You'll also receive Yardbarker's daily Top 10, featuring the best sports stories from around the web. Customize your newsletter to get articles on your favorite sports and teams. And the best part? It's free!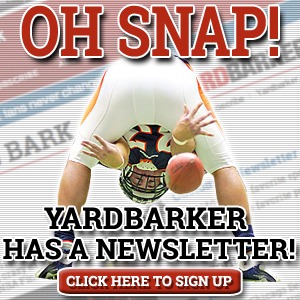 Latest Rumors
The Backyard

Today's Best Stuff

For Bloggers

Join the Yardbarker Network for more promotion, traffic, and money.

Company Info

Help

What is Yardbarker?

Yardbarker is the largest network of sports blogs and pro athlete blogs on the web. This site is the hub of the Yardbarker Network, where our editors and algorithms curate the best sports content from our network and beyond.