Found June 02, 2013 on World Series Dreaming:
PLAYERS:
Carlos Marmol
,
Paul Goldschmidt
,
Jeff Samardzija
,
Jim Hendry
,
James Russell
,
Mariano Rivera
,
Carlos Villanueva
,
Blake Parker
,
Shawn Camp
,
Kyuji Fujikawa
,
Rafael Dolis
,
Hector Rondon
,
Kevin Gregg
,
Zach Putnam
,
Theo Epstein
,
Jed Hoyer
,
Craig Kimbrel
TEAMS:
Chicago Cubs
,
Arizona Diamondbacks
,
New York Yankees
,
San Diego Padres
,
Atlanta Braves
Tonight's (well, yesterday's, now) game was pretty terrible.  The Cubs did not win.  They were going to win at one point, but then weird stuff happened and somehow Carlos Marmol got most of the blame.  Of course, that is fair given the win expectancy chart.  Marmol's wildness and giving up that monstrous grand slam to Paul Goldschmidt (who is very very strong and was pretty pissed off after getting owned by Jeff Samardzija all night) meant that he earned -.467 WPA.  That's the worst swing for any pitcher on the night. I would argue that Marmol doesn't deserve all the boos or the name-calling, but it's certainly frustrating and he would be released were it not for his massive contract (thanks, Jim Hendry!) or his veteran privileges preventing him from being sent to the minors without permission.  We at WSD have been trying to figure it out for a while, but at some point between the July 31 trade deadline and when his contract ends this offseason, you, the Cubs fan, will likely never have to deal with Marmol again.  But until then, he stays, and those are only a couple of reasons why. Let's go back to the win expectancy chart.  Guess who was the second-worst offender of negative WPA?  It was none other than the most solid reliever in the Cubs bullpen, James Russell, at -.443 because he decided to walk the bases loaded (after Jeff Samardzija also had issues when he started the seventh frame) and then gave up a bases-clearing double to actually put the Cubs BEHIND in the game.  You mean even good relievers can mess up?  Wow.  I wouldn't have believed it either, but Mariano Rivera did blow a save without getting an out for the first time in his career…against the Mets.  Strange things happen in baseball. There was also the problem with the Cubs forgetting how to score or even get on base for five innings. So let's say you don't want Carlos Marmol in the eighth.  Who are you going to go to?  And James Russell already blew the save. Well…you could have kept Carlos Villanueva in, but can you guarantee that he won't blow the save?  Considering how his last couple starts went before his demotion to the bullpen… Blake Parker had a decent appearance after being called up and after Marmol crapped the bed.  Can you guarantee that this guy won't blow the save?  Ehhhhhhh… Shawn Camp and Kyuji Fujikawa are broken.  One of them is absolutely terrible and the other one is only terrible by circumstance (we hope).  Neither were available anyway.  Ditto Rafael Dolis, because the Cubs can't keep their pitchers healthy for some stupid reason that we'll explore another day. Hector Rondon?  Probably not.  He likes giving up big hits. How about Kevin Gregg?  Assuming he didn't blow the save (you remember that Kevin Gregg, right?) then he's either going to have to toss multiple innings, or else you'd need somebody else to close out the game in the ninth.  Is that what you really want? Oh yeah, then we have Zach Putnam.  Except for the part where…well, check the box score, he did a pretty good Marmol impression except with a bunch of base hits instead of wildness. So Jamie Quirk may have erred in leaving Jeff Samardzija in for too long.  Maybe he should have used Carlos Villanueva more.  But really, what were the Cubs' options?  Answer: there are none.  Of course you'd probably want Theo Epstein and Jed Hoyer and everyone else fired including Dale Sveum, except Dale was ejected early on because the umpires were incompetent.  Also, when rebuilding a team (that's the Cubs' short term plan), the bullpen is the last thing you deal with.  On paper the bullpen should have been okay, but naturally the game isn't played on paper.  With bullpen volatility being what it is, crazy nights like this are expected.  But firing the entire front office because one guy with a massive contract sucked after another guy who you were more prone to trust sucked too after the offense also sucked is just you being angry and not thinking rationally. Incidentally, if you're still hell bent on blaming Marmol for everything, check out his game logs for the previous six or so appearances and think about letting your confirmation bias take a vacation here and there.  He's not the best reliever in the world anymore (nor was he ever, really) but he really wasn't as terrible as everyone is letting on.  In a world where even the great Mariano Rivera and super relievers like Craig Kimbrel can have a bad day, you've got to be able to put things in perspective. This isn't to say that we want to keep Carlos Marmol on the Cubs.  We don't.  But there's plenty of blame to be spread around and you have to be able to step back and look at it from a more objective lens.
Original Story:
http://worldseriesdreaming.com/2013/0...
THE BACKYARD
BEST OF MAXIM
RELATED ARTICLES
Jeff Samardzija has been piling up a ton of strikeouts as a starting pitcher for the Chicago Cubs this year, and that trend continued during a 12-4 win over the Arizona Diamondbacks on Sunday. Samardzija fanned 11 hitters in 6 1/3 innings of work, but he was charged with two runs that scored after he [...]
CHICAGO -- Diamondbacks manager Kirk Gibson praised Cubs starting pitcher Jeff Samardzija's performance after Saturday's game and again Sunday morning, but he also had strong words for the right-hander after hearing of a couple on-field snipes. Samardzija exchanged words with D-backs pitcher Ian Kennedy and third base coach Matt Williams at different times in Arizona'...
Hot News for P Blake Parker
I am not a professional writer.  I think I'm more of an amateur rambler.  So this is going to be a ramble of sorts.  I think I'm much better at writing science-y stuff where I have an experiment (or a group of experiments) set up and can then mold them into a story, and this lends itself to more train-of-thought type exercises where I frame it in the following manner: We...
It's not often the Diamondbacks score 12 runs (actually never, so far in 2013) but Arizona did just that in a 12-4 victory over the Cubs Saturday night. Paul Goldschmidt led the charge, hitting an absolute bomb for his first career regular season grand slam. 
Not that it should surprise anyone, but Patrick Corbin ran his record to 9-0, compiling yet another win in Sunday afternoon's win over the Chicago Cubs 8-4. 
Jeff Samardzija proved nearly unhittable earlier this week while throwing his first career shutout. The surging Cubs may not need him to be as sharp given their recent efforts at the plate. Enjoying their longest winning streak in nearly two years, the Cubs will try to hand the Diamondbacks a 10th loss in 11 games at Wrigley Field on Saturday night. Samardzija (3-6, 2.85 ERA) was...
Scott Hairston hit a grand slam and Matt Garza got his first victory of the season and the Chicago Cubs extended their winning streak to five games by defeating the Arizona Diamondbacks 7-2 on Friday. Alfonso Soriano had a two-run homer and Cody Ransom added a solo shot for the Cubs, who have won five straight for the first time since winning seven in a row from July 31-Aug. 6,...
CHICAGO (AP) -- Scott Hairston hit a grand slam and Matt Garza got his first victory of the season as the Cubs extended their winning streak to five games by defeating the Diamondbacks 7-2 on Friday. Alfonso Soriano had a two-run homer and Cody Ransom added a solo shot for the Cubs, who have won five straight for the first time since winning seven in a row from July 31-Aug. 6, 2011...
Today is officially June, which means we can now look back at all of April and May because everyone loves arbitrary endpoints.  As of May 31, the 2013 Cubs have scored 221 runs while giving up only 210.  They should be better than their 23-30 record suggests, but baseball happens. The Cubs had an offensive turnaround between April and May.  In April, they were only 10-16 with...
As a die hard Chicago White Sox fan, I was saying it the whole time while watching this video.  Then Buck and McCarver chimed in and finally said it.  One of the few remaining humans still alive when the Chicago Cubs last won one in 1908.  Dude looks 75 at best. The post MLB Found Someone Alive When The Cubs Last Won A World Series appeared first on Baseball Hot Corner.
As the public battle as to whether or not Wrigley Field should undergo a facelift continues...the Chicago Cubs have an unlikely supporter backing them up. Former Chicago White Sox skipper Ozzie Guillen. "It's about time," the outspoken Guillen said. "Finally they start doing the right thing. It's 2013. I think the new owners and the new GM and the new...
MLB News

Delivered to your inbox

You'll also receive Yardbarker's daily Top 10, featuring the best sports stories from around the web. Customize your newsletter to get articles on your favorite sports and teams. And the best part? It's free!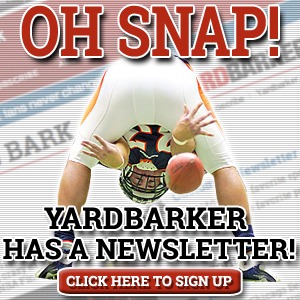 Latest Rumors
Best of Yardbarker

Today's Best Stuff

For Bloggers

Join the Yardbarker Network for more promotion, traffic, and money.

Company Info

Help

What is Yardbarker?

Yardbarker is the largest network of sports blogs and pro athlete blogs on the web. This site is the hub of the Yardbarker Network, where our editors and algorithms curate the best sports content from our network and beyond.