Found April 07, 2012 on The Nats Blog:
Gio Gonzalez had to be as excited about his first start today as a Washington National as we all were. The 26-year-old had embraced his trade from the destitute Oakland Athletics to the up-start Nats, and has been vocal both in the traditional media as well as through social streams about his desire to become a major part of the fresh baseball culture in the area.
But D.C. by nature is a town of skeptics. Give us a new monument and we'll complain about the symbolism. Give us a Heisman trophy winning quarterback and we'll wonder about the fit. Give us an All-Star left-handed hurler, and we'll question the price. It's really not our fault, after all, it's just who we are by nature. We are lawyers, lobbyists, journalists, republicans, democrats, and bloggers, and that means that by trade we can't help but question both the good and bad in everything.
And so, as Mike Rizzo shipped off four MLB caliber prospects to Oakland, you couldn't help but hear the chirping that Washington had overpaid for a shiny toy that may not have had as much value as appeared on the surface. Some argued that Gio's walk rate forecasted that his current level of success was unsustainable, others pointed to his career numbers and claimed he couldn't pitch outside of Oakland. For the most part, we tried to ignore these naysayers, but we couldn't fully, and neither could the pitcher himself.
Gio Gonzalez had to be more disappointed about his first start today as a Washington National than we all were. The 26-year-old knew the quiet skepticism by some coming into today's game, and he wanted to not only prove the doubters wrong, but also to give his new fans a reason to believe in 2012. Instead he knows now that he will have to take it upon himself to find redemption next week, in a city where a reputation can evaporate in an instant.
All of the criticisms presented themselves in their own way today. He gave up four runs in 3.1 innings, but he also struggled with command, and let up too many hits to a sub par Cubs team. As the Nats bullpen allowed just one hit to the same lineup for the rest of the game, Gio didn't seem like an ace pitcher in his first outing, heck, he didn't even look like John Lannan.
It's important, however, that we remember that this is a team designed to win over the course of a 162 game, six month season. And while our skeptical minds and hearts may want to leap to conclusions based on the only data that we have yet been presented with, this is a plea from a blogger to a fan base to simply sit back, let go, and believe.
You take off your lawyer hat, and I'll put down my blogger wand, and let's give this left-hander some time. Gio Gonzalez may pan out, and he may not, but a self-destructive nattitude that kills a season before it grows won't help. Just ask Jayson Werth.
Original Story:
http://www.thenatsblog.com/2012-artic...
THE BACKYARD
BEST OF MAXIM
RELATED ARTICLES
Last season, Duffy's Irish Pub in DC made headlines with a Jayson Werth drink special: PBR Tallboys priced to match Werth's batting average: $2.12 at the time. Now, Duffy's is at it again with a new Jayson Werth drink special: free shots for each Jayson Werth HR this season: Certainly a much more positive promotion this time around compared to the ~2.12 beer promo...
With the 354th overall pick in the 2005 MLB Amateur Draft, the Washington Nationals selected 21-year-old pitcher Craig Stammen from the University of Dayton.  While no one ever expected Stammen to ever contribute to the major league club, he made it his mission to capitalize on his opportunities.  From 2005 to 2008, Stammen was sent through almost every minor league level playing...
Top Nats hitting prospect Anthony Rendon had to be helped off the field last night in Class A Potomac after he hurt himself rounding third in just his second minor league game. Apparently, it was not a pleasant scene. Bill Ladson of MLB.com is reporting this morning that the injury was to Rendon's left ankle. The slugging infielder had previously hurt his right ankle severely...
Word is that the wind is blowing out briskly to left, so Sveum has loaded up on the righties to battle southpaw Gio Gonzalez in his NL debut. Nationals Cubs Desmond, SS Johnson, RF #Espinosa, 2B Mather, 3B Zimmerman, 3B Castro, SS *LaRoche, 1B Soriano, LF Werth, RF Baker, 1B DeRosa, LF Soto, C *Bernadina, CF Byrd, CF Ramos, C Barney, 2B Gonzalez, P Garza, P...
Yes, it is too early in the season to make sweeping assumptions about any Washington Nationals player, but one player deserves a little credit where he's gotten none over the last year: Adam LaRoche.  This isn't to say that LaRoche can or will be this good all season, but it's time for his detractors to speak up and give him his due credit. After hitting an atrocious...
CHICAGO | The Nationals have a pair of projected regulars rehabbing at Double-A Harrisburg in Michael Morse and Rick Ankiel. With both expected to return within the next week or so, Washington some roster decisions lying ahead. Morse will be the Nationals' everyday left fielder this season, though he'll surely slide back to first base at times in place of Adam LaRoche...
Adam LaRoche homered and matched a career-high with four hits, and the Washington Nationals again rallied late against Kerry Wood and Carlos Marmol, scoring five runs in the eighth to beat the Chicago Cubs 7-4 on Sunday. LaRoche drove a two-run shot off Matt Garza in the fourth. The Cubs chased Gio Gonzalez with three in the bottom half to go up 4-2. But Washington sent up 11 batters...
Here's a running list of injury updates around the Major Leagues: – Nationals prospect Anthony Rendon suffered an ankle sprain during a game Saturday night according to Mark Zuckerman of CSNWashington. – Right handed pitcher Chien-Ming Wang could be at least three weeks away from making his debut this season according to manager Davey Johnson (via Amanda Comak of the Washington...
Is the hype to be believed? Could the Nationals actually contend this year? Sawyer Ballston, VA ___________________________________ Sexy superlatives and arduous absolutes, ladies and gentlemen, please welcome your 2012 Washington Nationals! Could they actually contend? Hmm… does watching a pitcher's duel strike me with uncontainable bonerjamz? HELL to the YES, my friend! There...
(Meet the new Mayor of Nats Town: Chad Tracy. Screengrab via TV/MASN.) It's Chad Tracy's world, we just live in it. Chadtionals 7, Cubs 4: Chad Tracy clutch 2-run single sparks 5 run rally with 2 outs in the 8th. Chad Tracy for NL MVP? How about: Chad Tracy for President! Does Chad Tracy's beard have its own Twitter account yet? At this...
MLB News

Delivered to your inbox

You'll also receive Yardbarker's daily Top 10, featuring the best sports stories from around the web. Customize your newsletter to get articles on your favorite sports and teams. And the best part? It's free!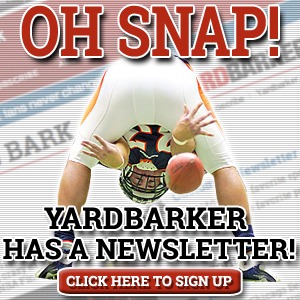 Latest Rumors
Best of Yardbarker

Today's Best Stuff

For Bloggers

Join the Yardbarker Network for more promotion, traffic, and money.

Company Info

Help

What is Yardbarker?

Yardbarker is the largest network of sports blogs and pro athlete blogs on the web. This site is the hub of the Yardbarker Network, where our editors and algorithms curate the best sports content from our network and beyond.