Found September 05, 2012 on The Rhino and Compass:
Ben Revere is fleet of foot, if you didn't know. He became the first Twin since Chuck Knoblauch with consecutive 30+ stolen base seasons. He doesn't hit for much power, which can seemingly diminish his overall value. After all, Jamey Carroll has more home runs than Revere does in a Twins uniform.
Power is one of the 5 tools, and is certainly the most easily appreciated. Speed is generally only noticed where it is applied to defense, and everyone recognizes that Ben Revere is a great fielder. You can't underscore the value his running game brings to the offense however.
Revere's slugging percentage/on base percentage is are .357/.336. One of those is good, one of those is not. If you take his OPS, he rates between Alberto Callaspo and Zach Cozart, which isn't really all that awesome. Still, Revere is much better, and much more valuable than that. But how do you equate that value?
I figured that a stolen base is basically the same as any other type of base earned by a batter. For example, if he hits a single and steals second, what's the difference between that and a double? So I added his steals to his total bases, which changes his slugging percentage from .357 (131st in the league) to .434, which would be 77th in the league.
Of course, if you get caught stealing, you have essentially removed a hit or walk. This can't all be roses, so I have removed the times he was caught from his OBP calculation, dropping him from 72nd in the league at .336 to .320 and 102 in the league. It's definitely a net gain overall for his OPS numbers.
With his prowess on the basepaths taken into account (And only his steals, stretching extra base hits isn't even noted), his new SLG/OBP split is .434/.320, which gives him an OPS of .754 which is more comparable to Justin Upton and Elvis Andrus. Revere is a valuable bat at the top of the order, even if he isn't hitting home runs.
Original Story:
http://ryanhenning.com/?p=4410
THE BACKYARD
BEST OF MAXIM
RELATED ARTICLES
Darin Mastroianni, the Minnesota Twins' fourth outfielder, has worked with trainer Perry Castellano on a regimen to keep himself ready for defense even when he isn't playing. On Tuesday in Chicago, that meant a series of long tosses to the center field wall at U.S. Cellular Field, where the Twins were playing the White Sox. Castellano would toss the ball over the fence...
Monday was an important day for the Chicago White Sox. After a weekend sweep at the hands of the Detroit Tigers left them in a tie atop the AL Central, they rebounded with a 4-2 win over the Minnesota Twins. Come nightfall, the White Sox once again had sole possession of first. Monday was a less important day for the Twins. The Twins are a bad team just trying not to finish last...
Chris Parmelee hit a three-run homer to cap the Minnesota Twins' 10-run fifth inning against the AL Central-leading Chicago White Sox. After sending 12 men to the plate in a seven-run second Tuesday night, the Twins used 14 batters in scoring 10 times in an inning for the second time this season. They also scored 10 in the second inning Aug. 6 against Cleveland. Minnesota had...
The Minnesota Twins announced a pair of September call-ups on Tuesday as the team will recall right-hander Luis Perdomo and infielder Eduardo Escobar from Triple-A Rochester. Both players will be in uniform for Tuesdays game in Chicago against the White Sox. Additionally, Red Wings manager Gene Glynn will also join Minnesota for the remainder of the season as an additional coach...
The Minnesota Twins have typically been a thorn in the Chicago White Sox's side, but not this year. Back in sole possession of first place in the AL Central, the White Sox look to win their seventh straight at home over the Twins on Tuesday night. Prior to this season, Chicago hadn't posted a winning season record against Minnesota since 2005, but a 4-2 victory Monday improved...
Chris Parmelee homered to cap a 10-run fifth inning and the Minnesota Twins routed the Chicago White Sox 18-9 on Tuesday night. The Twins also batted around in a seven-run second, but first-place Chicago remained one game ahead of Detroit in the AL Central. The Tigers lost 3-2 to Cleveland. Minnesota pecked away methodically with 17 hits - only three went for extra bases. Parmalee...
Plenty of Minnesota Twins hitters got in on the fun during their 18-9 win Tuesday over the Chicago White Sox. That included the newest addition to the Twins roster, infielder Eduardo Escobar.Escobar, who was promoted earlier Tuesday from Triple-A Rochester as a September call-up, tied the game with a two-run, bases-loaded single in the second inning and later tacked on his third...
Infielder Eduardo Escobar wasn't thrilled to be traded to the Minnesota Twins. In fact, when Chicago White Sox manager Robin Ventura told him in July he was part of a deadline deal for Francisco Liriano, Escobar said Tuesday, "I felt so sad and started crying. "I didn't know what was going to happen next." Escobar went 2-for-4 with a walk and three RBI...
And now, Part II in our Thursday morning series, "When Trying to Collect Souvenir Balls at the Park Goes Wrong": during the Chicago White Sox-Minnesota Twins tilt at U.S. Cellular Field on Wednesday, in an act of ham-fisted ineptitude, a ChiSox fan dropped not one, but two foul balls hit right at him. The balls [...]
6 IP, 4 H, 1 R, 1 ER, 1 BB, 1 K Pitch TypeVelocH-BreakV-BreakCountStrike% 4-Seam 90.0 -1.67 7.58 5 80.00% Change 86.0 -6.884.531553.33% Slider 87.5 2.215.162268.18% Curve 77.05.42-5.15 633.33% Cutter 89.4 0.34 7.82771.43% 2-Seam 90.5 -6.34 6.65 1266.67% You can view all the season's pitch f/x posts by clicking here
MLB News

Delivered to your inbox

You'll also receive Yardbarker's daily Top 10, featuring the best sports stories from around the web. Customize your newsletter to get articles on your favorite sports and teams. And the best part? It's free!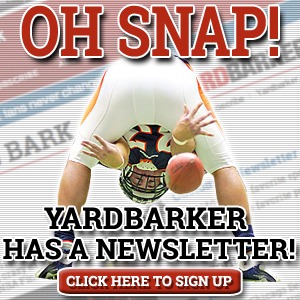 Latest Rumors
Best of Yardbarker

Today's Best Stuff

For Bloggers

Join the Yardbarker Network for more promotion, traffic, and money.

Company Info

Help

What is Yardbarker?

Yardbarker is the largest network of sports blogs and pro athlete blogs on the web. This site is the hub of the Yardbarker Network, where our editors and algorithms curate the best sports content from our network and beyond.