Found March 04, 2013 on Obstructed View OLD:
How long does it take to change your swing? Is it even possible to change in your 20's? The answer to these 2 questions will probably tell you all you need to know about Jackson's future with the Cubs. Brett Jackson was drafted in the 1st round of the 2009 draft, at 31st overall. He worked his way up many prospect lists in the ensuing few years, putting up .400 wOBAs essentially in every year in the minors. Jackson displayed great plate discipline every year (he walked from 10 to 16% each season) and blossoming power (8/12/20 HR), and maintained a slugging percentage of around .490 every year. The only problem with his game was his strikeouts, which hovered around 25% a year. The year he finally got called up, he had been striking out roughly 1/3 of the time, and he wasn't exactly tearing up the minors, either. In the majors, his strikeouts ballooned to a comical 41.5%. That's not a sustainable approach to the plate. Jackson is going to have to evolve as a hitter, most likely, to stick as an everyday player. Offense I've already outlined Jackson's basically stellar minor league numbers, but I'll give another quick rundown. He climbed a level in every season, and finished his AAA career at a .269/.353/.502 line. In AAA, he walked 12% of the time and struck out around 31%. I've never seen him in person (in the minors), but his admittedly small sample of major professional baseball gives us some additional insights. First, he struck out 59 times in 142 plate appearances, "good" for 41.5% of the time. Using a sample size calculator, that 41.5% mark is anywhere from 30.8 to 52.2 as a "true" rate of strikeouts (99% certainty). Even at the extreme low end, that's a really high mark for someone of Jackson's skillset (only 14 players last year had a rate of 30% or higher, min. 250 PA).  That being said, it's relatively easy to diagnose Jackson's issues. He swings at the right pitches: he only offers at 23.9% of pitches outside the zone (league average: 29%). He swings at roughly the same percentage of in-zone pitches; however, he doesn't make contact with many of either. The league contact average is 79.7%. His contact percentage of 64.2 is the third lowest among players with 100 PA or more last year. There are two ways to be successful with a contact percentage that low: be Josh Hamilton and swing at 59% of the pitches with prodigious power, or only offer at pitches in the zone with a great amount of power. Jackson doesn't have the power to get pitchers to respect him, so he'll have to learn to make better contact. If he just became merely bad at it, his profile would rise from 4th OF to pretty good CF quickly. Hopefully his new swing helps out with that. Defense Jackson has always profiled as an above-average CF. He doesn't have great footspeed, but he does have good speed and he makes great jumps on the ball. He has just an average arm but throws with accuracy and will make most baserunners respect his ability to get the ball in. Summary I'm going to put two players side by side.   o-swing% z-swing% swing% o-contact% z-contact % contact% Jackson 26% 65% 41% 49% 74% 64% Dunn 24% 64% 41% 50% 80% 70% As you can see, contact in the zone (and the lack of power) is what separates Jackson from successful high-K major leaguers. Every other part of Jackson's game is major-league ready, and that includes his plate discipline. For all of Jackson's problems, he still got on base at a higher clip than Darwin Barney last year, with a wOBA greater than one Luis Valbuena. I remain very, very skeptical of the ability to retool a swing in one off-season, but if Jackson can do it (or just find some more success with his old one), he's got the ability to be a productive major-league CF for a decade to come. The post Better Know a Cub: Brett Jackson appeared first on Obstructed View.
Original Story:
http://www.obstructedview.net/comment...
THE BACKYARD
BEST OF MAXIM
RELATED ARTICLES
Jeff Samardzija will be the opening-day starter for the Chicago Cubs, who said Matt Garza will start the season on the disabled list because of an injured muscle in his side that is preventing the right-hander from throwing. Cubs manager Dale Sveum said Sunday that Samardzija will start at Pittsburgh on April 1. He was 9-13 with a 3.81 ERA last season, when he had a 2.39 ERA in...
It's almost here Chicago Cubs fans. Another season of complete and utter futility. After crossing the century mark for losses last season, finishing with 101 losses, the 2013 campaign brings about more of the same for the Cubs, as they continue their epic rebuild of nearly the entire franchise. Will 2013 be any easier to watch? Or will the Cubs continue to fall flat on their...
Matt Garza will start the season on the disabled list because of an injured muscle in his side that is preventing the right-hander from throwing, and Jeff Samardzija will be the Opening Day starter for the Chicago Cubs. Garza's batting-practice session was cut short on Feb. 17 because of the injured latissimus dorsi muscle. He rested 10 days and was in the second day of a throwing...
Continuing from this morning's season preview of the Chicago Cubs... Quite a few for a 101-loss team. But the big one is: will the Cubs keep or trade Alfonso Soriano? Soriano's status with the Cubs is one of the more contested points giong into the 2013 season. Chicago recieved some interest on Soriano this winter, and I'm sure they'd love to dump him off...
Being a Cubs fan is never easy, and the pain has begun already: starting pitcher Matt Garza has been shut down, and will likely miss the entire month of April. On Thursday, the news broke that Garza might start the year on the DL while battling a strained lat. Now, the news has grown even worse with Garza being shut down and missing more than just a start or two to kick the year...
Some of the questions about Chicago Cubs' starting pitcher Matt Garza's health have been answered. The Cubs have decided to shut Garza down until possibly the beginning of May. This would mean that Garza will miss the rest of Spring Training and the first month of the regular season. Garza strained the lat on his left side on February 17 while throwing batting practice...
Wrigley Field is falling apart. The Ricketts family, which bought the Cubs for $845 million in 2009, has a plan to spend $300 million of their money to renovate the 98-year-old ballpark. There will be structural upgrades, improved clubhouses, new underground batting cages, upgraded luxury suites and club facilities, more and better concessions and restrooms, and a new patio area...
Supply, meet demand.  The Chicago Cubs have a supply of relief pitchers, starting with Japanese import Kyuji Fujikawa who projects as the team's closer for 2013 to go along with incumbent (and lame duck?) closer Carlos Marmol, who struggle mightily on the North side in 2012, seeing his WHIP balloon to over 1.5 baserunners per inning, primarily courtesy of 45 walks in 55 innings...
Thanks to the intrepid Carrie Muskat, we know that Matt Garza and Scott Baker are getting back into game shape, though both are likely to start the 2013 season on the disabled list.  Starlin Castro is also out nursing his hamstring, but is expected to come back sooner, possibly within a few days. #Cubs Castro hit in cage Sat, will do that again today. Says if this was reg season...
We're somehow halfway through our six week preview series, and today, we keep things rolling around with CUBS DAY. That's right...Cubs day will be kicking off the week highlighting the NL Central. I'm sure you know how things will be playing out by now. Friday was Yankees Day at TOC, and here's your recap. Yankees on TOC End of Season Postmortem 2013 Season...
In June of 2011, an 18 year kid named Daniel Vogelbach was selected by the Chicago Cubs in the second round of the MLB amateur draft. The high school first baseman was listed as 5'11″ 285. However, in the pics we saw of him, he looked easily three bills. But we thought hey Daniel Vogelbach he can hit a ton. The Cubs claimed right after the draft he dropped 40 pounds off what...
Taylor Green singled, doubled, drove-in a run, and scored another, Carlos Gomez crushed a tape-measure home run, and Marco Estrada tossed four innings of one-hit shutout ball and combined with five relievers to throw a two-hitter, as the Milwaukee Brewers edged a Cubs split squad 4-3 in Cactus League action this afternoon at Dwight Patterson Field at HoHoKam Park in Mesa, AZ ...
MLB News

Delivered to your inbox

You'll also receive Yardbarker's daily Top 10, featuring the best sports stories from around the web. Customize your newsletter to get articles on your favorite sports and teams. And the best part? It's free!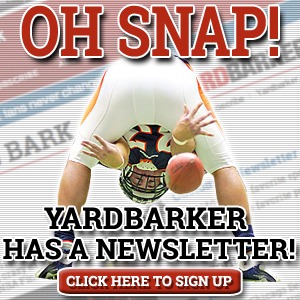 Latest Rumors
The Backyard

Today's Best Stuff

For Bloggers

Join the Yardbarker Network for more promotion, traffic, and money.

Company Info

Help

What is Yardbarker?

Yardbarker is the largest network of sports blogs and pro athlete blogs on the web. This site is the hub of the Yardbarker Network, where our editors and algorithms curate the best sports content from our network and beyond.