Found January 22, 2013 on Obstructed View OLD:
I actually like Lendy Castillo a fair bit. Lendy Castillo was signed by the Philadelphia Phillies in 2006… as a shortstop. He actually showed considerable promise on the defensive side, but could not hit to save his life. 2007: 684 OPS 2008: 566 OPS 2009: 453 OPS After it was apparently there was no way he was going to hack it even as an all-glove shortstop, the Phillies ended up moving Lendy to the pitching staff (he was just 21 when they started – signed at 18). As a pitcher, he showed some promise in his first year, working up to A- (albeit barely). As a 22-year old, he threw 46 innings of 2.54 ball with 9 K/9 and 3.1 BB/9, adequate numbers for a player in just his second year of pitching.  The Phillies left Lendy unprotected in the Rule V that year, and the Cubs selected him. Chicago barely used him even for a Rule V guy, with 13 appearances and 16 innings in the majors. It wasn't very pretty, but it was an awful sample size and I'm not that worried about it. He did, however, walk the opposing team's pitcher on 4 pitches once. That's no good. Castillo also got "hurt," and the Cubs stashed him in the minors for rehab assignments also- it was another 20 SSS innings where he absolutely dominated. Pitch Selection/Stuff Castillo is a pitching neophyte, and as such he does not feature many pitches. In the majors this year, Castillo sported a fastball, slider, cutter (using very sparingly, maybe one or two per outing) and one change (which was likely just a hanging slider or something – it was thrown for a ball). None of his pitches were effective last year, save the cutter he threw only 25 times all year. The pitches aren't refined at all, and he doesn't fool anyone, yet (no one swing at pitches out of the zone; they always swing at them in the zone; they usually always make contact).  All of this doesn't make a compelling argument as to why he's worth a 40-man roster spot. I'm not sure I can make one, either; however, he has some interesting skills. He can touch 96 with his fastball and 87 with his slider (he averages 92 and 83 with them). His biggest hurdle to success his un-straightening his fastball, which basically is an arrow at this point. I think that will hopefully come with more instruction.  Summary On nearly any other team, I'd say that Lendy Castillo definitely does not deserve a roster spot. On a team like the Cubs (from a standpoint of talent), I almost still can't make the case. He's a project reliever with fairly high upside and a low, low floor. However, I think he's got a fairly high ceiling. He's shown an ability to strike people out at all levels while minimizing his walks, especially for a guy with almost no experience. As he refines his repertoire, it's not too difficult to imagine Castillo developing into an 8th-inning guy, or even a 5th-starter type. That will depend on his tightening that fastball and getting some more movement/better placement. If the Cubs waived Castillo, I don't think he'd clear waivers, so the Cubs are going to have to measure his upside against their current redundancy of fringey pitching on the 40-man roster. I'm not sure where he'll end up when the season begins. In spite of his 2012 troubles, I kinda hope he sticks. Did You Know? Lendy was used on no days rest only once last year, on one day once, and two days twice. The other outings? 4, 5, 5, 6, 9, 14, 19, and 94.  The Cubs were 0-13 in games that Lendy appeared. Lendy appeared in 5 games against the Brewers, and no more than once against any other team.  Lendy Castillo = Stole ill candy
Original Story:
http://www.obstructedview.net/comment...
THE BACKYARD
BEST OF MAXIM
RELATED ARTICLES
Darwin Barney was among the 9 candidates Baseball Prospectus highlighted today in their Regression Candidates article. I think it goes without saying that Barney is likely to regress, but I'm sure a lot of Cubs fans don't agree with that. I really don't know that I actually think Barney will decline this season, but I do think he'll be one of the more interesting...
The Cubs Convention took place this past weekend. OV's own Aisle424 was present and will summarize his thoughts on it shortly (I think). In the meantime, Josh has already weighed in. Bruce Miles was all over the goings-on, as well, and his twitter feed is well worth checking out. A couple of highlights: Sveum: Campana "has a really hard time getting on base at the big league...
The Chicago Cubs plan on restoring Wrigley Field, with or without the city's help. The team announced a five-year, $300 million plan to rebuild the Friendly Confines at the annual Cubs Convention on Saturday, and owner Tom Ricketts said his family is willing to foot the entire bill -- but only if some long-standing restrictions are lifted. "[We would] like to be treated...
As part of the weekend's fan festival activities, the Chicago Cubs Chairman, Tom Ricketts, talked about how the city felt about Sammy Sosa and how the team felt about him.  He called the relationship awkward, but one day he feels things can get better. According to Patrick Mooney of CSN Chicago, Ricketts can envision a day when the team welcomes Sosa back and the league...
Chicago Cubs scout Sam Hughes watches Colin Kaepernick nowadays and still wonders what the strong-armed NFL quarterback might look like on a pitching mound, as a power arm in the pros. It's hard not to, seeing the zip and accuracy on each throw, the competitive fire and focus. The Cubs never even watched Kaepernick throw a baseball before drafting him in the 43rd round almost...
Right around the time winter finally hit Chicago I was teased with a small summer preview. My spirit aches to smile into the yellow summer sun on a hot day, cool beverage in hand and hopefully plenty of hot women nearby. Instead, a cool Friday turned into a cold Saturday that turned into a frigid Sunday which is now an absolutely freezing Monday. I'm so far away from my yellow...
"People ask me what I do in winter when there's no baseball. I'll tell you what I do. I stare out the window and wait for spring." ~Rogers Hornsby I don't remember much from when I was little, but one thing that I do remember is the day that I fell in love with baseball. There are a few people in my life that understand my passion for this game, that's why going to the...
After a whirlwind weekend and trying to get back to "real life", I finally have a chance to sit down and give my take on the Convention this past weekend.  Now, keep in mind, I went to the Convention with my 13 year old son who lives and breathes baseball, so this weekend was to be more about him than seminars and Q&A sessions.  I would have loved to get to more of the...
We are getting very close to catchers and pitchers reporting. We might have one or two moves of significance until that point, but I'm going to assume that our team is essentially what we have in front of us. That being said, I'm going to take a broad look at every position to seem what we have there, both now and going forward. First up are the catchers.  ...
A lot of things have been said and written about him over the last year so I thought a closer look at Brett Jackson was appropriate. We'll also take a closer look at Josh Vitters later on. Brett Jackson has come to be defined by his strikeouts and will continue to be defined that way until he shows he can make contact more frequenty than he has. Strikeouts have been a problem...
Since the Ricketts family purchased the Chicago Cubs, one of the looming questions has been renovating baseball's second-oldest ballpark in Wrigley Field. With the Red Sox completing a 10-year renovation to the league's oldest ballpark, it was shown that renovation over a completely new facility could be done in a way that would modernize even the oldest of structures to allow...
MLB News

Delivered to your inbox

You'll also receive Yardbarker's daily Top 10, featuring the best sports stories from around the web. Customize your newsletter to get articles on your favorite sports and teams. And the best part? It's free!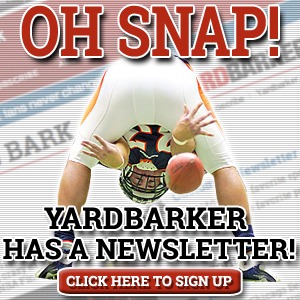 Latest Rumors
The Backyard

Today's Best Stuff

For Bloggers

Join the Yardbarker Network for more promotion, traffic, and money.

Company Info

Help

What is Yardbarker?

Yardbarker is the largest network of sports blogs and pro athlete blogs on the web. This site is the hub of the Yardbarker Network, where our editors and algorithms curate the best sports content from our network and beyond.