Originally written on
NESN.com
| Last updated 10/20/14
The Yankees are a team that's quickly growing older and more expensive. The Orioles' magical run of 2012 may well be a fluke and not repeatable. The Rays have their perpetual financial constraints, and the Red Sox are coming off one of their worst seasons in franchise history. The landscape of the American League Eastern Division may be quickly changing, and the Toronto Blue Jays, likewise, may have just blown the door wide open in terms of seizing an opportunity to compete for the playoffs for the first time in two decades. By reportedly acquiring Josh Johnson, Mark Buehrle, Emilio Bonifacio, John Buck and Jose Reyes from the Marlins in exchange for Yunel Escobar, Jeff Mathis, Henderson Alvarez and prospects, the Blue Jays have made a big statement to the rest of the division. That statement is: We are ready to compete. No longer is it a reasonable expectation that the Jays will maintain their also-ran status while the Rays, Sox and Yanks go at it. At this point it's anyone's division, and in 2013 things could get very wild. Let's start with the Marlins, and what this trade means for them (Hint: it isn't good). For the third time in franchise history — and the second time under current owner Jeffrey Loria — the organization has pulled off a major fire sale, jettisoning anyone making a reasonable salary. It's a tacit admittance that Loria's grand scheme of drawing fans in with a new ballpark and a suddenly ballooning payroll was an utter failure. In short, there's no reason for any sort of optimism in Miami, particularly when Loria — who has proven to be nothing short of completely inept at running a sports franchise  — is still calling the shots. Now, moving on to the Blue Jays. It's a bold move, and one that wasn't easy to see coming from Toronto. Either way, it's clear that the team saw an opening with the rest of their ultra-competitive division entering a state of flux, and the trade addresses their most immediate deficiency: veteran starting pitching. Last season, the team was largely banking on Ricky Romero to lead the rotation and Kyle Drabek to finally live up to his potential — neither of which happened. Now, Romero and Brandon Morrow can complete the back end of a rotation which is led by proven veterans, and has the kind of depth necessary to survive a 162-game schedule. There are legitimate questions about the health of Johnson's shoulder, whether or not he's on the decline and how a move to the deeper American League will affect him, but, at his best, Johnson is a potential ace. Buehrle, meanwhile, continues to be one of the most consistent players in baseball, and is one of the most undervalued veterans in the game, period. However, as much depth as the Blue Jays may have acquired in the rotation, their lineup may trump it. The Toronto infield, now featuring Reyes, Brett Lawrie and Edwin Encarnacion looks plainly scary. Add to that a healthy Jose Bautista and Colby Rasmus in the outfield, and the Jays have one of the best, deepest lineups in baseball. In effect, the Jays have beaten the Yankees at their own game, compiling the kind of power that would make the mid-'00s New York teams jealous. Of course, there are some potential warning signs for the Jays. If he pitches well, Johnson is an unrestricted free agent at the end of the year. Meanwhile, Buehrle is 33 years old, and Reyes is signed through 2017 — a dangerous proposition for a player whose game is predicated on speed. There's also the worry that this deal left the team's farm system bare which, if the trade itself doesn't work out, could well elongate that playoff-less streak. So, as great as the Blue Jays may look on paper, as they say "That's why they play the games." Conventional wisdom in baseball says that not spending money guarantees irrelevance (unless of course you're Tampa Bay), while spending may not guarantee winning. So, Toronto looked at the state of the rest of its division and sensed an opportunity. They've taken a huge gamble, but it's a calculated risk.
PLAYERS:
Josh Johnson
,
Mark Buehrle
,
Emilio Bonifacio
,
John Buck
,
Jose Reyes
,
Yuniel Escobar
,
Jeff Mathis
,
Henderson Alvarez
,
Jeffrey Loria
,
Ricky Romero
,
Kyle Drabek
,
Brandon Morrow
,
Brett Lawrie
,
Edwin Encarnacion
,
Jose Bautista
,
Colby Rasmus
TEAMS:
New York Yankees
,
Baltimore Orioles
,
Tampa Bay Rays
,
Boston Red Sox
,
Miami Marlins
,
Toronto Blue Jays
MORE FROM YARDBARKER
MLB News

Delivered to your inbox

You'll also receive Yardbarker's daily Top 10, featuring the best sports stories from around the web. Customize your newsletter to get articles on your favorite sports and teams. And the best part? It's free!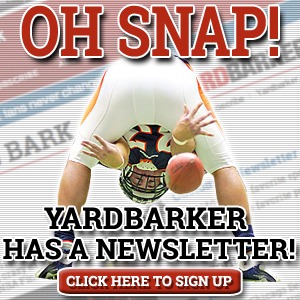 Latest Rumors
Best of Yardbarker

Today's Best Stuff

For Bloggers

Join the Yardbarker Network for more promotion, traffic, and money.

Company Info

Help

What is Yardbarker?

Yardbarker is the largest network of sports blogs and pro athlete blogs on the web. This site is the hub of the Yardbarker Network, where our editors and algorithms curate the best sports content from our network and beyond.