Found February 27, 2013 on FOXSports.com:
Bobby V. goes off on -- FIRST QUESTION -- at news conference.
Original Story:
http://network.yardbarker.com/mlb/art...
THE BACKYARD
BEST OF MAXIM
RELATED ARTICLES
Bobby Valentine had a shaky relationship with the Boston media while serving as manager of the Red Sox, and it looks like his tenure at Sacred Heart University is getting off to a similar start. Valentine was introduced Tuesday as the new athletic director at the small Connecticut college. He took some questions from the media and was promptly grilled. "Bobby, at this point in...
OH, BOBBY
Former Red Sox manager and incoming Sacred Heart athletic director Bobby Valentine had some final words regarding his former club during a brief interview on Monday.
Bobby Valentine is out of Boston but he proved on Monday that he's still in firing range down Route 95 in Fairfield, Conn. Valentine spoke to Steve Buckley of the Boston Herald on Monday afternoon and spoke about his new life as athletic director at Sacred Heart University. He also made it clear he didn't want to speak about his old life as manager of the Boston Red Sox. There...
Bobby Valentine resides in his own world. No matter what's going on around him, Valentine is only concerned with his own little world. So the thoughts and beliefs of the world we all reside in matters not to Valentine. Case in point: when Valentine got fired by the Red Sox, what did he do? He went out for a bike ride. Why? Because that's what you do in Bobby Valentine's world...
Bobby Valentine is probably the last guy who would argue that Major League Baseball managers aren't influential to the outcomes of games. But that's what it sounds like he's implying when he says nobody could have resurrected last year's 69-93 Red Sox. Valentine is starting a new job this week as the athletic director at Sacred Heart University, and that has included taking...
Bobby Valentine has taken a job as the athletic director at Sacred Heart University in Connecticut, and he he is looking forward to turning the page and forgetting about the abysmal season he endured with the Boston Red Sox last year. It's a strange decision for a strange man, but Valentine apparently wanted to add NCAA athletic director to his resume that already includes managing...
Over the weekend I found this story to be interesting and puzzling at the same time. Former Boston Red Sox manager Bobby Valentine has been hired as the athletics director at Sacred Heart University. The University in Fairfield, Conn. said Friday that Valentine's appointment will be formally announced next Tuesday. Sacred Heart fields 31 varsity teams – 17 for women and 14 for...
Steve Buckley a Red Sox columnist for the Boston Herald got a chance to catch up with the former Red Sox manager and now outcast, Bobby Valentine, just before he officially accepted the Athletic Director position at Sacred Heart University. It could have been a cordial conversation regarding Bobby's future, but instead Valentine let his mouth get the best of him yet again as...
Your browser does not support iframes. (Video courtesy of CSNNE.com) Here's the deal I'm writing this post strictly for the sound-bytes that Bobby Valentine continues to provide us - he can't help himself from spewing this garbage. After this post the only other time I'll write about Bobby V. will be in regards to his public apology for refusing to accept any of...
As many of you know, Bobby Valentine is the new athletic director at Sacred Heart University (smooth move Sacred Heart). During his introduction, Valentine made a statement that consisted of some absolute nonsense. WEEI "I thought I did a hell of a job in Boston," Valentine said. "I thought what had to be done there was done except for winning a pennant. But Connie...
With the John Farrell managerial era with the Red Sox officially underway in Florida for Spring Training, former Sox manager Bobby Valentine is still managing to find his way into the headlines despite being axed nearly six months ago. Valentine was introduced as the Athletic Director at Sacred Heart University in Fairfield, Connecticut on Tuesday and, as to be expected, he faced...
From our season preview of the Boston Red Sox earlier today... Can the Red Sox avoid making headlines for all of the wrong reasons? In the last two years, the Red Sox have been front page news for all of the following: -An epic September collapse -Players drinking beer and eating fried chicken in the clubhouse during games -A manager once thought to be untouchable...
MLB News

Delivered to your inbox

You'll also receive Yardbarker's daily Top 10, featuring the best sports stories from around the web. Customize your newsletter to get articles on your favorite sports and teams. And the best part? It's free!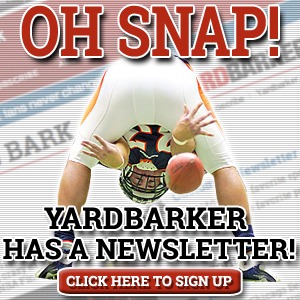 Latest Rumors
The Backyard

Today's Best Stuff

For Bloggers

Join the Yardbarker Network for more promotion, traffic, and money.

Company Info

Help

What is Yardbarker?

Yardbarker is the largest network of sports blogs and pro athlete blogs on the web. This site is the hub of the Yardbarker Network, where our editors and algorithms curate the best sports content from our network and beyond.