Found January 24, 2013 on We Talk Fantasy Sports:
PLAYERS:
Justin Upton
,
Chris Johnson
,
Chipper Jones
,
Martin Prado
,
Randall Delgado
,
Nick Ahmed
,
Zeke Spruill
,
Brandon Drury
,
BJ Upton
,
Jason Heyward
,
Dan Uggla
,
Juan Francisco
,
Jason Kubel
,
Cody Ross
,
Gerardo Parra
,
Adam Eaton
,
Kirk Gibson
,
Trevor Bauer
,
Tyler Skaggs
,
Brandon McCarthy
TEAMS:
Atlanta Braves
,
Arizona Diamondbacks
,
Philadelphia Phillies
,
Washington Nationals
,
Cleveland Indians
,
New York Mets
In a seven player trade, the Atlanta Braves have acquired OF Justin Upton from the Arizona Diamondbacks.  Also coming to Atlanta will be 3B Chris Johnson who will have some BIG shoes to fill for Chipper Jones who has finally retired.  The Braves will ship a package to Arizona including 3B/OF Martin Prado, SP Randall Delgado, SS Nick Ahmed & P Zeke Spruill.  The Braves will also send 1B Brandon Drury to the DBacks.  The move will see the Braves with BOTH Justin and B.J. Upton, who the Braves signed early this winter to a 5 year $75 mil deal.  The last 5 years has seen a DRASTIC shift in the National League East.  Just as soon as the New York Mets and Philadelphia Phillies were building a heated rivalry, the Washington Nationals and Atlanta Braves have now become the favorites to win the NL East & represent the National League in the World Series.Justin Upton will now be the focal point of the Braves offense, while B.J. should move to the leadoff spot, only because they have no one else. I do not suggest or endorse they do that.  Jason Heyward could now be the #2 guy as Upton gets slotted into the #3 hole in front of Freddie Freeman and Dan Uggla.  That lineup boosts a TON of run scoring potential but could also EASILY lead the league in strikeouts.  Juan Francisco is now out of a position and will be a role player as JUpton takes over Martin Prado's OF spot and Chris Johnson steals Francisco 3B job. Over in Arizona, the Diamondbacks have done a complete re haul of their lineup that now will feature Jason Kubel, Cody Ross and Gerardo Parra in the OF.  Parra is the guy who gets the biggest bump in OF Fantasy Rankings if he now gets to play everyday.  If the organization decides to give the gig to Adam Eaton, expect him to hit from the leadoff spot.  Eaton gets on base like a champ and has the speed to hit 40+ doubles and steal 40+ bases.  According to numerous reports, Diamonbacks manager Kirk GIbson says he would like to use all 4 OFs and give them each 400-500 ABs.  At that rate all 4 have fantasy value and Eaton's projections should be 30+ doubles and 30+ stolen bases.  The D'Backs also made a huge 3 way deal earlier this winter with Cleveland Indians and Cincinatti Reds when they dealt Ace Prospect Pitcher Trevor Bauer to the Cleveland Indians in return for Speedy SS Prospect Didi Gregorious from the Reds.  It is unlikely that Randall Delgado makes the club out of Spring Training as Tyler Skaggs is currently the front runner for the 5th slot in the rotation, but Brandon McCarthy has trouble staying healthy so I have no doubt that Delgado will make some starts this summer.  Be sure to check out MLB Depth Charts for updated projections on both the Braves and DiamondbacksFor the latest updates on the deal check out MLB Trade RumorsBraves Fans ReactionsDiamondbacks Fans Reactions
Original Story:
http://www.wetalkfantasysports.com/20...
THE BACKYARD
BEST OF MAXIM
RELATED ARTICLES
Yes, I know Justin Upton will be playing left field for us, so I'm very interested to see this MLBN special. Here are the details from MLB PR: I thought you might be interested to know that Jason Heyward and the newly-acquired Justin Upton will both be featured in MLB Network's "Top 10 Right Now: Right Fielders" tonight at 10pm ET. MLB Network determined its rankings...
B.J. Upton is excited about the possibility of a family reunion in the Braves' outfield. He signed a five-year, $75.25 million contract with Atlanta in November. After hearing the Braves may be pursuing a trade with Arizona for his younger brother, Justin Upton, B.J. said on his Twitter account: ''Please don't tease me like this... Would be a dream come true if it...
Justin Upton and B.J. Upton accomplished a rare feat last season when they both cracked their 100th career home run on the same night. If they repeat any milestones going forward, it could be while both wear the same uniform. The Braves and Diamondbacks have agreed to a trade that will send Justin Upton to Atlanta, according to CBSSports.com's Jon Heyman. Justin Upton will now...
Well, the Arizona Diamondbacks are getting what they wanted: a team full of gritty dirtballs. Theyve traded center fielder Chris Young, right-hander Trevor Bauer and right fielder Justin Upton, all for questionable returns. Now lets see if they can win a World Series with their curious emphasis on toughness over talent. Why even move Upton? That has been the question ever since...
The Atlanta Braves have acquired outfielder Justin Upton and third baseman Chris Johnson from the Arizona Diamondbacks for pitcher Randall Delgado, infielder Martin Prado and minor leaguers Nick Ahmed, Brandon Drury and Zeke Spruill, according to an ESPN report. The deal ends months of speculation involving the D-Backs outfielder, who will now play alongside his older brother,...
The trade for Justin Upton from the Diamondbacks not only has an impact on the big league squad, it has both short-term and long-term effects on the Braves' farm system overall. Did the deal make sense with what the Braves gave up on the minor league side?
The Phillies' division rivals have landed several big names this offseason already. While the Phillies have added Delmon Young and Michael Young, the Phillies have seen B.J. Upton, Rafael Soriano, Denard Span, and Adam LaRoche added to division rivals. The next one may be Justin Upton, whom the Arizona Diamondbacks...
The Atlanta Braves have acquired outfielder Justin Upton from the Arizona Diamondbacks. Atlanta and Arizona will exchange seven players. Arizona will recieve Martin Prado, Randall Delgado, Nick Ahmed, Zeke Spruill and Brandon Drury from the Braves. Atlanta will receive Chris Johnson in addition to Upton. Upton, 23, compiled a .289/.369/.529 line last season while hitting 31 home...
And so, while you're sitting around dreaming up silver linings after the Braves completed a trade for Justin Upton earlier today which leaves them with an outfield of Upton, Upton, and Heyward, enjoy the photo above of John Lannan working out with new Phillies teammate John Mayberry Jr. Yeah, it'll sure be strange the first time Lannan takes the mound at Nationals Park...
MLB News

Delivered to your inbox

You'll also receive Yardbarker's daily Top 10, featuring the best sports stories from around the web. Customize your newsletter to get articles on your favorite sports and teams. And the best part? It's free!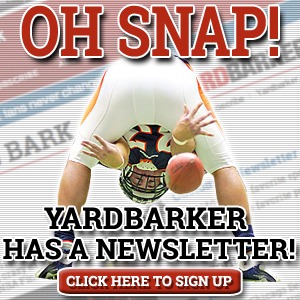 Latest Rumors
Best of Yardbarker

Today's Best Stuff

For Bloggers

Join the Yardbarker Network for more promotion, traffic, and money.

Company Info

Help

What is Yardbarker?

Yardbarker is the largest network of sports blogs and pro athlete blogs on the web. This site is the hub of the Yardbarker Network, where our editors and algorithms curate the best sports content from our network and beyond.