Posted October 14, 2013 on AP on Fox
PLAYERS:
Brian McCann
,
Tim Hudson
,
Dan Uggla
,
BJ Upton
,
Brandon Beachy
,
Paul Maholm
,
Julio Teheran
,
Mike Minor
,
Kris Medlen
,
Alex Wood
,
Sean Gilmartin
,
J.R. Graham
,
Evan Gattis
,
Fredi Gonzalez
TEAMS:
Atlanta Braves
Braves general manager Frank Wren and his staff will discuss looming decisions on two free agents, catcher Brian McCann and pitcher Tim Hudson, in organizational meetings which being Tuesday in Orlando. Two more players to be discussed are Dan Uggla and B.J. Upton, who lost starting jobs this season. Wren said Monday he still feels the disappointment of Atlanta's NL division series loss to the Dodgers. He said the team ''took a step forward'' by winning 96 games and the NL East division title. ''We didn't reach our ultimate goal and so I'm disappointed,'' Wren said. ''Our ultimate goal was to win a World Series. That's why we do what we do. Division championships are nice. Winning 96 games is great, but if you're not still standing as one of the last few teams to get to the World Series, it's somewhat disappointing.'' Wren said the Braves struggled to overcome the loss of Hudson, 38, whose season ended with a broken ankle on July 24. Brandon Beachy had setbacks when trying to return from elbow ligament-replacement surgery and didn't rejoin the rotation as expected. Wren said he will ''need a little more information than we have now'' on Hudson's recovery but said the right-hander ''is progressing.'' ''It would surprise me if we did not at least have some conversations with him,'' Wren said of Hudson. Left-hander Paul Maholm also is a free agent. Wren said the Braves have good depth in starting pitchers but said there would be room for Hudson in the rotation if he is re-signed. Candidates for the 2014 rotation could include Julio Teheran, Mike Minor, Kris Medlen, Alex Wood, Beachy and possibly Hudson. Wren said despite that depth, the rotation lacks an ace. He said there are potential aces in the farm system. Top Braves pitching prospects include Sean Gilmartin, Lucas Sims and Jason Hursh, all first-round picks, and J.R. Graham. ''We recognize that is an area of need and whether we can acquire that prior to our young guys arriving here, I'm not sure,'' Wren said. ''It's very difficult to acquire.'' McCann, who will be 30 at the start of the 2014 season, could be difficult to re-sign. He has hit 20 or more homers in six straight seasons and is a seven-time All-Star. Wren said he is confident Evan Gattis, who spent much of the second half of his rookie season as the starting left fielder, can be a capable defensive catcher. ''We saw enough of his catching skills early in the season to know that he could handle this job,'' Wren said of Gattis. Upton and Uggla each hit below .190. Uggla was left off the postseason roster after hitting .179 with 22 homers. Uggla's hitting woes continued following laser eye surgery in August. He hit .083 in August, .112 in September and then was left off the division series roster. ''I think we made a decision who is our best 25,'' Wren said Monday. ''He wasn't on that roster, and so we need him to perform better. That's plain and simple. ''I hope for Dan's sake and our sake that he can make some adjustments with an offseason of getting used to normal vision.'' Wren said he believes Upton tried too hard to play up to the biggest free-agent contract in team history - five years and $72.25 million. ''What I hope happened to B.J. and what I'm theorizing is that he fell into the same trap that so many free agents fall into, trying to do too much and trying to justify and win over a new fan base,'' Wren said. ''It's a deep hole that gets deeper and deeper the harder you try. We've seen dozens and dozens of players go through it.'' Upton, 29, hit only .184 with 9 homers, 26 RBIs and 12 stolen bases. He had three strikeouts in three at-bats in the division series. It was his fifth straight season hitting below .250, but it was a sharp decline from his 2012 season with Tampa Bay, when he hit .246 with 28 homers, 78 RBIs and 31 stolen bases. ''B.J. is very talented,'' Wren said. ''He's young. He can do a lot of things on the baseball field. We've got to help him get back on track. That's plain and simple. There a reason why there were a number of clubs after him last winter. I know he didn't show it very consistently here.'' Manager Fredi Gonzalez said last week he expects Upton to open next season as the starting centerfielder.
Original Story:
http://msn.foxsports.com/mlb/story/Br...
THE BACKYARD
BEST OF MAXIM
RELATED ARTICLES
Tim Hudson's season ended prematurely, as the veteran starter was lost over the summer to a grisly ankle injury. Not only was his season ended early, but he's also facing an expiring contract. While he hasn't declared his intentions, the Atlanta Braves have interest in re-signing the right-hander, according to Mark Bowman of MLB.com. Frank Wren has provided strong indication...
No Major League team would want to lose a star player, especially behind the plate. However, the Atlanta Braves are very likely to do so. Andrew Marchand of ESPN New York reports that an unnamed general manager told ESPN New York that free agent catcher Brian McCann could land a six-year, $100-million (or more) contract. However, Marchand also indicates that an American League team...
On Monday the Atlanta Braved announced that third base coach Brian Snitker had been named the new manager of the clubs Triple-A affiliate, the Gwinnett Braves. Taking on Snitker's job as the third base coach will be Doug Dascenzo who had been a roving minor league outfield/base running coach. Snitker had held the position since 2006 when Bobby Cox was still the manager of the Braves...
According to Dave O'Brien at the Atlanta-Journal Constitution, general manager Frank Wren says the Braves are planning on showing starting pitcher Tim Hudson some love. Hudson broke his ankle in late July against the Mets, which has put his future in question.  He accumulated an 8-7 record with a 3.93 ERA in 2013 before missing the rest of the season. The 38-year old Hudson,...
With another early October exit putting a damper on an otherwise solid 2013 season, the Atlanta Braves journey into the off season tracking the progress of a pair of beleaguered hurlers. Brandon Beachy, whose absence warranted the Game 4 start of Freddy Garcia is expected to be ready for spring training after undergoing his second elbow surgery in the last two years in September...
Brian McCann may be joining a very elite club in Major League Baseball in the next year. Before the 2011 season, the Twins signed Joe Mauer to an eight-year, $184 million extension, and a year later the Giants took a nod from Minnesota and inked Buster Posey to a nine-year, $167 million deal. Now, McCann could be headed to the $100-million crew after raking in $12 million in 2013...
Eliminated from the playoffs doesn't mean anytime off. The independent leagues are becoming a solid resource for MLB franchises to solidify their farm teams until spring training starts. The sting of Juan Uribe's game-winning blast will wear off soon enough, in the meantime, the Braves picked up two solid pitchers from the independent Southern Illinois Miners, according...
Doug Dascenzo has been hired as the Atlanta Braves' third-base coach. The 49-year-old replaces Brian Snitker, who becomes named manager of the Braves' Triple-A Gwinnett farm team. Snitker, Atlanta's third-base coach for seven seasons, returns to the minor leagues after serving as Triple-A Richmond manager in 2006 and four seasons as manager at Double-A Greenville and...
The Atlanta Braves are expecting pitcher Brandon Beachy to be ready for the start of spring training after the right hander had to undergo a procedure to cleanup his elbow last month. Beachy, 27, underwent Tommy John surgery in June of 2012 and missed the first half of the 2013 season. He returned to pitch in five games compiling a 2-1 record, 4.50 ERA and 1.03 WHIP before landing...
Free agency begins five days after the end of the World Series. As in other recent offseasons, FanGraphs is once again facilitating this offseason a contract-crowdsourcing project, the idea being to harness the wisdom of the crowds to the end of better understanding the 2013-14 free-agent market. Note that, this year, in addition to asking readers to estimate the years/dollars each...
The Yankees exciting free agency rumors continue to swirl. Shortly after we mentioned that Carlos Beltran is interested in wearing pinstripes next season – and, suffice to say, the feeling is mutual – another big name free agent became linked with New York, and it's hard to see the Yanks letting this one go easily. Yep, ESPN New York's Andrew Marchland is reporting...
Braves News

Delivered to your inbox

You'll also receive Yardbarker's daily Top 10, featuring the best sports stories from around the web. Customize your newsletter to get articles on your favorite sports and teams. And the best part? It's free!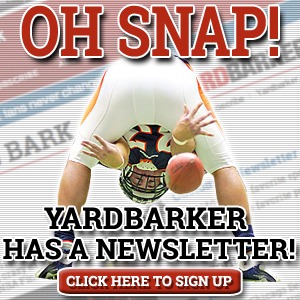 Latest Rumors
The Backyard

Today's Best Stuff

For Bloggers

Join the Yardbarker Network for more promotion, traffic, and money.

Company Info

Help

What is Yardbarker?

Yardbarker is the largest network of sports blogs and pro athlete blogs on the web. This site is the hub of the Yardbarker Network, where our editors and algorithms curate the best sports content from our network and beyond.