Found May 01, 2013 on Fox Sports:
PLAYERS:
Tim Hudson
,
Bryce Harper
,
Andy Pettitte
,
Roy Halladay
,
CC Sabathia
,
Derek Lowe
,
Roger Clemens
,
Greg Maddux
,
Tom Glavine
,
Justin Verlander
,
Clayton Kershaw
TEAMS:
Atlanta Braves
,
Washington Nationals
,
New York Yankees
,
Philadelphia Phillies
,
Texas Rangers
,
Detroit Tigers
,
Los Angeles Dodgers
Tuesday in Atlanta, Tim Hudson won the 200th game of his marvelous Major League Baseball career. I hope you were paying attention. Hudson became only the 110th pitcher in MLB history to accomplish the feat, according to STATS LLC. For context, 236 pitchers have thrown no-hitters. So, Hudson's new distinction is more than twice as rare as having thrown a no-hitter. And here's what was really rare: Hudson homered in the fifth inning of the Braves' 8-1 win over Washington -- with an assist from Bryce Harper -- to join Bob Lemon as the only pitchers to hit a home run in their 200th career victories since at least 1920, according to STATS LLC. Hudson's achievement deserves to be celebrated because of baseball's present environment, as much as for its place in history. In an era of pitch counts and specialized bullpens, round numbers are becoming more difficult to reach. Hudson is one of only three active pitchers with 200 wins, the others being Andy Pettitte (248) and Roy Halladay (201). Now that Hudson has arrived, the focus turns to CC Sabathia (195). After that, the 200 Club will stop processing new applications this year. Derek Lowe is behind Sabathia with 176, but he's now a 40-year-old middle reliever with the Rangers who's unlikely to earn membership at all. So, what does a 200-win career mean? Quite a lot, particularly since only 1.26 percent of pitchers in major league history have made it there. Strict sabermetricians probably disagree, because they fume at the continued existence of wins as a popular statistic. But pitching wins recognize two traits -- longevity and, well, winning -- that are highly valued among major league players, managers and coaches. In that way, a 200-win career acts as a lifetime achievement award for many pitchers. And as fewer of them reach 300 and even 250 -- as Pettitte, by the way, is about to do -- then the 200-victory threshold will assume a greater importance. "I think 200 wins is definitely challenging, no question about it," Hudson told me over the weekend, while his Braves were in Detroit. "You have to be healthy. You have to pitch a long time. Nowadays, who knows how long careers are going to be? "There's a lot of power arms, a lot of money to be made in this game. A lot of guys may not have the passion to play 15, 20 years. You may have some really good potential 200-, 250-, 300-win guys who shut it down after 12 years because they made their money or got hurt -- or both." Hudson said baseball "may have seen the last 300-win pitcher," and he isn't alone in that belief. Only four pitchers have reached 300 wins over the past 22 years: Roger Clemens, Greg Maddux, Tom Glavine, and, most recently, Randy Johnson in 2009. Who has a chance? Probably not Pettitte, who turns 41 in June and already has retired once. Sabathia, 32, is on a good pace, but he's shown signs of slowing within the last year (e.g., elbow surgery, diminished velocity). Sabathia will benefit from the fact that he's pitching for the Yankees -- a perpetually competitive team, even when they shouldn't be (like now). Justin Verlander, 30, has said publicly that he wants to pitch long enough to reach 300, but 25-year-old Clayton Kershaw may have the better shot because of the young age at which he arrived (and excelled) in the majors. (Verlander has 127 wins, Kershaw 64.) Earlier this year, I asked Verlander if he thought a 200th win should garner the same media attention that a 300th win once did because of how the sport has evolved. "Maybe 250," he replied. "I don't know. I think the criteria for the Hall of Fame pitcher is going to go down. Time will tell. (There were) set benchmarks in the past, but that was a different time. In this era, who knows what the numbers are going to be? It'll be interesting to find out. If 300 is the benchmark, you might not have a lot of pitchers in the Hall of Fame from here to the end of time. "The bullpen (is part of the reason), and money plays into that, too. Teams are careful with their pitchers. Look at (Stephen) Strasburg (last year). Even a lot of veteran guys, teams get them out of there at 100 pitches. It's pretty tough to go CG (complete game) with 100 pitches." It is. And it's even harder to win 200 games, especially now. Hudson deserves acclaim from the baseball world for what he did Tuesday night. The next round numbers for Pettitte and Sabathia merit the same.
Original Story:
http://msn.foxsports.com/mlb/story/ti...
THE BACKYARD
BEST OF MAXIM
RELATED ARTICLES
ATLANTA Here are three things we learned from the Braves' 8-1 triumph over the Nationals on Tuesday, aka the night of Tim Hudson's 200th career victory: 1. The third time was the charm in Hudson's bid for 200 In the press box during the latter innings, we had a tough time confirming whether Hudson became the 111th or 113th pitcher to enter the 200 Club (Baseball Reference...
Tim Hudson defeated the Washington Nationals on Tuesday night to earn his 200th career victory. It was a complete performance by Hudson who used his arm and his bat to defeat the division rival. On the mound Hudson was his usual self going seven innings allowing one run. The veteran starter recorded six strikeouts and relied on the ground ball. In Hudson's seventh and final inning...
Is 200 the new 300? For decades now, 300 wins for a pitcher has been the standard of automatic entry to baseball's Hall of Fame. However, when Randy Johnson achieved the feat in 2009, many asked the very legitimate question of whether or not the Big Unit would be the very last pitcher to ever hit that mark. Conventional wisdom says Johnson will indeed be the last. History tells...
Your browser does not support iframes. Atlanta Braves pitcher Tim Hudson has only three home runs in his career, and his most recent big fly may not have made its way into the stands without a little help from Washington Nationals star Bryce Harper. During the bottom of the fifth inning on Tuesday night, the 37-year-old Hudson proved that he still has the strength to send a ball...
Tuesday night, Tim Hudson became just the third active pitcher (Andy Pettitte and Roy Halladay) to reach 200 victories.  And dude did it in style. The righty scattered three hits over seven stellar innings and blasted his third career home run (you can credit Bryce Harper with the assist) while powering the Atlanta Braves to an 8-1 victory over the Washington Nationals. ...
Bryce Harper should be credited with an assist on Tim Hudson's home run Tuesday night.  In the fifth inning of the Nationals-Braves game, Harper nearly made a highlight-reel catch on a fly ball off the bat of Atlanta's starting pitcher. But instead of hauling it in, the ball bounced off the young outfielder's glove and over the right-field fence.  It's embarrassing enough...
Tim Hudson won his 200th game on Tuesday night against the Washington Nationals, becoming just the 110th pitcher in MLB history to reach the milestone. On the same evening, Roy Halladay allowed 8 earned runs (3 HR) to the Cleveland Indians in 3.67 IP at Progressive Field. Is Tim Hudson the most underrated pitcher in the 21st century? Has the Atlanta Braves ace pitched to the level...
In the bottom of the fifth inning of Tuesday's Nationals-Braves game, Atlanta pitcher Tim Hudson hit a ball to deep right field. Washington right fielder Bryce Harper went back on the ball, leapt up to make the catch, and inadvertently knocked it over the fence, giving Hudson his first home run of the season and the third of his career. Hudson's homer pushed Atlanta's...
On night of film debut, Bryce Harper flub gives Tim Hudson a HR. [FTW] Bryce's HR giveaway didn't matter; Nats drilled 8-1 by Braves. [NI] Don't worry, Boz says everything is fine, including Strasburg's arm. [WP] On a very bad night in Atlanta, at least Gio made this diving catch. [NE] Nats Park embroiled in a serious battle over the Wave. [For, Against] Orioles rebound from...
We had our second pitcher of the season pick up win #200: Tim Hudson of the Braves. Hudson's Braves dominated the Nationals in an 8-1 win, and the 37-year old turned in one of his best performances of the year to reach the milestone. He even added a homer on the offensive side of teh game. We're going to have one more pitcher hit 200 wins this year, as CC Sabathia is currently...
Gio Gonzalez will try to break the Nationals 8-game losing streak against the Braves The Atlanta Braves and Washington Nationals clash tonight in a 7:10 ET game at Turner Field in Atlanta.  The Braves will try to give the Nationals yet another "Nattitude Adjustment" as they gun for five in a row on the season against Washington and nine in a row overall. The Nationals PR folks...
MLB News

Delivered to your inbox

You'll also receive Yardbarker's daily Top 10, featuring the best sports stories from around the web. Customize your newsletter to get articles on your favorite sports and teams. And the best part? It's free!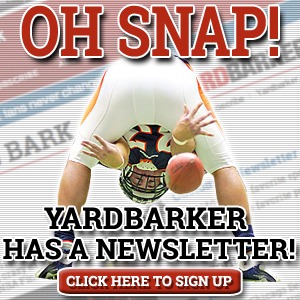 Latest Rumors
The Backyard

Today's Best Stuff

For Bloggers

Join the Yardbarker Network for more promotion, traffic, and money.

Company Info

Help

What is Yardbarker?

Yardbarker is the largest network of sports blogs and pro athlete blogs on the web. This site is the hub of the Yardbarker Network, where our editors and algorithms curate the best sports content from our network and beyond.