Found February 17, 2013 on Fox Sports South:
PLAYERS:
Jason Heyward
,
Juan Francisco
,
Chris Johnson
,
Mike Minor
,
Fredi Gonzalez
,
Kris Medlen
,
Tim Hudson
,
Paul Maholm
,
Julio Teheran
,
Jair Jurrjens
,
Tommy Hanson
,
Randall Delgado
,
Tyler Pastornicky
,
Andrelton Simmons
,
Justin Upton
,
Chipper Jones
,
Kirk Gibson
,
Magglio Ordonez
,
Sandy Koufax
,
Babe Ruth
TEAMS:
Atlanta Braves
,
Detroit Lions
,
Baltimore Orioles
,
Los Angeles Angels
,
Arizona Diamondbacks
,
Detroit Tigers
LAKE BUENA VISTA, Fla. -- Here's a postcard to commemorate Day 3 of FOXSportsSouth.com's embedded coverage from Braves camp, easily the weekend's coldest day (temps in the upper 40slow 50s): Seven Workout Observations 1. On a separate field outside Champion Stadium, with a stiff crosswind heading out to right-center field, Jason Heyward quickly found his groove, spraying the power alleys with line drives and belting the occasional ball over the right-field fence. On one particular sequence, Heyward launched three homers in five swings. 2. A good number of Braves hitters took extra cuts in the (presumably heated) batting cages, counteracting the chilly conditions on the main field. 3. The outfielders actually practice making on-the-run, over-the-shoulder catches during drill work, just like NFL receivers during training camp. It seems like a fun way to cultivate raw athleticism, with a heavy emphasis on proper footwork and positioning, of course. 4. First-base coac...
Original Story:
http://www.foxsportssouth.com/02/17/1...
THE BACKYARD
BEST OF MAXIM
RELATED ARTICLES
A few news sources have posted the schedules for TV broadcasts of Braves spring training games. Here they are in date-order (instead of network-order, which is not helpful to anyone but easy for the media to copy/paste, haha): 2/28 Braves @ Phillies (1:00p, MLBN - live) 3/03 Tigers @ Braves (1:00p, CSS - live; replay 8:00p, MLBN) 3/04 Braves @ Mets (1:00p, MLBN - live) 3/05 Braves...
As the Atlanta Braves open their spring training for the 2013 season in Florida, the hopeful team is happy to finally have a fully healthy first baseman back this year. Freddie Freeman suffered a serious bruise to his left index finger in the middle of last season after being struck by a Jose Reyes throw while he was sliding. He battled with the injury for the remainder of the season...
LAKE BUENVA VISTA, Fla. Last February, Tyler Pastornicky came into spring training as the favorite to be the Braves' everyday shortstop. A year later, he's preparing to take on an entirely different role. During Monday's infield drills, Terry Pendleton hit a sharp grounder up the middle and Pastornicky, playing second base, charged. He backhanded the ball and in a fluid...
LAKE BUENA VISTA, Fla. -- With spring training entering its first full week, there are no shortage of storylines surrounding the Braves. While the Brothers Upton, newcomers B.J. and Justin, have everyone's focus, Jay Clemons and Cory McCartney are putting their focus elsewhere: mainly two guys fighting for roster spots in Evan Gattis and Tyler Pastornicky. Pastornicky entered...
MCann enters 2013 in the last year of his contract Braves catcher Brian McCann will face major challenges this season, and he will be facing them with a surgically repaired right shoulder that most likely won't be 100% until the 2013 season is well underway. McCann didn't have a "Brian McCann" type season at the plate in 2012, when he hit only .230, with 20 homers, 67 runs...
I took a look yesterday at qualifying starting pitchers using PitchF/X pitch values to find the top ten and bottom ten values using repertoire as criteria. In other words, if you put together the value of all their pitches, which pitcher had the deadliest set of pitches. Kershaw came out on top with Verlander a close second. Nova came in dead last among the 85 qualifiers with Ricky...
The Braves need production against left-handed pitching from the third base position Juan Francisco and Chris Johnson are the two top candidates to man the Braves third base position this season.  Most likely in some sort of platoon situation, although the Braves have hopes that one or the other can step up and play well enough to win the full-time job. But could there be a dark...
Sorry I've been so slow to put this up; Suzanna's story below of her trip to the Rock Hill, SC caravan stop is a fun one. Thanks for sharing! ~ * ~ * ~ * ~ * ~ * ~ * ~ * ~ * ~ * ~ * ~ * ~ * ~ Hey, Lauren!  Here's my experience from the Braves Caravan in Rock Hill on Wednesday.  I was only able to get a few pics, but I have where they're supposed to go marked by the...
LAKE BUENA VISTA, Fla. Here's a postcard to commemorate Day 4 of FOXSportsSouth.com's embedded coverage from Braves camp, a tricky weather day that began with a broken ice scraper for my frost-addled car . . . and ended with a cool, soothing hotel towel for my windsun-burned face. Five Workout Observations 1. Jason Heyward is already showing midseason form in one respect...
Ben and Sam preview the Braves` season with Zachary Levine, and Pete talks to Atlanta Journal-Constitution sports columnist Mark Bradley (at 16:42).
LAKE BUENA VISTA, Fla. To ring in FOXSportsSouth.com's first day of embedded Braves coverage at the Walt Disney World sports complex, here's an all-encompassing postcard from Day 2 of full-squad workouts: Four Workout Observations 1. The infield practice portion was an exercise in casual precision. At some point during drill work, the shortstops fielded five consecutive...
MLB News

Delivered to your inbox

You'll also receive Yardbarker's daily Top 10, featuring the best sports stories from around the web. Customize your newsletter to get articles on your favorite sports and teams. And the best part? It's free!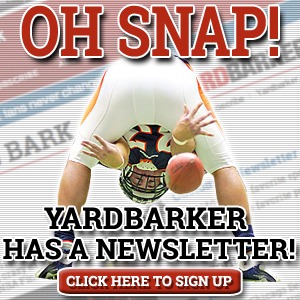 Latest Rumors
Best of Yardbarker

Today's Best Stuff

For Bloggers

Join the Yardbarker Network for more promotion, traffic, and money.

Company Info

Help

What is Yardbarker?

Yardbarker is the largest network of sports blogs and pro athlete blogs on the web. This site is the hub of the Yardbarker Network, where our editors and algorithms curate the best sports content from our network and beyond.