Found February 17, 2013 on Fox Sports South:
PLAYERS:
Jason Heyward
,
Juan Francisco
,
Chris Johnson
,
Mike Minor
,
Fredi Gonzalez
,
Kris Medlen
,
Tim Hudson
,
Paul Maholm
,
Julio Teheran
,
Jair Jurrjens
,
Tommy Hanson
,
Randall Delgado
,
Tyler Pastornicky
,
Andrelton Simmons
,
Justin Upton
,
Chipper Jones
,
Kirk Gibson
,
Magglio Ordonez
,
Sandy Koufax
,
Babe Ruth
TEAMS:
Atlanta Braves
,
Detroit Lions
,
Baltimore Orioles
,
Los Angeles Angels
,
Arizona Diamondbacks
,
Detroit Tigers
LAKE BUENA VISTA, Fla. -- Here's a postcard to commemorate Day 3 of FOXSportsSouth.com's embedded coverage from Braves camp, easily the weekend's coldest day (temps in the upper 40slow 50s): Seven Workout Observations 1. On a separate field outside Champion Stadium, with a stiff crosswind heading out to right-center field, Jason Heyward quickly found his groove, spraying the power alleys with line drives and belting the occasional ball over the right-field fence. On one particular sequence, Heyward launched three homers in five swings. 2. A good number of Braves hitters took extra cuts in the (presumably heated) batting cages, counteracting the chilly conditions on the main field. 3. The outfielders actually practice making on-the-run, over-the-shoulder catches during drill work, just like NFL receivers during training camp. It seems like a fun way to cultivate raw athleticism, with a heavy emphasis on proper footwork and positioning, of course. 4. First-base coach Terry Pendleton is not averse to hitting screamers at defenders during infield practice, especially the first and second basemen. He also has a cool knack for repeatedly fungo-ing tricky, short-hop grounders to shortstops and third basemen. 5. It bears repeating: The third-base tussle between Juan Francisco and Chris Johnson could last throughout spring training, with both contenders experiencing their share of highs and lows once live-action begins. On the surface, it's Johnson's job to lose . . . even though Francisco may possess more physical upside. 6. I watched the Braves run more gassers (50-yard sprints, there and back) in one day than the NFL's Detroit Lions had performed for any training camp from 2003-05. That alone should bust the stereotype of spring training being nothing more than a leisurely ritual of stretching, batting practice and pitchers "fake-throwing" during outfield drills. 7. The omnipresent Mike Minor can routinely be found buzzing around the Braves' complex, as if he's ready for the regular season to start next week. Can you blame him, though? In his final five starts last year, the lefty notched these scintillating numbers: 4-0, 0.87 ERA, 0.71 WHIP, 289 K-BB. Easy Does It Braves manager Fredi Gonzalez has been reluctant to name an opening-day starter or reveal a rotational pecking order for the first part of April. Preliminary speculation has the order as Kris Medlen, Tim Hudson (or vice-versa), Mike Minor, Paul Maholm and Julio Teheran; but with four off days between April 2-25, it's hard to get a read on how often the No. 5 starter would be used early on whoever it is. The Braves open with six straight home games from April 1-7 (Phillies, Cubs), with an off day on April 2 (guarding against a weather postponement on Opening Day). Last season, the starters reached the 6th inning in 10 of 23 April games, with the first such occurrence coming on April 14. On the flip side, of Atlanta's first seven games last year, nearly every starter went precisely five innings with Jair Jurrjens (4.1 innings) being the lone exception on April 7. A Matter Of Perspective This time last year, Tommy Hanson was the Braves' opening-day starter, drawing a start every fifth day, regardless of the off-day situation. And of Atlanta's 23 games for April, Hanson, Jurrjens and Randall Delgado logged 13 starts. From a hitting perspective, Tyler Pastornicky garnered plenty of attention last March, being hailed by some as the club's next long-term shortstop. And for the most part, he lived up to that billing early on hitting safely in six of his first 10 games . . . and then going on a .347 batting tear from April 17 to May 2 (no homers or steals, though). Fast forward to the present, as Pastornicky may have to reinvent himself as either a super-utility asset (multiple positions at any day) or a potential fixture at third base should Chris Johnson or Juan Francisco falter at the hot corner. Which brings us to Andrelton Simmons, the every-day shortstop and likely leadoff hitter to start the season. Yes, the Braves reportedly rejected every chance to deal him during the offseason (including certain overtures involving Justin Upton); and yes, the defensive whiz seemingly has the physical upside for 15 homers30 steals down the road. But he's still just a 23-year-old kid with only 1,096 professional at-bats under his belt (166 in the majors). With the vast majority of under-24 prospects, that's not enough minor-league seasoning to guarantee a profound, immediate impact at the MLB level. Guest Privileges On Saturday, newly retired Chipper Jones made a somewhat low-key return to Braves camp, his first non-playing spring training since 1990 (his senior year in high school). Jones' role as a guest instructor could entail a variety of things, for an indefinite amount of time. It's quite common for living legends to serve as guest instructors during spring training. Hall of Famer Al Kaline has tutored every Tigers right-fielder namely Kirk Gibson, Magglio Ordonez, Rusty Staub since 1975. And Hall of Fame pitcher Sandy Koufax, likely the greatest southpaw of the last 60 years, has been a Grapefruit or Cactus staple with either the Mets or Dodgers for decades. Going Batty The cold temperatures and tricky crosswinds at Champion Stadium prompt one to wonder aloud: Do major league hitters prefer a heavy or light bat on cold days, or is it irrelevant? (I'll dig for answers here later this week.) In Major League Baseball, a regulation bat cannot exceed 42 inches in length, but there is no official limit concerning the weight of a bat. On average, most bats rarely exceed 36 inches or weigh more than 36 ounces. In one respect, having a dense bat in cold temperatures might better protect hitters from the aftershock that comes with an imperfect swing. On the flip side, a hitter should always strive for maximum bat-head speed when handling pitches that routinely exceed 90 mph. As a frame of reference, Babe Ruth apparently used the largest bat in baseball history toting a 42-inch, 54-ounce piece of lumber during the 1920s, a decade when he absurdly cracked 40-plus homers eight times. In 1927, the Yankees' famed "Murderer's Row" season, Ruth belted 60 homers more than the entire rosters for the American League's other eight clubs. Think about that for a second.
Original Story:
http://www.foxsportssouth.com/02/17/1...
THE BACKYARD
BEST OF MAXIM
RELATED ARTICLES
A few news sources have posted the schedules for TV broadcasts of Braves spring training games. Here they are in date-order (instead of network-order, which is not helpful to anyone but easy for the media to copy/paste, haha): 2/28 Braves @ Phillies (1:00p, MLBN - live) 3/03 Tigers @ Braves (1:00p, CSS - live; replay 8:00p, MLBN) 3/04 Braves @ Mets (1:00p, MLBN - live) 3/05 Braves...
As the Atlanta Braves open their spring training for the 2013 season in Florida, the hopeful team is happy to finally have a fully healthy first baseman back this year. Freddie Freeman suffered a serious bruise to his left index finger in the middle of last season after being struck by a Jose Reyes throw while he was sliding. He battled with the injury for the remainder of the season...
LAKE BUENVA VISTA, Fla. Last February, Tyler Pastornicky came into spring training as the favorite to be the Braves' everyday shortstop. A year later, he's preparing to take on an entirely different role. During Monday's infield drills, Terry Pendleton hit a sharp grounder up the middle and Pastornicky, playing second base, charged. He backhanded the ball and in a fluid...
LAKE BUENA VISTA, Fla. -- With spring training entering its first full week, there are no shortage of storylines surrounding the Braves. While the Brothers Upton, newcomers B.J. and Justin, have everyone's focus, Jay Clemons and Cory McCartney are putting their focus elsewhere: mainly two guys fighting for roster spots in Evan Gattis and Tyler Pastornicky. Pastornicky entered...
I took a look yesterday at qualifying starting pitchers using PitchF/X pitch values to find the top ten and bottom ten values using repertoire as criteria. In other words, if you put together the value of all their pitches, which pitcher had the deadliest set of pitches. Kershaw came out on top with Verlander a close second. Nova came in dead last among the 85 qualifiers with Ricky...
MCann enters 2013 in the last year of his contract Braves catcher Brian McCann will face major challenges this season, and he will be facing them with a surgically repaired right shoulder that most likely won't be 100% until the 2013 season is well underway. McCann didn't have a "Brian McCann" type season at the plate in 2012, when he hit only .230, with 20 homers, 67 runs...
The Braves need production against left-handed pitching from the third base position Juan Francisco and Chris Johnson are the two top candidates to man the Braves third base position this season.  Most likely in some sort of platoon situation, although the Braves have hopes that one or the other can step up and play well enough to win the full-time job. But could there be a dark...
Sorry I've been so slow to put this up; Suzanna's story below of her trip to the Rock Hill, SC caravan stop is a fun one. Thanks for sharing! ~ * ~ * ~ * ~ * ~ * ~ * ~ * ~ * ~ * ~ * ~ * ~ * ~ Hey, Lauren!  Here's my experience from the Braves Caravan in Rock Hill on Wednesday.  I was only able to get a few pics, but I have where they're supposed to go marked by the...
LAKE BUENA VISTA, Fla. Here's a postcard to commemorate Day 4 of FOXSportsSouth.com's embedded coverage from Braves camp, a tricky weather day that began with a broken ice scraper for my frost-addled car . . . and ended with a cool, soothing hotel towel for my windsun-burned face. Five Workout Observations 1. Jason Heyward is already showing midseason form in one respect...
Ben and Sam preview the Braves` season with Zachary Levine, and Pete talks to Atlanta Journal-Constitution sports columnist Mark Bradley (at 16:42).
LAKE BUENA VISTA, Fla. To ring in FOXSportsSouth.com's first day of embedded Braves coverage at the Walt Disney World sports complex, here's an all-encompassing postcard from Day 2 of full-squad workouts: Four Workout Observations 1. The infield practice portion was an exercise in casual precision. At some point during drill work, the shortstops fielded five consecutive...
MLB News

Delivered to your inbox

You'll also receive Yardbarker's daily Top 10, featuring the best sports stories from around the web. Customize your newsletter to get articles on your favorite sports and teams. And the best part? It's free!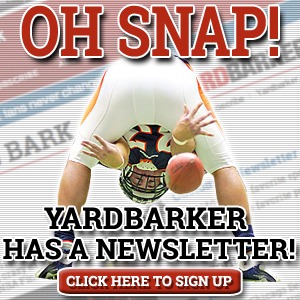 Latest Rumors
The Backyard

Today's Best Stuff

For Bloggers

Join the Yardbarker Network for more promotion, traffic, and money.

Company Info

Help

What is Yardbarker?

Yardbarker is the largest network of sports blogs and pro athlete blogs on the web. This site is the hub of the Yardbarker Network, where our editors and algorithms curate the best sports content from our network and beyond.