Found February 18, 2013 on Fox Sports South:
PLAYERS:
Jason Heyward
,
Mike Minor
,
Tyler Pastornicky
,
Evan Gattis
,
Rickey Henderson
,
Justin Upton
,
Reed Johnson
,
Tim Hudson
,
Fredi Gonzalez
,
Paul Maholm
,
Paul Konerko
,
Ike Davis
,
Eric Hosmer
,
Anthony Rizzo
,
Dan Uggla
,
Robinson Cano
,
Ian Kinsler
,
Dustin Pedroia
,
Jason Kipnis
,
Ben Zobrist
,
Jose Altuve
,
Chipper Jones
TEAMS:
Atlanta Braves
,
Chicago White Sox
,
New York Mets
,
Kansas City Royals
,
Chicago Cubs
,
New York Yankees
,
Texas Rangers
,
Boston Red Sox
,
Cleveland Indians
,
Tampa Bay Rays
,
Houston Astros
LAKE BUENA VISTA, Fla. Here's a postcard to commemorate Day 4 of FOXSportsSouth.com's embedded coverage from Braves camp, a tricky weather day that began with a broken ice scraper for my frost-addled car . . . and ended with a cool, soothing hotel towel for my windsun-burned face. Five Workout Observations 1. Jason Heyward is already showing midseason form in one respect the thuuuup-thuup sound of his right foot (lead foot) when taking swings in the batting cage. If you snapped a pre-swing photo of Heyward facing 20 consecutive pitches, you'd essentially have the same image for all 20 cuts. That's the hallmark of a fluid, balanced and consistent swing in February. 2. Mike Minor and Billy Kimbrel both got in live sessions of approximately 20 pitches. In Minor's case, it took roughly 12 pitches for any Atlanta hitter to get a ball out of the cage and past the infield (by air). With Kimbrel, for a guy running at maybe 80-percent capacity (typical for this time of year), he still had good command of his pitches, mixing the occasional curve into a rock-solid session. 3.While occupying second base during infield practice, Tyler Pastornicky snagged back-to-back, hot-shot grounders that ricocheted off the right edge of the pitcher's mound. Roughly 10 minutes prior, FOXSportsSouth.com's Cory McCartney relayed a conversation about how Pastornickyhas the greatest comfort level at second base. I'll buy that assessment. 4. Braves prospect Evan Gattis never gets cheated when taking cuts in batting practice. The 26-year-old Gattis, who accounted for 40 homers, 138 RBI and .317 batting in the last two seasons (minor leagues), has a mini-Rickey Henderson crouch in his pre-swing routine that belies his 6-foot-3, 200-pound frame. And yet, he makes it work. Battling a stiff crosswind for two hitting sessions, Gattis still managed to rake at leastfour balls over the left-field fence. 5. B.J. and Justin Upton, Reed Johnson and Heyward were in the same hitting group for two sessions, with Johnson seemingly being out of place. Eventually, though, he laced a steady stream of pitches into the power alleys. As for the Uptons, the physical differences between the brotherswarrants continual mention B.J. has a lithe, athletic body and smooth swing to match.Thebroader Justin relies on a supreme leghip torque to generate plenty of power on windy days. Controlled Environment During the Johnson-Upton-Upton-Heyward portion of batting practice, Heyward nearly walked into Justin Upton's mock swingoutside the cage, before audibly warning his new teammate of his whereabouts. Upton then quippped, "If I hit you, that means there's something wrong with my swing." A Pattern Of Behavior Tim Hudson (16-7, 3.62 ERA, 1.20 WHIP) and Mike Minor (11-10, 4.12 ERA, 1.15 WHIP) are the only members of the Braves' current rotation to log significant starts in the first three months last year. And in both cases, manager Fredi Gonzalez had full confidence in his arms, with Minor notching 96 pitchers-per-start in his first five outings and Hudson throwing 96 or more pitches in five of the first six starts. As a point of comparison, Paul Maholm averaged only 85.5 pitches per start during April(four outings) during April with the Cubs. Fantasy Ambitions Mock Draft Central, one of the fantasy world's leading sites for mock drafting, currently has Freddie Freeman tabbed as the 11th-ranked first baseman (58th overall) ahead of Paul Konerko, Ryan Howard, Ike Davis and Eric Hosmer, and just behind Cubs dynamo Anthony Rizzo. That's high praise for Freeman (23 HR, 94 RBI, 91 runs in 2012), considering he was hindered by finger and eye ailments for a good chunk of last season. It also speaks to Freeman's upside as a power hitter. Assuming he logs around 550 at-bats,he's a reasonable bet for 26 homers, 101 RBI, 96 runs, .269 batting average and OPS that finally eclipses .800. Why so positive? Well, last year, the consistent Freeman tallied three months of .489-plus slugging, four months of 15 runs17 RBI and five months of four or more home runs. Fantasy Limbo It's hard to get a read on Dan Uggla's projections for this season. By some estimates, he lost between 15 and 20 pounds during the offseason. That's a lot of bulk to lose for a second baseman. Uggla, who enjoyed five consecutive seasons of 30-plus homers from 2007-11, isarare fantasy assetwho typicallycombines a middling batting average (.220 in 2012)with a stellarOBP (.348). But within that quirkiness also comes the expectation for 25-plus homers and 85-plus RBI. Otherwise, the value plummets. Thinking conservatively, I'd rank Uggla at No. 9 among his positional brethren, behind Robinson Cano (the clear-cut No. 1), Ian Kinsler, Dustin Pedroia, Jason Kipnis, Aaron Hill, Brandon Phillips, Ben Zobrist and Jose Altuve. Charitable Act On Monday afternoon, some players attended Tim Hudson and Chipper Jones' Baseball and Birdies charity event, a golf outing that benefits patients at the AFLAC Cancer and Blood Disorders Center of Childrens Healthcare of Atlanta. On Tuesday, donors will also have the opportunity to watch the Braves' morning workout, building up to Atlanta's spring opener against Detroit on Friday.
Original Story:
http://www.foxsportssouth.com/02/18/1...
THE BACKYARD
BEST OF MAXIM
RELATED ARTICLES
THAT DIDN'T TAKE LONG
The Atlanta Braves are not wasting any time paying tribute to Chipper Jones as it has been announced the team will retire his No. 10 jersey on June 28.
LAKE BUENVA VISTA, Fla. Last February, Tyler Pastornicky came into spring training as the favorite to be the Braves' everyday shortstop. A year later, he's preparing to take on an entirely different role. During Monday's infield drills, Terry Pendleton hit a sharp grounder up the middle and Pastornicky, playing second base, charged. He backhanded the ball and in a fluid...
LAKE BUENA VISTA, Fla. Craig Kimbrel keeps baseballs from key moments in his career. Now hes adding a much smaller ball to his collection. The Braves All-Star closer hit his first-ever hole-in-one on the ChampionsGate Golf Club during Mondays Tim Hudson-Chipper Jones Birdies and Baseball charity tournament. Kimbrel, using a four-iron, hit the ball 180 yards into the wind on the...
Tweet Chipper Jones made his debut for the Atlanta Braves in 1993. He then went on to play 18 full seasons for the Braves. Jones batted .303 in his career with Braves, hit 468 home runs and drove in 1623 runs. He was also an eight-time All-Star and the National League MVP in 1999. Jones [...]
MCann enters 2013 in the last year of his contract Braves catcher Brian McCann will face major challenges this season, and he will be facing them with a surgically repaired right shoulder that most likely won't be 100% until the 2013 season is well underway. McCann didn't have a "Brian McCann" type season at the plate in 2012, when he hit only .230, with 20 homers, 67 runs...
2008 MLB All-Star Game – Hall of Fame 3rd Base (Photo credit: Al_HikesAZ) Chipper Jones will have his number retired by the Atlanta Braves in a ceremony scheduled for Friday, June 28.  Jones will also be inducted into the Atlanta Braves Hall of Fame.  The induction will take place at the downtown Marriott Marquis, during a special luncheon, and will be followed by pregame ceremonies...
LAKE BUENA VISTA, Fla. Here's a postcard to commemorate Day 5 of FOXSportsSouth.com's embedded coverage from Braves camp, a day that started with an honor for Chipper Jones and ended with some pitcher-fueled clarity for the first five exhibition games. Four Workout Observations 1. Catching prospect Christian Bethancourt might have the most raw power of any Braves hitter...
Ben and Sam preview the Braves` season with Zachary Levine, and Pete talks to Atlanta Journal-Constitution sports columnist Mark Bradley (at 16:42).
Tony Gonzalez could learn from Chipper Jones When Chipper Jones retired he did it the right way.  He made his decision prior to his last season, had the press conference to let everyone know his intentions, then he played his last season and accepted the accolades and answered all the questions. The Braves organization benefited by Jones' early decision.  They were able to sell...
LAKE BUENA VISTA, Fla. -- Here's a postcard to commemorate Day 3 of FOXSportsSouth.com's embedded coverage from Braves camp, easily the weekend's coldest day (temps in the upper 40slow 50s): Seven Workout Observations 1. On a separate field outside Champion Stadium, with a stiff crosswind heading out to right-center field, Jason Heyward quickly found his groove, spraying...
MLB News

Delivered to your inbox

You'll also receive Yardbarker's daily Top 10, featuring the best sports stories from around the web. Customize your newsletter to get articles on your favorite sports and teams. And the best part? It's free!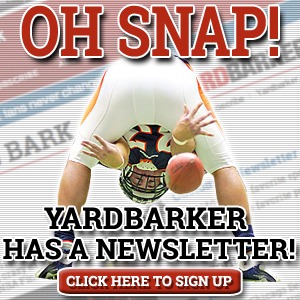 Latest Rumors
The Backyard

Today's Best Stuff

For Bloggers

Join the Yardbarker Network for more promotion, traffic, and money.

Company Info

Help

What is Yardbarker?

Yardbarker is the largest network of sports blogs and pro athlete blogs on the web. This site is the hub of the Yardbarker Network, where our editors and algorithms curate the best sports content from our network and beyond.