Found January 24, 2013 on Pirates Prospects:
PLAYERS:
Justin Upton
,
Chris Johnson
,
Martin Prado
,
Randall Delgado
,
Nick Ahmed
,
John Sickels
,
Zeke Spruill
,
Brandon Drury
,
Trevor Bauer
TEAMS:
Arizona Diamondbacks
,
Atlanta Braves
,
Cleveland Indians
,
Pittsburgh Pirates
We've been hearing a lot of Justin Upton rumors over the last two years. The Pirates were involved in some of those discussions around the trade deadline. Today Upton was dealt to the Atlanta Braves as part of a seven player deal. Here is the breakdown of the trade, including their trade values. Atlanta Gets Justin Upton – Upton is owed $38.5 M over the next three years. I put his WAR at 4.2 per year, which is the average of the last four seasons. The high was 2011 (6.4) and the low was 2012 (2.5). That gives him a trade value of $25.1 M. If you're paying for the star version of Upton (5-6 WAR), then the trade value goes up to just over $40 M. I'm guessing that's what most teams would have been paying for, including Atlanta, so we'll go with this figure. Chris Johnson – The third baseman is Super Two eligible this year, and I used a 1.7 WAR. That gives him a trade value of $17.2 M. Total Trade Value: $$57.2 M Arizona Gets Martin Prado – He's got one year of control remaining, and is arbitration eligible. I put his salary at $6.85 M, which is the mid-point of the figures that were submitted. I put his WAR at 3.8, which is the average over the last four years. He's ranged anywhere from 1.6 (2011) to 5.9 (2012) in that span. That gives him a trade value of $12.4 M. Randall Delgado – He's not prospect eligible anymore, but was ranked #46 in Baseball America's 2012 top 100. He put up some decent numbers as a starter in the majors in 2012, but at 22 I wouldn't say he's reached his potential yet. He had a 1.0 WAR in 90 innings in 2012, and has six years of control remaining (he will be Super Two eligible). If we give him a 2.0 WAR for those six years, we get a $40.2 M trade value. Nick Ahmed – The shortstop was named the best defensive infielder in Atlanta's system by Baseball America, although he didn't make their top ten. John Sickels had him in the top ten, as a Grade B- hitter. That's $5.5 M in value. Zeke Spruill – A right-handed pitcher who profiles as an innings eater and a number 4-5 starter in a contending rotation. Baseball America had him 9th in Atlanta's system, and Sickels had him 5th as a Grade B- pitcher. That gives him a trade value of $7.3 M. Brandon Drury – A first baseman who wasn't in the top 20 for Sickels. That means he's a Grade C hitter, and since he's 19 years old he gets a slight boost. The value is still pretty low at $0.7 M. Total Trade Value: $66.1 M Value Breakdown Arizona got more value in the trade, but I can't say I'm impressed with the long-term return. Prado brings a lot of that value, but he's only under control for one year. Delgado has just as much value as Upton, but that's mostly because he's younger and cheaper. He could eventually become a strong number two starter. Ahmed and Spruill both have some value. Spruill is more of the "major league ready starter" type of value, while Ahmed hasn't played above A-ball, but is a shortstop with strong defense and the chance to be a decent hitter. It's really a question of whether you want a star for three years, or a more balanced approach for six years. Then you consider that Arizona already had some of the more valuable pieces here from other trades. They got a defensive minded shortstop when they traded Trevor Bauer. They've got plenty of strong pitching depth. Those are two areas where it doesn't hurt to add depth, but when you're trading one of the top young players in the game you'd expect to get something you don't already have. Of course the Diamondbacks pretty much had to deal Upton. The relationship was falling apart, forcing a trade. They got fair value, but the value was more of the quantity approach, and less of the quality approach. That's probably because of the situation they were in. They were trading for major league ready pieces who could help them in 2013. The problem with that approach is that most teams willing to trade for Upton are looking to add to their major league team, not trade from it. The Braves are one of the few teams who could give up a young Randall Delgado and not feel the impact in the short-term. They see a downgrade going from Prado to Johnson, but Johnson is a pretty decent third baseman. Looking at this from the Pirates' perspective, I don't think the Pirates would have had the pieces to make a deal, simply because they wouldn't be able to afford giving up the major league ready talent. If Arizona was willing to accept prospects who weren't ready in 2013, teams like the Pirates could have had a shot. Arizona might have gotten more long-term value if they weren't focused on getting help for 2013. That's kind of a strange strategy when you've just traded Upton, Chris Young, and Trevor Bauer in the same off-season. So the values here match up, and Arizona got more value in their deal. As for the quality of the deal, Atlanta clearly wins that one, since no other player in this deal comes close, or can come close, to Upton's value over the next three years.
Original Story:
http://feedproxy.google.com/~r/Pirate...
THE BACKYARD
BEST OF MAXIM
RELATED ARTICLES
Yes, I know Justin Upton will be playing left field for us, so I'm very interested to see this MLBN special. Here are the details from MLB PR: I thought you might be interested to know that Jason Heyward and the newly-acquired Justin Upton will both be featured in MLB Network's "Top 10 Right Now: Right Fielders" tonight at 10pm ET. MLB Network determined its rankings...
The trade for Justin Upton from the Diamondbacks not only has an impact on the big league squad, it has both short-term and long-term effects on the Braves' farm system overall. Did the deal make sense with what the Braves gave up on the minor league side?
B.J. Upton is excited about the possibility of a family reunion in the Braves' outfield. He signed a five-year, $75.25 million contract with Atlanta in November. After hearing the Braves may be pursuing a trade with Arizona for his younger brother, Justin Upton, B.J. said on his Twitter account: ''Please don't tease me like this... Would be a dream come true if it...
Justin Upton and B.J. Upton accomplished a rare feat last season when they both cracked their 100th career home run on the same night. If they repeat any milestones going forward, it could be while both wear the same uniform. The Braves and Diamondbacks have agreed to a trade that will send Justin Upton to Atlanta, according to CBSSports.com's Jon Heyman. Justin Upton will now...
Well, the Arizona Diamondbacks are getting what they wanted: a team full of gritty dirtballs. Theyve traded center fielder Chris Young, right-hander Trevor Bauer and right fielder Justin Upton, all for questionable returns. Now lets see if they can win a World Series with their curious emphasis on toughness over talent. Why even move Upton? That has been the question ever since...
The Atlanta Braves have acquired outfielder Justin Upton from the Arizona Diamondbacks. Atlanta and Arizona will exchange seven players. Arizona will recieve Martin Prado, Randall Delgado, Nick Ahmed, Zeke Spruill and Brandon Drury from the Braves. Atlanta will receive Chris Johnson in addition to Upton. Upton, 23, compiled a .289/.369/.529 line last season while hitting 31 home...
The Atlanta Braves have acquired outfielder Justin Upton and third baseman Chris Johnson from the Arizona Diamondbacks for pitcher Randall Delgado, infielder Martin Prado and minor leaguers Nick Ahmed, Brandon Drury and Zeke Spruill, according to an ESPN report. The deal ends months of speculation involving the D-Backs outfielder, who will now play alongside his older brother,...
The Phillies' division rivals have landed several big names this offseason already. While the Phillies have added Delmon Young and Michael Young, the Phillies have seen B.J. Upton, Rafael Soriano, Denard Span, and Adam LaRoche added to division rivals. The next one may be Justin Upton, whom the Arizona Diamondbacks...
And so, while you're sitting around dreaming up silver linings after the Braves completed a trade for Justin Upton earlier today which leaves them with an outfield of Upton, Upton, and Heyward, enjoy the photo above of John Lannan working out with new Phillies teammate John Mayberry Jr. Yeah, it'll sure be strange the first time Lannan takes the mound at Nationals Park...
MLB News

Delivered to your inbox

You'll also receive Yardbarker's daily Top 10, featuring the best sports stories from around the web. Customize your newsletter to get articles on your favorite sports and teams. And the best part? It's free!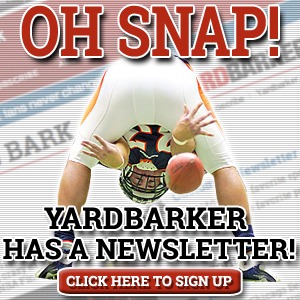 Latest Rumors
The Backyard

Today's Best Stuff

For Bloggers

Join the Yardbarker Network for more promotion, traffic, and money.

Company Info

Help

What is Yardbarker?

Yardbarker is the largest network of sports blogs and pro athlete blogs on the web. This site is the hub of the Yardbarker Network, where our editors and algorithms curate the best sports content from our network and beyond.