Found February 18, 2013 on Pirates Prospects:
  BRETT CARROLL CORNER OUTFIELDER Born: October 3, 1982 Height: 5'11″ Weight: 210 Bats: Right Throws: Right Drafted: 10th Round, 308th Overall, 2004 (Marlins) How Acquired: Minor League Free Agent College: Middle Tennessee State University Agent: N/A WTM'S PIRATE PLAYER PROFILES Carroll is a stocky outfielder with good raw power who's been held back by his struggles with the strike zone.  He generally has hit for good, but not great, power, with low averages, low walk rates and high to very high K rates.  He's known for playing all-out in the field and has frequently played center, although he fits best in right.  He has a very strong arm and was listed as "best outfield arm in _____" a number of times by Baseball America.  He didn't hit enough to stick in several trials with his original team, the Marlins, and has made only cameo appearances in the majors the past two years.  The Pirates signed him to a minor league deal for 2013. 2004 A-:  251/321/422, 211 AB, 16 2B, 1 3B, 6 HR, 15 BB, 57 K, 1-1 SB In his debut, Carroll played over half his games at third and split the rest between the outfield and second.  He hit reasonably well, but with a high K rate. 2005 A:  243/296/447, 412 AB, 28 2B, 1 3B, 18 HR, 17 BB, 108 K, 10-20 SB Carroll moved strictly to the outfield in low A.  He played mostly right but got into 22 games in center.  He totaled 18 outfield assists.  At the plate, he hit for good power, but had serious issues with the strike zone. 2006 A:  241/324/417, 216 AB, 12 2B, 1 3B, 8 HR, 18 BB, 48 K, 9-12 SB AA:  231/303/422, 251 AB, 15 2B, 3 3B, 9 HR, 18 BB, 62 K, 4-5 SB Carroll split his time between high A and AA.  He played mostly right in high A and mostly center in AA, while recording a total of 27 outfield assists.  At the plate his performance remained almost the same as the previous year, with a low average and walk rate, and pretty good power.  He managed to cut his K rate slightly. 2007 AA:  270/359/490, 100 AB, 13 2B, 3 HR, 12 BB, 20 K, 0-2 SB AAA:  314/361/597, 318 AB, 21 2B, 6 3B, 19 HR, 18 BB, 69 K, 0-4 SB MLB:  184/231/204, 49 AB, 1 2B, 3 BB, 15 K Carroll started off hot in AA, showing drastically improved plate discipline and earning an early promotion to AAA.  The Marlins called him up for the last two weeks of June, then brought him up again in September.  Carroll ended up showing dramatically improved power in AAA, although his plate discipline regressed from what he showed in AA.  He spent a majority of his time in the outfield corners in the minors, but played mostly center in the majors. 2008 R:  250/333/375, 8 AB, 1 2B, 1 BB, 1 K A+:  169/231/282, 71 AB, 2 2B, 2 HR, 6 BB, 22 K, 1-1 SB AAA:  418/480/896, 67 AB, 5 2B, 9 HR, 8 BB, 18 K, 1-2 SB MLB:  056/111/176, 17 AB, 1 3B, 1 BB, 6 K Carroll started off in the majors but the Marlins sent him down after a week.  He came back up at the beginning of May but went on the disabled list three weeks later with a separated shoulder and missed much of the summer.  He came back up in September but finished the season with only 18 major league plate appearances. 2009 AAA:  233/295/427, 103 AB, 3 2B, 1 3B, 15 HR, 8 BB, 23 K, 0-1 SB MLB:  234/306/383, 141 AB, 8 2B, 2 3B, 3 HR, 11 BB, 33 K Carroll spent the season in the majors, except for being optioned to AAA for most of August.  He mostly came off the bench, starting just 32 games.  In the field he played mainly in right.  He wasn't overwhelmed at the plate, but he didn't hit enough for a fourth outfielder. 2010 A+:  294/520/353, 17 AB, 1 2B, 3 BB, 5 K, 2-3 SB AAA:  221/299/385, 244 AB, 16 2B, 8 HR, 22 BB, 54 K, 4-6 SB MLB:  197/311/329, 76 AB, 4 2B, 2 HR, 6 BB, 29 K, 2-3 SB The Marlins used Carroll sparingly through the beginning of June then optioned him to AAA.  Other than missing some time with an injury, he played there the rest of the year and did not come up in September.  Florida outrighted him off the 40-man roster in early October and he became a minor league free agent a month later.  He struggled both in the majors and AAA. 2011 AAA (Mil):  281/356/469, 335 AB, 14 2B, 2 3B, 15 HR, 34 BB, 73 K, 9-12 SB AAA (Bos):  229/298/361, 83 AB, 6 2B, 1 3B, 1 HR, 8 BB, 20 K, 2-2 SB MLB (Mil):  000/000/000, 3 AB, 1 K The Royals signed Carroll to a minor league deal for 2011, but traded him to the Brewers during spring training.  He spent most of the season playing center in AAA, getting just a two-game callup at the end of July.  When the Brewers outrighted him to AAA, he elected free agency and signed with Boston.  He hit well during his time in AAA with the Brewers. 2012 AAA:  250/333/407, 364 AB, 23 2B, 2 3B, 10 HR, 44 BB, 97 K, 7-12 SB MLB:  000/000/000, 2 AB The Nationals signed Carroll and he spent most of the season playing right for their AAA affiliate.  He got just a five-game callup in August, with only two plate appearances.  He didn't hit well in AAA. The Pirates did not give Carroll an invitation to major league camp, not that he'd have a realistic chance of making the team anyway.  His window for getting established in the majors has probably closed.  He'll spend 2013 at Indianapolis. STATS Baseball Reference–Majors Baseball Reference–Minors Fangraphs MLB.com MiLB.com CONTRACT INFORMATION 2008: $390,000 2009: $400,000 2010: $403,500 2012: $580,000 2013: Minor league contract PLAYER INFORMATION Signing Bonus: N/A MiLB Debut: 2004 MLB Debut: 6/27/2007 MiLB FA Eligible: 2013 MLB FA Eligible: 2017 Rule 5 Eligible: Eligible Added to 40-Man: June 17, 2007 Options Remaining: 0 (USED:  2007, 2008, 2009, 2010) MLB Service Time: N/A TRANSACTIONS June 7, 2004: Drafted by the Florida Marlins in the 10th round, 308th overall pick; signed on June 23. June 17, 2007: Contract purchased by the Florida Marlins. October 6, 2010: Outrighted to AAA by the Florida Marlins. November 6, 2010: Became a free agent. November 19, 2010: Signed as a minor league free agent by the Kansas City Royals. March 22, 2011: Traded by the Kansas City Royals to the Milwaukee Brewers for future considerations. July 21, 2011: Called up by the Milwaukee Brewers. July 30, 2011: Designated for assignment by the Milwaukee Brewers; elected free agency on August 3. August 4, 2011: Signed as a minor league free agent with the Boston Red Sox. November 2, 2011: Became a free agent. December 4, 2011: Signed as a minor league free agent with the Washington Nationals. April 3, 2012: Called up by the Washington Nationals. April 23, 2012: Outrighted to AAA by the Washington Nationals. October 15, 2012: Became a free agent. February 5, 2013: Signed as a minor league free agent with the Pittsburgh Pirates.
Original Story:
http://feedproxy.google.com/~r/Pirate...
THE BACKYARD
BEST OF MAXIM
RELATED ARTICLES
(Above: At least Mike Rizzo, seen here chatting in Viera via a screencap from this CSNWashington.com video, appears to be in the best shape of his life.) Oh, sure, expectations are sky high for the Washington Nationals; but two days into full-squad workouts and not a single player quoted in the media as being in the best shape of his life? Well, Mike Rizzo nearly absolved the...
So Bryce Harper will be on the cover of the Feb. 25 edition of Sports Illustrated, eh? Seems like only yesterday he was 16 and "The Chosen One": (Both images via SI.com) Befriend Nats Enquirer on Facebook. Follow on Twitter.
Jordan Zimmermann might be the best Number 3 starter in baseball. You can argue whether Strasburg or Gonzalez is Number 1, but everyone will agree that those two are your top two. But then you get Jordan Zimmermann on the third day and that is not a picnic by any stretch of the imagination. Gonzalez had a WHIP of 1.129 and Strasburg finished 2012 with a 1.155. Right behind them...
Wilson Ramos has said it before, but yesterday was a reiteration of sorts without him even needing to say anything.  The Washington Nationals' catcher caught multiple bullpen sessions yesterday for the first time since he tore his ACL.  He is confident he will be ready to go for Opening Day. Adam Kilgore of the Washington Post says Ramos caught Dan Haren and Ryan Perry...
So the Nationals held their first full team workout today in the (*gasp*) frigid Florida air, and Raffy was there, too. Spring is in the air! Meanwhile, Teddy and William Howard Taft continued their "Bill and Teddy's Executive Adventure" race to Mt. Rushmore, which ends on Presidents Day tomorrow. Something about the photo above, Tweeted Sunday by @NatsBigChief27...
Previously linked to the Biogenesis clinic in south Florida, Gio Gonzalez has maintained that he did not receive any substances banned by Major League Baseball. The latest documents appear to support Gonzalez' claim according to ESPN. Both sources, speaking independently, identified Gonzalez as the only Bosch client named thus far who did not receive performance-enhancing drugs...
Four years after being introduced to the world as a teenage phenom, Bryce Harper makes a return visit to the cover of Sports Illustrated this week (via @richarddeitsch). It signals a new year in which the 2013 Nats not only look like baseball's best but are the talk of the sport too, and the team most likely to be jinxed. Thanks, SI! Tom Verducci's cover story isn't online...
Here's a release from ESPN announcing that former Boston Red Sox IF Alex Cora will be joining ESPN: Former Major League Baseball player Alex Cora has joined ESPN and ESPN Deportes as an MLB analyst. Cora will provide insights and analysis for various platforms across both networks, including Baseball Tonight, Beisbol Esta Noche, SportsCenter and other studio programming....
Jeff Passan of Yahoo! Sports suggested yesterday that Tommy John surgery is not nearly the frightening experience it used to be.  He may have a point.  He says there have been over 1,000 pitchers to undergo the procedure since Tommy John himself pioneered it.  One of those pitcher is Washington Nationals' prospect Cole Kimball. Amanda Comak of the Washington Times says...
After Danny Espinosa shaved his winter beard I wasn't ready to love again, but now Ian Desmond is growing a mustache (via @fpdougiefresh), and here I am over the moon. Sounds like he's keeping it, too.
Major League Baseball has experienced an astounding  series of events regarding performance-enhancing drugs, and the latest case – Anthony Bosch's list of players who allegedly received PEDs — continues to grow as more reports are revealed. According documents obtained by ESPN's Outside the Lines, five more players have been implicated in the scandal. However, it's not...
MLB News

Delivered to your inbox

You'll also receive Yardbarker's daily Top 10, featuring the best sports stories from around the web. Customize your newsletter to get articles on your favorite sports and teams. And the best part? It's free!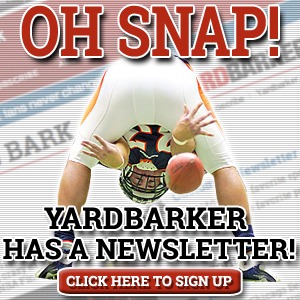 Latest Rumors
Best of Yardbarker

Today's Best Stuff

For Bloggers

Join the Yardbarker Network for more promotion, traffic, and money.

Company Info

Help

What is Yardbarker?

Yardbarker is the largest network of sports blogs and pro athlete blogs on the web. This site is the hub of the Yardbarker Network, where our editors and algorithms curate the best sports content from our network and beyond.