Found July 26, 2013 on BlackSportsOnline:
People are mad at Ryan Braun. So much so that a fan decided to go to a Brewers game this week wearing his jersey but with a twist. According to USA Today Sports, Karen Eidem wore Braun's jersey, but she placed the letter F over the B in his name and the letter D over the N. Basically, it said Fraud. Upon seeing the jersey, stadium security informed Eidem that if she didn't take the shirt off she would be immediately escorted out and that was the end of that (or so they thought). Eidem decided to take her story to the media, and reaction from the Brewers team wasn't surprising. They issued a statement saying: "In this case, the fan absolutely should have been able to wear the jersey without any intervention by our staff. We welcome the opportunity for fans to express their opinions. The only circumstances that would warrant us intervening is if someone were to display a message or item that would be considered offensive to other fans. This is not a case where that line was crossed, and we're sorry for the inconvenience to her. We will reach out to Ms. Eidem to invite her to another game this year as our guest." This probably won't be the end of these kinds of antics, but it would be interesting to see what plays on Arod's name the fans in New York will have.
Original Story:
http://blacksportsonline.com/home/201...
THE BACKYARD
BEST OF MAXIM
RELATED ARTICLES
MILWAUKEE -- Coming off a face-to-face meeting with his suspended slugger, Milwaukee Brewers owner Mark Attanasio spoke publicly Wednesday for the first time since Ryan Braun accepted a 65-game suspension from Major League Baseball on Monday. Displaying an appearance and using a tone that suggested he was deeply hurt by what's transpired over the past few days, Attanasio feels...
Brewers slugger Ryan Braun as we all know is currently serving a 65-game suspension for his role in the Biogenesis scandal and that suspension came after Braun's stern and repeated denials of ever using PEDs. All of this has caused not-insubstantial levels of outrage among baseball observers and at least one hometown Brewers fan is none too pleased with Braun's deceptions...
Milwaukee Brewers outfielder Ryan Braun has let an entire fan base down in 2013, effectively erasing any remaining hope the team may have had of making the playoffs after admitting to using performance-enhancing drugs and accepting a suspension for the rest of the season. But despite losing an endorsement deal and $3.8 million in salary, [...]
Many Milwaukee Brewers fans are still stunned by Ryan Braun coming out and admitting that he cheated. Braun won an appeal for a positive drug test last year because of an error in the collection process of his urine sample, and many people thought he was out of the woods after that. Now that he [...]
'SHOCKED' AND 'DISAPPOINTED'
Aaron Rodgers, one of Ryan Braun's staunchest supporters during the Brewers player's first PED scandal, spoke about how he feels about his good friend now.
Zack Greinke was a former teammate of Ryan Braun during his time in Milwaukee. Now a pitcher on the Los Angeles Dodgers there was no shortage of slams directed at the Brewers outfielder who has been suspended for the remainder of the 2013 season. Greinke called Braun a liar and a user in an interview with the Los Angeles Times: "The main thing is, yeah, he lied to us," Greinke...
DETROIT, Michigan – Milwaukee Brewers star left fielder and 2011 NL MVP Ryan Braun was suspended for the remainder of the 2013 season (and playoffs) on Monday afternoon for violating Major League Baseball's substance policy. Braun is the first of what looks to be the largest group of suspensions handed out by the MLB in the steroid era. About 20 to 25 more Major League and Minor...
Los Angeles Dodgers outfielder Matt Kemp, who finished runner-up to Ryan Braun in voting for the 2011 National League Most Valuable Player award, thinks the suspended Milwaukee Brewers slugger should be stripped of the honor. Braun finished with 388 points and 20 first-place votes, to 332 and 10 for Kemp. Major League Baseball attempted to suspend Braun following a positive test...
Zack Greinke finally expressed his feelings about Ryan Braun's admission of guilt and suspension, and he said he is disappointed with his former Milwaukee Brewers teammate. Greinke was teammates with Braun on the Brewers in 2011, the year Braun won MVP and tested positive for elevated levels of testosterone during the team's playoff run. Greinke [...]
Green Bay Packers quarterback Aaron Rodgers says he was "shocked" when his friend Ryan Braun admitted he violated baseball's rules against using performance-enhancing substances. Rodgers says the Milwaukee Brewers slugger "looked me in the eye" and it "didn't feel great being lied to like that." He says he's disappointed. Braun has accepted...
It's hard to be a baseball fan today. America's past time has past its time and its a self-inflicted wound. Performance Enhancing Drugs are overshadowing the season. Since The Miami Times exposed Biogenesis as a South Florida drug store catering to some of Major League Baseball's biggest names, we have been waiting for suspensions to be handed down. The Brewers' Ryan Braun...
Brewers News

Delivered to your inbox

You'll also receive Yardbarker's daily Top 10, featuring the best sports stories from around the web. Customize your newsletter to get articles on your favorite sports and teams. And the best part? It's free!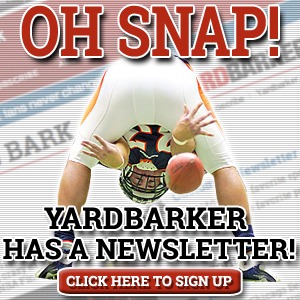 Latest Rumors
Best of Yardbarker

Today's Best Stuff

For Bloggers

Join the Yardbarker Network for more promotion, traffic, and money.

Company Info

Help

What is Yardbarker?

Yardbarker is the largest network of sports blogs and pro athlete blogs on the web. This site is the hub of the Yardbarker Network, where our editors and algorithms curate the best sports content from our network and beyond.