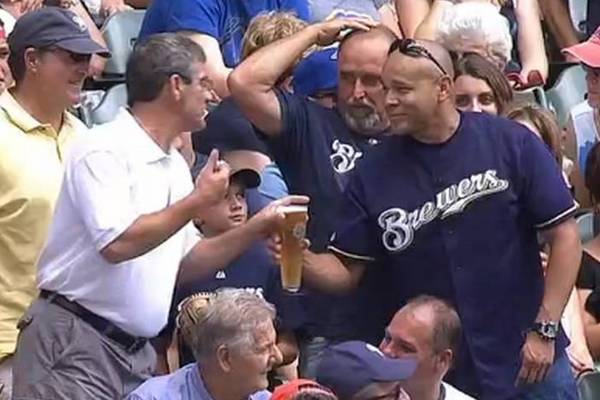 Your browser does not support iframes.A Milwaukee Brewers fan lost his beer while trying to catch a foul ball during Wednesday's game against Toronto, but the Brewers broadcast booth was nice enough to send him another one. It happened in the top of the second as Blue Jays batter Josh Thole slapped a foul ball into the third base stands. The unfortunate Brewers fan had a beer in one hand and a soda in the other after having just bought them, so with no free hands available, he tried to catch the ball with his chest. Not only did he not end up with the ball, but he spilled most of his beer and soda all over himself. In the end, however, the fan found himself some sympathy from the Brewers broadcast booth, who arranged to have a pint glass of beer sent down to his seat for him to enjoy. It's the least they could do.Video via MLB. This post appeared first on Holdout Sports. Check us out on Twitter, Facebook and Pinterest.
Read the rest of this story...
MORE FROM YARDBARKER

Brewers News

Delivered to your inbox

You'll also receive Yardbarker's daily Top 10, featuring the best sports stories from around the web. Customize your newsletter to get articles on your favorite sports and teams. And the best part? It's free!