Found September 30, 2012 on Fox Sports Wisconsin:
PLAYERS:
Chris Narveson
,
Yovani Gallardo
,
Marco Estrada
,
Mark Rogers
,
Wily Peralta
,
Shaun Marcum
,
Tyler Thornburg
,
Ryan Dempster
,
Anibal Sanchez
,
Danny Haren
,
John Lackey
,
Jered Weaver
,
Zack Greinke
TEAMS:
Milwaukee Brewers
,
Texas Rangers
,
Detroit Tigers
,
Los Angeles Angels
,
Boston Red Sox
MILWAUKEE With so many question marks surrounding the Milwaukee Brewers' pitching rotation for next year after several young starters broke out at different points throughout this season, Brewers manager Ron Roenicke may have made next year's picture a little less murky on Sunday morning. "I don't think it'll be a free-for-all," Roenicke said of the impending rotation decisions. "I think when (general manager) Doug (Melvin) looks at trying to fit in those five guys and have some depth that he's going to figure out early on certain guys that are probably what we're going to go with. Whether he adds to that or sticks with all the guys we have, with (Chris Narveson) coming back, there's five guys plus (Yovani Gallardo) that probably we choose from. And if we add a veteran in there, we need three out of the five." In addition to Gallardo and Narveson, Roenicke specifically mentioned that Mike Fiers, Marco Estrada, Mark Rogers, and Wily Peralta would be the ones competing for rotation spots. That equation most notably leaves out Shaun Marcum, who will be a free agent after the season, and Tyler Thornburg, a prospect with significantly less work this season than his fellow rookie pitchers. Then, there's always the chance that a veteran is added to the mix -- something that Roenicke seemed on board with, considering the amount of youth in the picture already. That veteran pitcher wouldn't likely be a top-shelf ace, but with guys like Ryan Dempster, Anibal Sanchez, Edwin Jackson, and Dan Haren potentially available in the offseason, there could be a wealth of options that fit Roenicke's parameters. The Brewers manager specifically mentioned that he'd like to add someone who was high-character and could be a leader to the young guys in the rotation, like John Lackey was a leader for Jered Weaver when Roenicke coached in Anaheim. "I think a character guy is important, to have a leader along with what Yo does here, I think that's important," Roenicke said. "If it was the right guy and we also thought in our rotation that he was an improvement or a consistent guy that may be an improvement over a young guy that we're maybe not sure about, yeah, I would think that would be good. But at what price is that? If we get that does it cost in getting a good bullpen guy or does it cost us in getting a couple good bench players? That's the thing that gets tough. There's a limit of stuff you can do." Might that limit include former Brewer ace Zack Greinke? Roenicke isn't sure. Roenicke did, however, mention that he didn't expect the Brewers' to go after "a 5-year, 120 million guy," which is likely near what Greinke will command in free agency after the season. But among the guys already on the roster, Roenicke seemed very pleased with how things have gone this season. He was especially pleased with Estrada's performance on Saturday night in which he went eight shutout innings and struck out 11 Astros' batters. That kind of performance, more than a standout spring training, will stick in his mind when he's helping put together the rotation next year, he said. After all, he'd always envisioned Estrada as a starter. "I like a guy that has command," Roenicke said in reference to Estrada. "I like a guy that when (pitching coach Rick Kranitz) goes over a scouting report with him and he says, 'Hey, you can pitch this guy inside,' he's one of our few guys that can go out there and do what he says. The other guys, I don't know what's going a lot of times. It's nice to have that." As for other guys potentially in the picture for next year's rotation, Roenicke said that he thought Fiers needed a good start on Sunday against the Astros to finish the year on a strong note. After tailing off in the last few months of the season, Fiers' finish could hurt his chances at being a part of the rotation next season. "Unfortunately, you remember things by how they end," Roenicke said. "It's not necessarily always fair, but those things stick in your mind more." Sunday also marked a big day for Narveson, who threw 20 fastballs of the mound for the first time since having surgery on his shoulder back on May 1. "It's something a long time coming," Narveson said. "You come to the field and you've got a smile on your face, and you're ready to kind of get back after it and try to figure out how to get yourself ready to go again." Follow Ryan Kartje on Twitter.
Original Story:
http://www.foxsportswisconsin.com/09/...
THE BACKYARD
BEST OF MAXIM
RELATED ARTICLES
MILWAUKEE When Chris Narveson's injury opened the door for Milwaukee Brewers pitcher Marco Estrada to finally become a starting pitcher, he insisted that he'd always thought like one, trying every game to get closer to that goal. He wouldn't let this opportunity be wasted, he said. And while he got off to a slow start this season, Estrada cappeda brilliant second half...
MILWAUKEE After an impressive rookie debut that stretched across five starts, Brewers pitching prospect Wily Peralta won't make his scheduled start on Tuesday night against San Diego, effectively ending his rookie season. Peralta had left his last start, a loss at Cincinnati, with soreness in his bicep, and after throwing a bullpen on Saturday, Brewers manager Ron Roenicke...
MILWAUKEE So many had expected this day to come for the Milwaukee Brewers sometime at the beginning of September. The Brewers seemed destined to be eliminated so much earlier than with just three games left in the season, given how badly the first half of 2012 had gone. But with the help of an amazing run from the end of August to last week, winning 24 out of 30, the Brewers'...
MILWAUKEE In any other season, in any other month, the Milwaukee Brewers' August 20 matchup with the Chicago Cubs -- a 9-5 home victory -- would've seemed like any other game. Nothing of particular significance had come about in those nine innings, at least on the surface. The Brewers, coming in, were falling apart, performing like one of the National League's worst...
The Milwaukee Brewers made a valiant run over the last month and a half to compete for a playoff spot, but they ultimately fell short of returning to the postseason. One day after having those hopes dashed, Milwaukee begins its final series of the season when it hosts the San Diego Padres on Monday night. The Brewers have dropped six of their last nine games, including Sunday&...
As the season winds down, the Brewers' offseason plans and the outlook for the 2013 club are starting to get more and more attention. There isn't expected to be as much turnover as last year, but there are some parts of the roster that will probably look significantly different next season. Among them is a unit that has been in the news a lot lately: the starting rotation. ...
Corey Hart was clearly hobbled by the plantar fasciitis he's been battling for the last couple weeks. His limp was noticeable as he jogged around the bases yesterday, not once but twice. Hart's two home runs kept the Brewers mathematically alive in the Wild Card hunt. According to the Associated Press, Hart had been battling the injury for a while now and was in a...
Get ready for the most hotly contested November election that will not involve a political office – and if you are a fan of Ryan Braun, you will likely not be happy with the final tabulations for National League Most Valuable Player. In fact Braun will have a hard time ever winning a MVP award for the rest of his career no matter what he does in a single season. While watching...
MILWAUKEE (AP) -- Marco Estrada struck out 11 in eight shutout innings, Corey Hart homered twice and the Milwaukee Brewers beat the Houston Astros 9-5 on Saturday night. The Brewers began the day barely in the playoff race, a year they reached the NL championship series. Any Milwaukee loss or St. Louis win would mean elimination. Hart drove in four runs to back Estrada (5-7), who...
Carlos Gomez, Rickie Weeks and Jonathan Lucroy all hit home runs to lead the Milwaukee Brewers to a 5-3 win over the San Diego Padres on Monday night. Shaun Marcum gave up two runs and six hits in six innings as Milwaukee clinched a winning season for the second straight year. The Brewers, 12 games under .500 on Aug. 19, won 28 of the last 40 to turn the season around and make a...
The Milwaukee Brewers made a valiant run over the last month and a half to compete for a playoff spot, but they ultimately fell short of returning to the postseason. One day after having those hopes dashed, Milwaukee begins its final series of the season when it hosts the San Diego Padres on Monday night. The Brewers have dropped six of their last nine games, including Sunday&...
MLB News

Delivered to your inbox

You'll also receive Yardbarker's daily Top 10, featuring the best sports stories from around the web. Customize your newsletter to get articles on your favorite sports and teams. And the best part? It's free!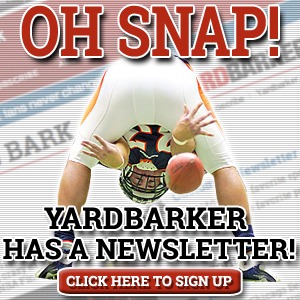 Latest Rumors
The Backyard

Today's Best Stuff

For Bloggers

Join the Yardbarker Network for more promotion, traffic, and money.

Company Info

Help

What is Yardbarker?

Yardbarker is the largest network of sports blogs and pro athlete blogs on the web. This site is the hub of the Yardbarker Network, where our editors and algorithms curate the best sports content from our network and beyond.