Found April 25, 2012 on Fox Sports Wisconsin:
MILWAUKEE Milwaukee Brewers reliever Kameron Loe knew he could always count on hearing his grandfather's voice at his baseball games. From little league through his college days as a pitcher at Cal State-Northridge, Loe's grandfather Howard Pound would always be there, always delivering his typical cheer from within the crowd. "Hubba, hubba!" Pound would yell from the stands. Loe still isn't exactly sure why he said that particular phrase Pound had explained to him that he learned it in the military as a sort of rallying cry but no matter what, Loe could count on hearing his grandfather's voice yelling from the stands, game in and game out. And even as Pound grew older and Loe's baseball career took him from Texas to Japan and finally to Milwaukee each destination thousands of miles away from Pound, who lived in California his grandfather would still yell that same phrase at the television, doing his best to will Loe to a successful outing. As Loe took the mound on Saturday against the Dodgers, though, he knew for the first time in his life that his grandfather wouldn't be in the stands or at home in front of the television to deliver that rallying cheer. At the age of 92, Pound had passed away in his bed the night before. So Loe came out of the bullpen in the top of the 10th inning, with his grandfather in his heart and the game on the line. This one, he had decided, would be for Howard Pound. His grandfather had given Loe so many things over the course of his life winning this game in his honor was the least he could do, he reasoned. After all, without the presence of Pound in his life, there's no telling whether Loe would've ever even made it to the mound. For a boy who had spent much of his childhood without the influence of his father, Pound had been as much of a father as Loe had ever known. He had bought him every piece of sporting equipment he had ever owned, taken him camping and hiking and even enrolled Loe in his first baseball league at just 4 years old. But for Loe, he was even more than that. "He's the guy who taught me how to be a man," Loe said. Baseball had not been Pound's first, or even second, sport. Those spots were reserved for football and basketball, both of which he became an All-American playing at Michigan State. He had even spent a season with the Detroit Lions before enlisting in World War II. But when his grandson was born and showed a love for baseball at a young age, dragging his mother to the yard in the early hours of the morning to throw a ball to him, Pound had found a new sport. "He didn't really know a lot about baseball," Loe said. "He just loved watching me play." And as Loe grew up, Pound never pushed him to try anything. He knew Loe had found his love in the game of baseball. He just had one requirement for his grandson: to always push himself to be the best. "He was a perfectionist and he instilled that in me," Loe said. "He didn't care what I did, as long as I did it to the best of my ability." So as the 10th inning began Thursday, Loe forced Dodgers infielder Adam Kennedy to ground out to second. And after allowing catcher A.J. Ellis to single to the outfield, he induced outfielder Juan Rivera into a double play, ending the inning and giving the Milwaukee offense a chance to win a chance it took advantage of with a Ryan Braun sac fly in the bottom of the inning. The win ensured the Brewers a series victory over the hottest team in baseball. "That one was for my grandpa!" Loe tweeted after the game. "Howard E Pound. A real American hero! I know he was watching." A week later, with the injury to pitcher Chris Narveson forcing fellow long relief pitcher Marco Estrada into the rotation, Loe will play an increasingly important role in the Brewers' bullpen from here on out. And along with him on that journey will always be Pound, the grandfather who made him the man he is today. So at his funeral this weekend in California, Loe and a few others who had remembered Pound from the countless days he spent in the stands watching Loe play, decided to honor him in a way he, unlike any other, would have appreciated. They gave him one last, "Hubba, hubba." Follow Ryan Kartje on Twitter.
Original Story:
http://www.foxsportswisconsin.com/04/...
THE BACKYARD
BEST OF MAXIM
RELATED ARTICLES
MILWAUKEE Brewers manager Ron Roenicke knew there probably wasn't any use in having this meeting. He had talked with setup man Francisco Rodriguez enough times both in Milwaukee and in their years together with the Angels to know that he should expect the same answer to the usual question he asks all of his relievers. But as he does every day, he met with Rodriguez on Tuesday...
MILWAUKEE -- After being placed on the 15-day DL last week for a tear in his rotator cuff, Brewers' No. 5 starter Chris Narveson announced today that he will undergo season-ending surgery on his throwing shoulder. The recovery time for the surgery is believed to be between six and nine months. Narveson was one of the league's top No. 5 pitchers last season, finishing with...
MILWAUKEE Last April -- before he was an MVP, before a positive drug test had ruled the news and before a certain big cleanup hitter packed up and left for Motown -- Brewers left fielder Ryan Braun was busy having one of the best months of his career at the plate. Through 17 games the same amount of games the team has already played in 2012 Braun was batting an incredible .373...
Milwaukee Brewers left-hander Chris Narveson will have surgery on the torn rotator cuff in his throwing shoulder and miss the rest of the season, he said Tuesday. ''I'll be ready for next year,'' he said before the team's game with the Houston Astros. ''It's six to nine months.'' He made the decision to have surgery after receiving a...
Milwaukee Brewers left-hander Chris Narveson didn't expect Los Angeles specialist Lewis Yocum to disagree with the first diagnosis that his torn rotator cuff would require surgery. But one can always hope. Instead, Yocum agreed with Brewers team physician William Raasch, and Narveson will undergo season-ending left shoulder surgery, followed by an arduous six- to-month rehab...
Milwaukee Brewers manager Ron Roenicke is the first to admit that he almost assumes a win when John Axford takes over in the ninth inning with a lead. "I think we do (take it for granted) because he's been doing it a year straight," Roenicke said. "We realize that the ninth inning is not as easy for other clubs." When Axford saved the Brewers' 9-6...
MILWAUKEE Aaron Rodgers is back for a second inning on the mound in a Milwaukee Brewers uniform. After the first of his ads promoting the sale of Brewers tickets was released three weeks ago, showing his "heat" out of a three-step drop at the mound, the second of five commercials filmed with the NFL MVP was released Tuesday, this time with a special focus on a certain...
It's been a few days off here in our On the Farm reporting and I apologize for that, but let's get into the heat of things as they stand right now and not dwell on something that can't be undone.  It was a banner day, but not in the good sense, as all four Minor League teams in the Brewers organization went down to defeat yesterday.Brevard County put up ace Jed Bradley...
Monday wasn't exactly a banner day for the Brewers farm system and yesterday they actually found a way to top Monday for pure suckage as they went 0-4 once again, but did so in a way I've never seen before.In fact, we'll lead-off with the game that led me to just shake my head and that came from Brevard County.  The Manatees took on Clearwater and it was an amazing pitchers...
Starters: MIL - Zack Greinke: 6 IP, 2 R, 8 H, 2 BB, 9 K, 1 HR (115 pitches, 71 strikes)HOU - Lucas Harrell: 5 IP, 5 R, 5 H, 3 BB, 1 K, 1 HR (86 pitches, 53 strikes) MIL Highlights: Ryan Braun: 3-4, 2B, HRJonathan Lucroy: 2-3, BB HOU Highlights: Carlos Lee: 3-5Jed Lowrie: 2-5, HR Notes: - Zack Greinke didn't have anything near his best stuff, but was still able to turn...
MLB News

Delivered to your inbox

You'll also receive Yardbarker's daily Top 10, featuring the best sports stories from around the web. Customize your newsletter to get articles on your favorite sports and teams. And the best part? It's free!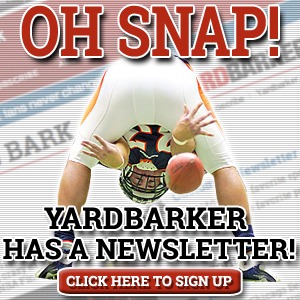 Latest Rumors
The Backyard

Today's Best Stuff

For Bloggers

Join the Yardbarker Network for more promotion, traffic, and money.

Company Info

Help

What is Yardbarker?

Yardbarker is the largest network of sports blogs and pro athlete blogs on the web. This site is the hub of the Yardbarker Network, where our editors and algorithms curate the best sports content from our network and beyond.