Found May 16, 2012 on Fox Sports Wisconsin:
After winning the National League Central title last season and establishing themselves as contenders in the National League for the foreseeable future, the Brewers' start to the 2012 season looked, to many, like a colossal disappointment. A 16-20 start through May 16 certainly wasn't ideal. And losing three important pieces to the puzzle in the first month or so of the season wasn't exactly what Brewers fans would have hoped for, either. Lost in that early season concern, however, is the fact that last year's team the team that came close enough to smell a World Series berthstarted the 2011 season with the exact same record through 36 games. Those Brewers were second-to-last in the NL Central at that point as well. They lost seven in a row from April 30 to May 6. And right fielder Corey Hart hadn't even played 75 percent of those games. Yes, it's true that there are some parallels between this season and last season. And having gone through those kind o...
Original Story:
http://www.foxsportswisconsin.com/05/...
THE BACKYARD
BEST OF MAXIM
RELATED ARTICLES
I'm always checking out twitter during the games. This isn't because all my friends are either old or lame married or gay, and it's certainly not because I live in a basement and if I make too much noise I'll wake my mom up and she'll be mad. No, I do this because I like to keep my finger on the pulse of what Brewers fans are thinking. I've always sort of...
After seven straight quality starts for the Brewers starting rotation, Randy Wolf's outing on Wednesday felt like a step back for a group that seemed to be getting it back together. The group had posted a 1.37 ERA in that time, holding opponents to an impressively low .160 batting average. But in Houston on Wednesday night, Wolf gave up six earned runs, walked three Astros batters...
Take away Brewers pitcher Yovani Gallardo's two performances against the Cardinals this season, and the potential ace looks the part in the Milwaukee rotation. Against non-St. Louis teams, Gallardo has yet to give up more than three runs in a start, and even that's only happened once -- against San Diego on May 2. And on Monday, Gallardo continued that kind of dominance...
  Losers, baseball fans, Wisconsin residents, I ask the above question; Is it fire sale time for the Milwaukee Brewers? Due to a number of factors, the 2012 Milwaukee Brewers season looks to be all but over. Well, not over in the fact that we can still go enjoy the beautiful Miller Park, enjoy the food, and, most importantly, peruse the parking lot for hotties…..but it looks...
It is never too early to start talking about the trade deadline, especially when we can talk about would-be contenders that might unexpectedly end up being sellers rather than buyers at the deadline.  Over the next few weeks, we'll be taking a look at many of these such teams, and there is a surprisingly large amount, and what exactly they might be looking to sell...
    With all the hubub over my article suggesting a fire sale by the Brewers, I thought I would post a funny statistic.   **A.D.D. Side note. Look, Losers, Brewer Fans, Wisconsinites……..I am a very reactionary fan. I live in the moment….be it the Brewers, The Packers, The Badgers or which ever Wisconsin team is competing. I bleed Green and Gold, Blue and Gold, Red and White…...
Today we're introducing a segment we're calling "Point/Counter-Point" here at The Brewers Bar.  It's a chance to show you the debates that sometimes only happen behind the scenes.  Up for debate today - Should the Brewers Drop Rickie Weeks in the Lineup?Andy: I don't even think it's a question of should they drop him or not, it's more of where...
Daniel Murphy is red hot at the plate, especially at Citi Field. The New York Mets are reaping the benefits. The second baseman goes for the longest hitting streak of his career as the Mets try to win for the eighth time in 10 tries by sweeping this two-game set against the Milwaukee Brewers on Tuesday night. Murphy is hitting .333 with a team-leading 10 doubles and 14 RBIs on...
  So it appears that one of our fellow Yardbarker blogs is a tad upset with me and my Fire Sale article. Miller Park Drunk, a Milwaukee Brewers blog has posted this article in response. I often don't get into arguments with Drunks, but, since were Losers, I guess we can offer a retort. We also joined the Yardbarker network to get some more exposure, gain readers and to see what...
The Mets will have to hold off impending storms if they hope to get the chance to sweep the Brewers in their brief two-game set. First pitch is still scheduled for 7:10 p.m. and the game can be seen on SNY or heard, as always, on WFAN 660AM.  Join the conversation on Twitter by following @dailystache or yours truly, @DevOnSports. The rains came late in Monday's 3-1 win over...
As the quarter-point of the Major League Baseball Season approaches (the point when it's no longer early), I am beginning too reflect on things for the Milwaukee Brewers thus far.  To me its pretty simple what is going on.  I don't know why its happening or if it will change and yes, I am not oblivious to the injuries but I do know that this team is UNDER-PERFORMING. Take that...
Photo: Jae C. Hong/APIt appears that the Ryan Braun saga isn't over just yet. The Associated Press reported today that Major League Baseball has fired Shyam Das, the arbitrator who overturned Braun's 50-game suspension in February. Yesterday, Das revoked a 100-game suspension for Padres catcher Eliezer Alfonso over the same chain-of-custody issue that affected Braun's sample...
MLB News

Delivered to your inbox

You'll also receive Yardbarker's daily Top 10, featuring the best sports stories from around the web. Customize your newsletter to get articles on your favorite sports and teams. And the best part? It's free!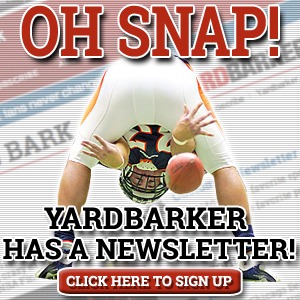 Latest Rumors
Best of Yardbarker

Today's Best Stuff

For Bloggers

Join the Yardbarker Network for more promotion, traffic, and money.

Company Info

Help

What is Yardbarker?

Yardbarker is the largest network of sports blogs and pro athlete blogs on the web. This site is the hub of the Yardbarker Network, where our editors and algorithms curate the best sports content from our network and beyond.