Found May 08, 2013 on Fox Sports Wisconsin:
MILWAUKEE -- With 31 games and 114 at-bats under his belt, Brewers second baseman Rickie Weeks is still trying to get going. And while the Brewers are going to continue to stay patient with the former All-Star, manager Ron Roenicke dropped Weeks from fifth to seventh in the lineup for Wednesday's game against Texas. "It wasn't really a conversation," Roenicke said. "I just told him what I was going to do and that was it." Hitting .193 with two home runs and nine RBI, Weeks is scuffling early for the second straight season. There comes a point when a player's struggles is more than just a slow start, but Roenicke isn't sure if Weeks is at that point just yet. "I think it depends on who the player is," Roenicke said. "Aramis (Ramirez) got off to a slow start last year and I don't remember how long that was. I think where you are in the lineup, what your history is, we knew Aramis was going to hit, so I think you stick with a guy longer who you know has the history of doing well. I think you stick with those guys a little longer. "The young guys you don't stick with as long just because you don't have a track record on them. Are they going to come out of it or is this what we are going to get out of him?" Where does Weeks fit into that line of reasoning? He certainly isn't young and does have a track record in the big leagues, meaning the Brewers aren't going to pull the plug on him. Their goal remains to find a way to get him going. "Rick has always hit and I think Rick will hit," Roenicke said. "I started him at second, moved him to fourth and then to fifth. Somewhere in there, there has to be production for the team and more importantly in the long run, how do we get him swinging? "He's going to hit. He shows that he hits every year. I know last year he had a tough first half and a good second half, but his history is that he's going to hit. It's just how to get him started in that direction as soon as we can." Some players react well to a day off to clear their head and come back fresh, while others view an off day as more time to let frustrations take over. Weeks certainly fits into the latter. "When he's sitting on the bench, he's not a guy that's like 'Man, I'm glad to have a night off'. That's not him," Roenicke said. "He's thinking 'If I was in there right now maybe I would get it going'. That's where you have to know the personalities. Not that I'm always going to be right in what I do, thinking of him and his personality, that's what I'm thinking right now. That may change in a couple of days. I may see something else and decide to give him a day." Change isn't always better: Maybe it will just take some time to get used to, but the early returns on the new format of Interleague play haven't been positive. With the Houston Astros now in the American League, the balance of 15 teams in each league allows Interleague games to be played on a daily basis rather than set times throughout the season. The Brewers are currently discovering a few of the oddities of the new schedule as they are playing the first leg of a split four-game season series with Texas. The Brewers will visit the Rangers for another two-game series in August. Maybe the strangest part of Milwaukee's schedule comes in late-May when the Brewers play a four-game series against the Minnesota Twins with the first two games played at Miller Park before heading north to finish the series at Target Field. "It was nice to have a three or four week time when you prepared for Interleague," Roenicke said. "If you were going to be playing at American League teams you may bring a guy up to be your DH for those games. You really prepared differently. Now you really can't because you have two here and it's not going to be for awhile. It's really weird trying to figure out how to do something when there's really no pattern." The lack of a DH is obviously not an issue when the Brewers are playing at home, but they are at a disadvantage when they travel to Minnesota and Texas. With the old format, the Brewers often used to bring up players just to DH for the series. On the other side of things, American League teams like the Rangers often have to sit one of their better bats in a National League park because their DH's are often times players like Lance Berkman - a liability in the field at this point in his career. There has been some discussion around allowing teams to carry a 26th player for Interleague games, but American League teams wouldn't have much use for an extra player. "The National League is where you need more players," Roenicke said. "You can have a four-man bench and be fine. In the National League, you need people." Many had to do a double-take on Opening Day when they saw the Reds and Angels squaring off, just because it's different. The notion of an American League team facing a National League team to open the season - there also will be an Interleague series to conclude the season - is something everyone will have to get used to. It's widely believed a switch to one set of rules will eventually come, as some feel it's only a matter of time before the National League will have a DH. Roenicke didn't want to express his true opinion on the matter, but appreciates the strategy involved with the National League game. "If they go to just one or the other it sounds like they would lean toward the DH," Roenicke said. "Being in the National League when you enjoy the strategies of it, it makes me not want to go that way. I understand if you get a DH in there there's more homers and the union likes it because you get one more big basher in the lineup. I enjoy the National League game." Follow Andrew Gruman on Twitter.
Original Story:
http://www.foxsportswisconsin.com/mlb...
THE BACKYARD
BEST OF MAXIM
RELATED ARTICLES
Francisco Rodriguez's attempted road back to the big leagues will begin Tuesday night, as the former Brewers reliever has been added to the roster at advanced Class-A Brevard County. Signed to a minor league contract on April 17, Rodriguez has a provision in his contract giving the Brewers just 30 days to add him to the Major League roster or he will be released. The 31-year...
MILWAUKEE -- If a player can play shortstop, he has a good chance at being able to play anywhere on the infield. At least that's what the Milwaukee Brewers are hoping for. When Jeff Bianchi was reinstated from the disabled list last Thursday, he made five shortstops on the roster. Josh Prince was sent back to Triple-A Nashville the next day, so Milwaukee currently has four shortstops...
On December 19th, 2010, RHP Zack Greinke of the Kansas City Royals, a former Cy Young Award winner, was traded to the Milwaukee Brewers for Jake Odorizzi, Alcides Escobar, Jeremy Jeffress, and Lorenzo Cain. Greinke went on to copilot the top of the Brewers' rotation, along with Brewers lifer Yovani Gallardo, to the NL Central crown and the NLCS in 2011.... Read more
Let's start this off properly: Yuniesky Betancourt is the worst shortstop in Brewers history. That might not necessarily be true, but it feels true. In 2011, his last full season as the Brewers shortstop, he was the worst everyday shortstop in the league. Or at the very least in the bottom five. Even when he did good things, he always followed them up with boneheaded plays, errors...
MILWAUKEE -- All it took for the Milwaukee Brewers to snap their five-game losing streak was an opponent not wearing "St. Louis" across its chest. Facing one of the American League's best teams, the Brewers jumped on the Rangers for five runs in the first inning and got good pitching and defense throughout to hold on for a 6-3 victory. After a tough weekend series...
MILWAUKEE -- The mood of a clubhouse as bags are packed for a road trip can usually can be a pretty telling sign of how the previous homestand went as a whole. The Milwaukee Brewers have had three homestands thus far, all to one extreme or the other. As bags were packed in preparation of Thursday's trip to Cincinnati, Milwaukee's mood was one of frustration after a 4-1 mistake...
I know it's not like me to use such a provocative, declarative headline. Truth be told, I'd be more comfortable with "Yuniesky Betancourt Hasn't Changed a Bit, Probably", just so I can cover all my bases. But here we are, and I think it needs to be said, on the heels of Betancourt slamming his eighth dinger of the still very young regular season. This is a time for sanity...
After a promising start to a nine-game homestand, the Milwaukee Brewers are in the midst of a five-game skid. The Brewers look to avoid a season-high sixth straight loss as they open a two-game interleague set against the Texas Rangers on Tuesday night at Miller Park. Milwaukee (14-16) held a 22-12 scoring advantage over Pittsburgh to win the first two on the home stretch, but has...
Sometimes you may not notice certain things about certain players because you don't pay attention to their every at bat, inning pitched, or whatever. Even in this wonderful age, where so much information is at our fingertips at virtually all times, things can slip past and go unnoticed to the baseball-loving masses. I mean, sure, if it is a "superstar" that is struggling mightily...
MILWAUKEE (AP) -- Yuniesky Betancourt's eighth homer of the season capped a five-run first inning Tuesday night and the Milwaukee Brewers snapped a season-high five-game losing streak with a 6-3 victory over the Texas Rangers. Aramis Ramirez also homered for the first time this year and NL batting leader Carlos Gomez added a two-run double for Milwaukee, which rebounded from...
January 30, 2008 — I remember it like it was yesterday.  The Mets sent Philip Humber, Deolis Geurra, Kevin Mulvey, and Carlos Gomez packing to Minnesota. "Yes!" I thought to myself, "that's all it takes to acquire Johan Santana, arguably the best pitcher in the game…what a steal." I believe Humber was considered the centerpiece of the deal, while Gomez was that token...
Yovani Gallardo knows that even though it's early, the upcoming stretch of road games is a key one for the Milwaukee Brewers. Jay Bruce finally homered again for the Cincinnati Reds, and facing Gallardo could help him get on track. These NL Central rivals meet for the first time in 2013 on Friday night in Cincinnati, with NL batting leader Carlos Gomez of the Brewers looking...
MLB News

Delivered to your inbox

You'll also receive Yardbarker's daily Top 10, featuring the best sports stories from around the web. Customize your newsletter to get articles on your favorite sports and teams. And the best part? It's free!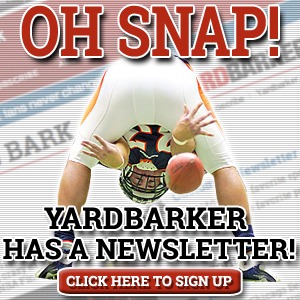 Latest Rumors
The Backyard

Today's Best Stuff

For Bloggers

Join the Yardbarker Network for more promotion, traffic, and money.

Company Info

Help

What is Yardbarker?

Yardbarker is the largest network of sports blogs and pro athlete blogs on the web. This site is the hub of the Yardbarker Network, where our editors and algorithms curate the best sports content from our network and beyond.