Found November 03, 2012 on Fantasy Baseball Dugout:
Brooke Sorenson Nix - Baseball's Hottest Wife 2012 In a landslide not seen since the Nixon-McGovern election in 1972, Brooke Sorenson, wife of Philadelphia Phillies' Laynce Nix, is the 2012 Baseball's Hottest Wife. It was Brooke Sorenson Nix's first year of eligibility in the contest and she certainly made the best of it.  Sorenson Nix received 25.7% of the vote in the 5th Annual Baseball's Hottest Wives contest.  The second highest vote getter was also an ex-DCC, Ann Lux, wife of Red Sox rookie sensation Will Middlebrooks, who came away with 7.3% of the vote.  Returning champion Diana Roberts was third with 6.0% of the vote.  Another ex-DCC (how do all of these football players let these cheerleaders get away?) Emily Kuchar Greinke, a regular in the Baseball's Hottest Wives vote since '09, was sixth with 5.1% of the vote. Sorenson is an ex-Dallas Cowboys cheerleader.  In fact, she was on the DCC squad for 5 years!  Not sure how well that would go down in football crazy Philadel...
Original Story:
http://www.fantasybaseballdugout.com/...
THE BACKYARD
BEST OF MAXIM
RELATED ARTICLES
The Phillies have a few glaring holes heading into the 2013 season, the most important of which is centerfield. After trading Shane Victorino this summer, the team permanently installed John Mayberry up the middle, and the experiment didn't work out. Mayberry proved that he was a platoon player in a corner outfield spot, not a regular centerfielder. Unfortunately, he was the...
Having just won his fourth Gold Glove award, this player review could not come at a better time for Jimmy Rollins, a man who could use a few positives in his corner. That's because 2012 was one of the more contentious between Rollins and the fans. Rollins once again drew criticism when he became the focal point for a city-wide debate on if and when it's ever appropriate for a...
The Philadelphia Phillies are viewed as the early favorite to sign center fielder B.J. Upton, reports Jon Heyman of CBSSports.com. Baseball officials still see the Nationals as the favorites for Michael Bourn, while the Phillies are seen as an early favorite for Upton. After trading away starters Hunter Pence and Shane Victorino this summer, the Phillies...
Ruf was amazing in '12. (AP) Babe Ruf. Ruf Ryder. So many nicknames in so little time. Darin Ruf slugged his way onto the scene about midway through the 2012 season with the Reading Phillies; it wasn't as though Ruf was some highly-touted prospect everyone knew about. Really, he was an afterthought at 26 years old; a guy who was just kind of there. That all changed. In August...
A year ago, the Philadelphia Phillies wasted little time raiding the free agent market. In the first 17 days of free agency, the Phillies signed future Hall of Famer Jim Thome to solidify their bench and inked All-Star closer Jonathan Papelbon to the richest contract in baseball history for a relief pitcher. It remains to be seen if the Phillies act as fast this winter, but it...
I grew up in Central PA and have been a Phillies fan almost my whole life. My first real memories were the '64 collapse and Richie (call me Dick) Allen winning rookie of the year. When I was 8 years old I was watching the Yankees (hey i was only eight) on a Sunday afternoon. It was 1963 so I guess a pretty good year to be a Yankee fan, i believe they won 104 games that year and...
For the first time in his career, Carlos Ruiz made the National League All Star team. Ruiz did not receive enough fan votes to start, although he deserved to.  The 33-year-old batted .350 with 13 home runs and a .995 OPS during the first half of the season. Ruiz headed to Kansas City for the All Star Game as a reserve, but he did receive some playing time.  He caught knuckle-baller...
HOT STOVE
B.J. Upton is considered one of the top free agents on the market and may be leaving the Rays. Are the Phillies interested in him?
It's time for another edition of our off-season league updates. Each week, we'll take a tour around the globe for a look at Phillies talents participating in various autumn and winter action. Arizona Fall League (all Phillies talent plays for Peoria)- Catching prospect Tommy Joseph (pictured left) is batting .152 with a double and an RBI in 10 games. The 21-year-old participated...
Tonight marked the seventh annual Arizona Fall League Rising Stars Game in the twenty year history of the AFL. Throughout the years, this event has featured a plethora of sluggers, Hall of Fame pitchers, and even a few current Phillies, Ryan Howard and Roy Halladay.  This year, the Phillies showcased two of their top prospects, third baseman Cody Asche and catcher Tommy Joseph...
It's been announced today that the Phillies' Double-A affiliate, the Reading Phillies are undergoing an overhaul to their brand. On Saturday, November 17 the successful minor league franchise will have a new name, logo, and uniform. The Phillies have been in Reading since 1967 which is one of the longest a team and a minor league affiliate have stuck together. Many times...
Ideas for third base for the 2013 Philadelphia Phillies are scarce but one could be intriguing  could be a trade for Tigers Jhonny Peralta. He has not played third since 2010 but has been solid at the position in the five seasons he has played at the hot corner. He is in the last year of his contract and could be a nice stop gap until Cody Asche is ready to emerge on the big league...
MLB News

Delivered to your inbox

You'll also receive Yardbarker's daily Top 10, featuring the best sports stories from around the web. Customize your newsletter to get articles on your favorite sports and teams. And the best part? It's free!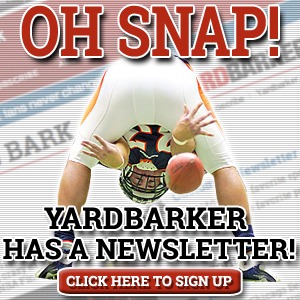 Latest Rumors
Best of Yardbarker

Today's Best Stuff

For Bloggers

Join the Yardbarker Network for more promotion, traffic, and money.

Company Info

Help

What is Yardbarker?

Yardbarker is the largest network of sports blogs and pro athlete blogs on the web. This site is the hub of the Yardbarker Network, where our editors and algorithms curate the best sports content from our network and beyond.