Found February 24, 2013 on Fox Sports North:
By David Dorsey Special to FOXSportsNorth.com FORT MYERS, Fla. Two men who have had a history with the Minnesota Twins, but never together, have been united this season for a common cause. Tom Brunansky, 52, played outfield for the Twins from 1982-88, helping Minnesota to the 1987 World Series title. Just three years removed from being the hitting coach for the Gulf Coast rookie league Twins, Brunansky has been hired as Minnesota's hitting coach. Terry Steinbach, who will turns 51 on March 2, graduated from New Ulm (Minn.) High School before playing for the Oakland A's from 1986-96. Steinbach then capped his playing career as a catcher for the Twins from 1997-99. He has returned to the franchise, this time as the bench coach and catching coordinator. Following back-to-back losing seasons in which the Twins finished with a combined 129-195 record, general manager Terry Ryan, entering the second year of his second stint in that role, decided the time had arrived for a coaching staff makeover around manager Ron Gardenhire. "We were looking for a guy with knowledge, we were looking for a guy with personality and we were looking for a guy with energy," Ryan said of Brunansky. "I think the players like him. He's approachable. He's a relentless worker." Both newcomers to the staff had reached similar points in their lives at home. Brunansky, father of five, got bit by the coaching bug when assisting as a coach for his sons at Poway (Calif.) High School from 2005-10. "That had a lot to do with me not looking for employment," Brunansky said of wanting to be present for his children. "I got back into baseball at the high school level reluctantly. If it weren't for a good friend of mine who got me to come out, I wouldn't be here today. Dan Johnson played for the Reds and Oakland and the Yankees. His sons were part of our coaching staff in high school. They prodded me to come on board. If it weren't for those guys, the desire would not have set in. "I realized how much love for it I have and how much I wanted to give back. If it weren't for that experience, I wouldn't be sitting here now. I feel a sense of enjoyment. I think in my mind, I'm not to the point of being back, but I'm to the point of being able to give back. I think I have the mindset for these guys, to know that we are on the same page. When they struggle, I've been there, too. It's a daily grind, and it's something where I want to give back to these guys." With all but two of his children now graduated from high school, Brunansky said the time was right for him to get back into coaching. "If they had played well and they had done well, then they probably wouldn't have made a change," Brunansky said of the Twins. "I don't think it was so much me as the timing." All three of Steinbach's children have graduated from high school. So when the Twins did not retain Steve Liddle, Steinbach jumped at the job opening. Ryan said Steinbach seemed like a good fit because Ryan wanted someone with a catching background on the staff. "My wife and I always said that if an opportunity ever came, we'd be interested in it," said Steinbach, who had been a part-time catching instructor during previous spring trainings. "And it happened. It's kind of a gamble. A lot of times after a player gets out of the game for a number of years, it's hard to get back into it. The Twins offered me the job, and I decided to get back into it." Bobby Cuellar, who is bilingual in Spanish, replaced Rick Stelmaszek as the bullpen coach after serving the Triple-A Rochester Red Wings in that role during the previous four seasons. The flurry of moves means Gardenhire and pitching coach Rick Anderson, entering their 12th consecutive seasons in those roles, are the lone holdovers in their same jobs from the staff that succeeded Tom Kelly's. "Communication is all that matters," Gardenhire said. "Everybody knows what we're doing, what we like, what we don't like. I've known these guys for a long time." Joe Vavra and Scott Ullger remain on the coaching staff but in different roles. Vavra, previously the hitting coach since 2006, is the third base coach and infield coordinator. "I understood the moves being made and why," Vavra said. "My background was as an infield instructor before I was a hitting instructor, so it was natural for me to go back. I like the situation because I like Tom Brunansky. I like what he has to offer. I love his enthusiasm and what he brings." Twins first baseman Justin Morneau, who won the 2006 American League Most Valuable Player Award with Vavra as his hitting coach, said he looks forward to working with Brunansky. He also likes having Vavra still on the staff for additional input. "I had a lot of success with Joe," Morneau said. "I enjoyed working with him. It's going to be a change. Sometimes change is good. I can't already tell how it's going to be, but Bruno has been around. He has had success as a major league hitter. I look forward to working with him and seeing his philosophies." Vavra said his biggest adjustment would be standing on the field again during games. "I haven't had a ball hit at me in seven years," Vavra said. "When I get out there, I hope I flinch. There's no net. But once you get out there, it just comes back to you." Ullger moves to first base coach and outfield instructor. He was the hitting coach from 1998-2005 and the bench coach in 2011-12. "We're all in this together," Ullger said. "We have one goal in mind. We're all contributing to the same goal, and that's the way it should be." In Ullger and Vavra, the Twins have two coaches on staff with backgrounds as hitting coaches. Gardenhire said that could come in handy, but that Brunansky would be the primary voice on the craft of hitting. "I think we're all in this together as a staff," Gardenhire said. "Bruno's the hitting guy. Obviously, what he wants will get done. But Joe's been one. Scotty Ullger's been one. We all have to work together here. I don't think there's going to be any stepping on people's toes. Everything will go through Bruno. Obviously, he's the hitting guy. But when Bruno's tied up with one guy, Joe can help out. Everybody can step in and help out. I think we're all going to work together pretty good."
Original Story:
http://www.foxsportsnorth.com/02/24/1...
THE BACKYARD
BEST OF MAXIM
RELATED ARTICLES
The Minnesota Twins have admitted the mistakes of the past when it came to their middle infielders. One official is quoted by MLB Reports as admitting the mistake of sending away J.J. Hardy and the fiasco caused by Nishioka and Casilla. Admitting your problems is the first half of the battle, so they say. And it should be noted that the Twins' current options will not hit anywhere...
One of the biggest questions leading to the Twins 2013 is how they plan on filling the hole left by the trade of Ben Revere and Denard Span. There are a handful of candidates for the position; Darin Mastroianni, Aaron Hicks and Joe Benson, with some guys like Clete Thomas nibbline at the edges. The common opinion is that Twins fans would like to get their future started as soon as...
The Minnesota Twins are top heavy with hitters on the prospect level which bodes well for the future if they can find pitchers to put through to the major league rotation. But the pitching side of... [[ This is a content summary only. Visit my website for full links, other content, and more! ]]
The Tampa Bay Rays got clutch hitting late in the game to beat the Minnesota Twins on Sunday, 10-7 in 10 innings.  Starting pitcher Chris Archer threw nine pitches in is one inning of work. He recorded a strike out and gave up one walk (to Joe Mauer). Jake Odorizzi also pitched well as he threw seven pitches in the second inning to record three outs.. But the real story was the...
FORT MYERS, Fla. (AP) Joe Mauer thought the scoreboard radar reading of 96 mph on a pitch from Kyle Gibson was a little low. "It seemed like it was 106," Mauer said Sunday. "He was throwing the ball at a good angle. It was the first time I've caught him, so it was good to see him. It's been pretty good to get to know these guys. Once we get out into a game...
FORT MYERS, Fla. (AP) -- Joe Mauer thought the scoreboard radar reading of 96 mph on a pitch from Kyle Gibson was a little low. "It seemed like it was 106," Mauer said Sunday. "He was throwing the ball at a good angle. It was the first time I've caught him, so it was good to see him. It's been pretty good to get to know these guys. Once we get out into a game...
Hill-Murray School football coach Mark Mauer was busted in a prostitution sting last week. He's also the cousin of the Minnesota Twins catcher Joe Mauer. The best part about this story is his excuse after getting arrested. According to the police report, Mauer arrived at the hotel about 7:30 p.m. and met with a female undercover officer. Mauer verbally agreed to pay the woman...
FORT MYERS, Fla. (AP) Justin Morneau was on Vance Worley's side this time. That's the way the right-hander likes it. Morneau hit a three-run double for Minnesota and the newcomer Worley pitched two scoreless innings in his spring debut for the Twins in a 5-4 victory over the Pittsburgh Pirates on Monday. Worley was acquired in a trade with Philadelphia for outfielder...
SARASOTA, Fla. (AP) -- It doesn't matter if it's February or September, a couple of innings just to get the arm loose or a big-time start in a pennant race, Kevin Correia doesn't want to come out of the game. It's why the Minnesota Twins veteran right-hander found himself grinding during Saturday's Grapefruit League opener against the Baltimore Orioles. Two hits...
Final: Twins 5, Pirates 4 (box) WP: Cole De Vries (1-0, 0.00 ERA) LP: Kris Johnson (0-1, 9.00 ERA) SV: Pedro Hernandez (1, 0.00 ERA) Kyle McPherson got the nod on the hill today for the Bucs and pitched two scoreless innings. He gave up one hit, which turned out to be the first hit given up by Pirates' starters this spring. Pirates' starting pitchers have still yet to give up...
Spring training is underway in Florida, but there is plenty to do at Target Field before the 2013 season starts in Minneapolis (like melting the snow). FOX Sports North caught up with Minnesota Twins president Dave St. Peter to find out what fans can look forward to this upcoming season and beyond at Target Field. FSN: The team has made several changes to Target Field since it...
MLB News

Delivered to your inbox

You'll also receive Yardbarker's daily Top 10, featuring the best sports stories from around the web. Customize your newsletter to get articles on your favorite sports and teams. And the best part? It's free!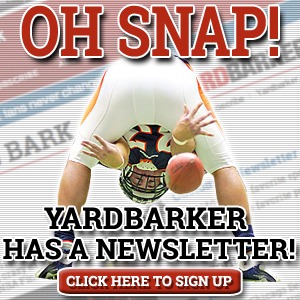 Latest Rumors
The Backyard

Today's Best Stuff

For Bloggers

Join the Yardbarker Network for more promotion, traffic, and money.

Company Info

Help

What is Yardbarker?

Yardbarker is the largest network of sports blogs and pro athlete blogs on the web. This site is the hub of the Yardbarker Network, where our editors and algorithms curate the best sports content from our network and beyond.