Found February 24, 2012 on Dugout Central:
The Cubs are giving Bryan LaHair, 29 and a career minor leaguer, his shot as a major league regular in 2012.  The first base job is LaHair's to lose going in to the season.  What are reasonable expectations for this minor league journeyman with only 65 major league games under his belt?
In LaHair's previous 219 major league plate appearances, he posted a .262 batting average, a .335 on-base and a .395 slugging with 22 walks and 58 strikeouts.  LaHair came to the plate 150 times at age 25 with the Seattle Mariners in 2008.  The other 69 plate appearances were with the Cubs last season.
LaHair's minor league performance indicates that there's a good shot he can legitimately hold down a major league first base job.  In 4,051 plate appearances he's hit .295/.362/.503 while walking 376 times and striking out 869 times in 970 games.
The strikeouts indicate he's not destined for greatness in the majors at an advanced age, for someone getting his first shot.  His hit tool, at least according to the metrics, doesn't seem to be anything special.  However, his walk rate in the minors is far from hopeless and he displayed some power.  He's had his contact problems but he walks at a respectable rate and, when he does hit the ball, he's shown an ability to hit it with some authority.  These are signs that he probably can draw enough walks and get enough hits and extra-base hits to hold down first base offensively at something close to average production.
LaHair's athleticism is at least good enough to allow him to play 188 games in the outfield throughout his minor league career.  That's not necessarily an indication that he'll be anything more than a serviceable to average first baseman in the majors but at least it's a good sign.  If nothing else, his minor league managers think he has enough range to cover the outfield, which is a sign he'll do fine at first base.
Looking at the total package, we should probably expect something around what Freddie Freeman or Eric Hosmer did last season, 1-2 Wins Above Replacement.  If we are optimistic, a 2011 Gaby Sanchez type season is a possibility, something around 3 WAR.
Twitter: @PayneBall
Original Story:
http://www.dugoutcentral.com/?p=2434
THE BACKYARD
BEST OF MAXIM
RELATED ARTICLES
Chicago Cubs shortstop Starlin Castro maintained his innocent on Friday in the face of a sexual assault complaint last fall. Charges have not been filed stemming from a possible sexual assault on Sept. 28. "I cooperated with the police," Castrol told ESPN Chicago. "... I don't have a whole lot of stuff to say about that. I'm ready to play baseball and will...
After taking one of the strangest routes to spring training, Blake DeWitt took the high road Thursday when he arrived at Fitch Park.
Alfonso Soriano's defensive play sometimes leaves fans shaking their heads. There are times when he doesn't react well and gets a late break on the ball, or doesn't run hard enough out of the box. But bad habits are not easy to break.
Bryan LaHair, who won the Pacific Coast League MVP Award last season after belting 38 homers and driving in 109 runs for Triple-A Iowa, enters spring camp with a spot on the Cubs' Opening Day roster. Finally.
MESA, Ariz. — Considering the emphasis on the new direction the Cubs are taking — not to mention a significant de-emphasis of some old clubhouse presences — Alfonso Soriano had a right to be the most surprised Cub to still have a uniform and locker stall at Fitch Park this spring. But the Cubs'...
On his first day at Cubs camp, Trever Miller was simply looking for someone to play catch with. As fate would have it, he found Ryan Dempster, and the two quickly realized they were more than just pitchers. They're also dads with daughters dealing with life-threatening disorders.
Chicago Cubs manager Dale Sveum said Thursday he has no plans to address Starlin Castro's off-field situation with the young shortstop when he arrives for spring training, which is expected to be Thursday.
Cubs manager Dale Sveum said that he does not expect offseason allegations to be a distraction for Starlin Castro, who should be in Cubs' camp on Friday when the team has its first full-squad workout.
MESA, Ariz. — Get ready for the Cubs' version of Linsanity. Not to mention the pun parade if long-overlooked slugger Bryan LaHair does anything like the New York Knicks' Jeremy Lin has done. Brace yourself for late-inning ''LaHair-oics'' and long home runs that were ''LaHair today...
MESA, Ariz. -- Cubs shortstop Starlin Castro met with the media on Thursday but declined to talk about the claim by a Chicago woman that he sexually assaulted her in his apartment in September.
Cubs manager will speak to Soriano about running out long fly ballsFor all the tough talk this winter about yanking players for not hustling, manager Dale Sveum didn't sound like he was in any rush to employ left fielder Alfonso Soriano as Exhibit A.
MESA, Ariz. — The Cubs wasted little time deciding not to retire Carlos Zambrano's number. With the ink still wet on the $15.3 million check the Cubs sent to the Miami Marlins to take the problem-child pitcher, the club gave his No. 38 to non-roster backup catcher candidate Jason Jaramillo. Just...
MLB News

Delivered to your inbox

You'll also receive Yardbarker's daily Top 10, featuring the best sports stories from around the web. Customize your newsletter to get articles on your favorite sports and teams. And the best part? It's free!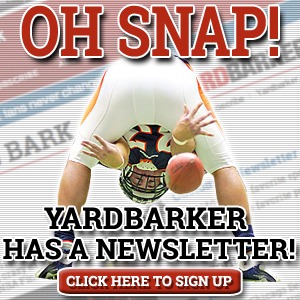 Latest Rumors
The Backyard

Today's Best Stuff

For Bloggers

Join the Yardbarker Network for more promotion, traffic, and money.

Company Info

Help

What is Yardbarker?

Yardbarker is the largest network of sports blogs and pro athlete blogs on the web. This site is the hub of the Yardbarker Network, where our editors and algorithms curate the best sports content from our network and beyond.