Found May 06, 2012 on Reading Between The Seams:
Prime-Time Performer Bryce Harper continues to shine under the spotlight. It's been a long time since a position player has come into the league and made such an early splash as Harper. He's doing more than just performing at a high level. Bryce has found a different way to impress almost every game, and he has done it in dramatic fashion with the nation watching. Harper received the call-up just over a week ago. This call was a bit of a shock to baseball people, as many expected the 19 year-old to get the shot much later this season. Many were skeptical as to whether he was ready to hit Major League pitching. In his first game, Harper showed his abilities by taking a 3-2, high fastball and planting it off of the center field fence for a stand-up double. It wasn't much later that he showed his defensive prowess, as he threw a laser to the plate from leftfield that would have had the runner dead in his tracks had the catcher held onto the ball. Days go by and Harper continues to "wow" the fans in several manners. He makes the move from leftfield to center and takes away an extra base hit while crashing into the wall and proudly raising the ball as if to show a trophy. There never seems to be a dull moment when Harper is on the field. Sunday night, with the Philadelphia Phillies in town, the Nationals are on prime-time TV as the ESPN game of the week. First inning of the game, Harper is hit by a pitch and soon makes the Phillies pay. He goes from first to third on Jayson Werth's single. Harper was not satisfied. Pitcher Cole Hamels makes a pick of throw to first and Harper dashes to the plate…Safe. The first steal of home for Harper's career and only the second in Nationals' history. Harper's hustle never seems to stop. Later in the game, with the Nats in the field, Philadelphia loaded the bases with no outs. As the ball his hit out to Harper in left, he plays nothing safe. Harper comes running in with the diving catch, saving what could have been a very long inning for the Nats. When Bryce Harper stepped to the plate in the 8th inning, the Nats trailed 3-1. He fists off a pitch, barely sending if past the shortstop for a soft-bloop hit.  Harper again is not satisfied. He sprints out of the batter's box and doesn't stop until he's sliding into second base. Off the bat, this was no double. Bryce stole a double and did it with young aggressiveness that you rarely see in the Major Leagues. This guy is fun to watch. When a player has the talents that Bryce Harper possesses, you will see amazing things when that player shows with the type of vigor that Harper comes with. There is a new star on the scene, and this is no laid-back, pampered athlete. This kid is a go-getter. The Spotlight Kid has arrived.
Original Story:
http://sports-kings.com/readingbetwee...
THE BACKYARD
BEST OF MAXIM
RELATED ARTICLES
This is pretty awesome. Cole Hamels hit Bryce Harper in the first inning, and Harper moved up to third on a Jayson Werth single. Hamels threw over to first to check on Werth, and as soon as he released the pitch, Harper made a beeline towards the plate, and slid in safely. You can say what you want to say about Harper's attitude and how the media portrays him, but there is no...
Bryce Harper stole home last night in the first inning, adding to his already impressive start in the big leagues. The guy in this picture was sitting behind home plate, and it seems like he's pretty fired up about Bryce's work thus far.
Your browser does not support iframes. "It's just, 'Welcome to the big leagues. I was trying to hit him. I mean, I'm not going to deny it." (Cole Hamels, via CSN Philly.com, 5/7/2012) "I'm not going to injure a guy. They're probably not going to like me for it. But I'm not going to lie and say I wasn't trying to do it." (Cole Hamels...
Cole Hamels admits it: He plunked rookie phenom Bryce Harper on purpose. ''I was trying to hit him,'' the Philadelphia lefty said. ''I'm not going to deny it.'' That startling bit of honesty came after Hamels nailed the Washington teen with a fastball in the small of the back his first time up during the Phillies' 9-3 win Sunday night. The...
Nationals rookie steals home in retaliation Cole Hamels hit Bryce Harper in the backside. AP Yep, this is a rivalry. Get on board. After losing two straight games to the Washington Nationals this weekend, Philadelphia Phillies pitcher Cole Hamels had seen enough. Hamels took matters in to his own hands by sending a deliberate message to the NL East leading...
In Sunday evening's game between the Phillies and Nationals, Philadelphia pitcher Cole Hamels drilled Washington rookie phenom Bryce Harper with a pitch in Harper's first at-bat, seemingly to send a message to the young star. Hamels later confirmed that he intentionally threw at Harper, saying he did it to welcome Harper to the big leagues. [...]
Philadelphia Phillies pitcher Cole Hamels admitted last night that he intentionally hit Washington Nationals rookie phenom Bryce Harper with a pitch in the first inning of Sunday night's game. "I was trying to hit him," Hamels said. "I'm not going to deny it." As crazy as that may sound to you, his reasoning for it borders on insanity. Hamels told reporters that...
Update:  Philadelphia Phillies starting pitcher Cole Hamels has been fined and suspended five games for intentionally throwing and hitting Washington Nationals rookie outfielder Bryce Harper last night. Unless appealed, Hamels is scheduled to begin serving his suspension Monday night when the Phillies hosted the New York Mets. Original Post 12:00 PM Philadelphia Phillies pitcher Cole...
Better late than never, it's your weekly announcing schedule for Major League Baseball. Surprisingly, rookie/lightning rod Bryce Harper and his Nationals (I can't believe I just typed that) are not featured nationally at all this week.  Instead, it's a steady dose of the usual suspects with the weekend's marquee games focusing on the AL West battle between the Angels...
Philadelphia Phillies pitcher Cole Hamels has been suspended five games for intentionally throwing at Washington rookie Bryce Harper. Major League Baseball announced the penalty Monday. Hamels also was fined. Hamels plunked Harper in the small of the back with a fastball in the first inning Sunday night. The Phillies won 9-3 and Hamels admitted that he deliberately threw at Harper...
Philadelphia Phillies pitcher Cole Hamels has been officially suspended for 5 games by Major League Baseball after he admitted to intentionally throwing at Washington Nationals young phenom Bryce Harper. I can't say that I'm very surprised about the suspension. The punishment fits the crime as Hamels will only have to miss one start in the Phillies rotation. If Hamels would have...
According to Phillies beat writer Todd Zolecki, Cole Hamels has been suspended 5 Games by the MLB for intentionally throwing at Nationals rookie Bryce Harper. The 5 game suspension was largely in part to Cole openly admitting to plunking Harper during the Phillies 9-3 win on Sunday night. Hamels put it simply: "I was trying to hit him. I'm not going to deny it"  ...
MLB News

Delivered to your inbox

You'll also receive Yardbarker's daily Top 10, featuring the best sports stories from around the web. Customize your newsletter to get articles on your favorite sports and teams. And the best part? It's free!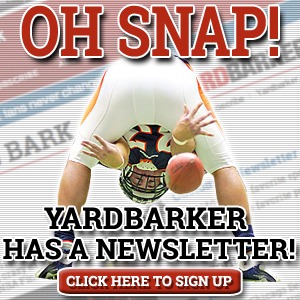 Latest Rumors
Best of Yardbarker

Today's Best Stuff

For Bloggers

Join the Yardbarker Network for more promotion, traffic, and money.

Company Info

Help

What is Yardbarker?

Yardbarker is the largest network of sports blogs and pro athlete blogs on the web. This site is the hub of the Yardbarker Network, where our editors and algorithms curate the best sports content from our network and beyond.