Found December 21, 2012 on Raise the Jolly Roger!:
The Pirates made surprising headlines this morning when they agreed to a deal with free agent pitcher Francisco Liriano. They will pay him $14M over two years. Liriano, a 29-year-old lefty who spent his whole career with Minnesota before a midseason trade to the White Sox in 2012, is a pretty high-risk signing with the potential to be dominant but also the potential to be a disaster. After establishing himself as a very solid young lefty early in his career, Liriano's been very inconsistent. He had a fantastic 2010 season (3.62 ERA, 9.4 K/9–good enough to get a couple Cy Young votes) but fell off dramatically in 2011 and 2012. A big reason for that has been his control; he walked five batters per nine innings in each of those seasons, resulting in ERA's north of 5.00. He's also had some injury problems (TJ surgery in '06 and a strained shoulder in '11). The good news with Liriano is that he gets strikeouts–lots of 'em. He's averaged more than a K per inning over his career, and even in his rough 2012 season he struck out 9.6 batters per nine innings. He's got great stuff–especially for a lefty–and is also still pretty young (for a free agent, at least). His ceiling is quite high, and it appears that the key to reaching it is reducing his walks. In 2010 and 2006–his two best seasons–he walked 2.7 and 2.4 batters per nine. I love the fact that the Pirates are rolling the dice on a high-upside guy like this, but I don't like the cost. $14M would make for an incredibly terrible contract if Liriano continues to pitch as he did over the last two seasons. Adding him to the rotation makes it even more volatile; the Bucs are already entering the year counting on a pretty big unknown in James McDonald, and it's far from a guarantee that A.J. Burnett will be as good as he was last year. That said, Liriano could become a great buy-low candidate much like Burnett was last season, and if he harnesses his potential he'll be a top-of-the-rotation guy. FIP and xFIP indicate that he wasn't as bad as his ERA in '11 and '12, but he's consistently underperformed in that regard for his whole career. Liriano should, however, benefit from moving to the NL and PNC Park. The Pirates weren't going to get a sure boost to the rotation through free agency (and not really through trade, either), so this is about as well as they could've done in terms of finding someone that could potentially be really good. Again, though, the cost is significant and it's a huge risk that could easily flame out badly. Generally, I like to see the Pirates take risks like that because they can't really succeed by playing it safe. For example, I'd much rather have Liriano than Jeff Karstens because of his high ceiling (though Karstens offers the much higher floor) if it weren't for his significantly higher price tag. That said, I can talk myself into the price a little bit because I doubt the Pirates were going to add a whole lot more this offseason anyway. Liriano fills one of the rotation slots the Bucs previously would've turned to Kyle McPherson and Jeff Locke to fill, so now they'll be counting on only one of the youngsters to start the year. Liriano over either of them–even with the risk–is a much needed upgrade. As we've seen multiple times over the last year or so, they needed to overpay to get that upgrade. It remains to be seen how much of an upgrade Liriano will be. I like the risk, but it's a very expensive one. PHOTO: Jesse Johnson-USA TODAY Sports
Original Story:
http://raisethejollyroger.com/2012/12...
THE BACKYARD
BEST OF MAXIM
RELATED ARTICLES
Pitcher Francisco Liriano and the Pittsburgh Pirates have reached agreement on a two-year, $14 million contract with the Pirates, the Minneapolis Star Tribune reported. Liriano, 29, split time between the Minnesota Twins and the Chicago White Sox last season. He was traded to the White Sox in late July for two minor leaguers. The left-hander finished the 2012 season with a combined...
If you, like me, were waiting on the Pirates to do something this winter to address their rotation depth issues, it looks today like we're finally going to have some movement on that front. According to LaVelle Neal, the Pirates have agreed to terms with lefty Francisco Liriano on a two-year/$14 million deal that's contingent upon a physical. The PG's Michael Sanserino...
The Pittsburgh Pirates have reportedly agreed to sign Francisco Liriano to a two year, $14 million contract. It's an interesting deal, and we'll talk about the specifics of Liriano and the Pirates in a second, but I first want to look at where this deal fits into an interesting off-season trend. From a runs allowed perspective, Francisco Liriano was terrible last year. Just...
The Pittsburgh Pirates are looking to improve their starting rotation in an effort to carry some of their first-half magic from the last two seasons through a full year. Francisco Liriano may be one of the pieces they've been missing. Then again, he may continue to struggle as he has since returning from Tommy John. According to Jon Heyman of CBS Sports, the Pirates and...
The Pittsburgh Pirates have been trying to land players in free agency. One player they have signed is pitcher Francisco Liriano. Liriano will make $14 million over the next two years. Last season Liriano had a 5.34 ERA while splitting time between the Twins and White Sox. The Pirates are hoping that Liriano returns to the form he had in 2010 when he had a 3.62 ERA and racked up...
The Pirates have signed Francisco Liriano to a two-year $14mm deal, La Velle E. Neal III of the Minneapolis Star-Tribune reports. The deal is still pending a physical. Liriano had spent his entire career with the Twins before he was traded in the White Sox at the trade deadline. Image taken by Keith Allison and used under the Creative Common License Agreement.
Francisco Liriano has agreed to a two year, $14 million contract with the Pittsburgh Pirates, according to a source. The deal will be finalized once Liriano passes a physical. The Mets were reportedly interested in the lefthanded Liriano who has been beset by injuries since his breakthrough season in 2006 when he 12-3 with a  2.16 ERA for the Twins. Liriano, 29, started the 2012...
The Pittsburgh Pirates are set to sign Francisco Liriano, according to La Velle E. Neal III of the Minneapolis Star-Tribune. The deal is a two year, $14 M deal. Liriano is coming off a season where he had a 5.34 ERA in 156.2 innings between Minnesota and the Chicago White Sox. That followed a year where he had a 5.09 ERA in 134.1 innings in Minnesota. The lefty had a breakout season...
Some quick hits tonight in the aftermath of the Francisco Liriano deal. I was on the road most of the day today, and had a lot of time to think about the fallout from this deal. **I mentioned earlier that I felt the Francisco Liriano deal was a good risk for the Pirates to take. I was on TribLIVE Radio this afternoon further discussing the deal.  Liriano is a great gamble for the...
FRANCISCO LIRIANO LEFT HANDED PITCHER Born: October 26, 1983 Height: 6'2″ Weight: 215 Bats: Left Throws: Left Signed: International Free Agent, 2000 (Giants) How Acquired: Free Agent Country: Dominican Republic Agent: Greg Genske WTM'S PIRATE PLAYER PROFILES Liriano has been one of the more erratic pitchers of recent years.  He originally worked out for...
It has come to this, the Pittsburgh Pirates and Arizona Diamondbacks have outbid the Mets. The now pitching-deficient and long-time outfield void Mets had their sights on left-hander Francisco Liriano and outfielder Cody Ross, but lost them to the Pirates and Diamondbacks, respectively, who offered multi-year deals they wouldn't have dreamt of giving. The Pirates, who were a feel...
Today is the last Friday many of you will have to work all year. I better get these links right. If you like soccer and have free time, this is the game for you. I wouldn't recommend buying it for anyone you would like to see again. (I have the 2012 version, and adore it) Francisco Liriano signed a 2 year deal with the Pirates.  Also, the Twins signed Rich Harden SCOREBOARD NHL...
MLB News

Delivered to your inbox

You'll also receive Yardbarker's daily Top 10, featuring the best sports stories from around the web. Customize your newsletter to get articles on your favorite sports and teams. And the best part? It's free!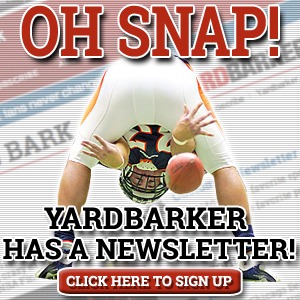 Latest Rumors
Best of Yardbarker

Today's Best Stuff

For Bloggers

Join the Yardbarker Network for more promotion, traffic, and money.

Company Info

Help

What is Yardbarker?

Yardbarker is the largest network of sports blogs and pro athlete blogs on the web. This site is the hub of the Yardbarker Network, where our editors and algorithms curate the best sports content from our network and beyond.