Found February 21, 2012 on Sports Junkie Online:
Few would argue that the A.J. Burnett experiment in New York has largely been a major disappointment. During his three seasons toeing the rubber in the Bronx, Burnett posted a 34-35 record, with a 4.79 ERA. Of particular concern has been his inability to throw strikes, as he totaled 258 walks and 38 hit batters in 584 innings over the past three seasons. According to various reports, the Yankees will eat almost 1/3 of the $33 million remaining on Burnett's contract, while receiving minor leaguers RHP Diego Moreno and OF Exicardo Cayones.
While there's no doubt he didn't live up to his 5-year, $80+ million deal, he also had some very big moments in the postseason for New York. Burnett was an important part of the Yankees' 27th World Series championship, scattering a run on four hits in seven strong innings against a potent Phillies lineup, evening the series at one apiece. Burnett also got the win in Game Four of the teams' divisional series against the Detroit Tigers, allowing just one run in 5.2 innings, bringing the series back to New York for its decisive Game Five (which Detroit ended up winning).
The good news for Pirates fans is that Burnett still has a fairly live arm, and his pitching stats were skewed (at least somewhat) by both the batter-friendly confines of Yankee Stadium, as well as the potent offenses in the American League East. Moving to a much more friendly PNC Park will help Burnett's ERA, as will being away from the spotlight playing for a team that hasn't reached the postseason since 1992. If pitching coach Ray Searage can get Burnett's sketchy mechanics in order, its very possible that Burnett can have numbers that approach his career average of a 4.10 ERA.
Yankees' Grade: C. Despite having to eat between $18-$20 million on the contract, GM Brian Cashman was able to find a team that was willing to take a player that more than likely wouldn't have been in the rotation. While the two prospects they received (Moreno and Cayones), the relief they get from moving Burnett's contract will allow them to likely re-sign backup Eric Chavez, as well as find a designated hitter (probably Raul Ibanez). The grade is lower because of the fact that Burnett didn't nearly perform to the level his big contract should have dictated.
Pirates Grade: B+. Burnett's struggles in New York have been well-chronicled, but the Pirates will be paying him approximately $6 million per season through 2013, which isn't a bad price for a pitcher moving to a friendlier location facing more pitcher-friendly lineups in the NL Central. Its a fairly low-risk, high-reward deal.
Original Story:
http://sportsjunkieonline.blogspot.co...
THE BACKYARD
BEST OF MAXIM
RELATED ARTICLES
A.J. Burnett's rocky tenure in pinstripes is over.
A.J. Burnett was happy to escape from New York. "It was fun the first couple of years. Then it got like, I'm never going to get out of this funk," he said Monday, a day after the Yankees dealt him to the Pittsburgh Pirates for a pair of low-level prospects. After signing an $82.5 million, five-year contract, Burnett helped the Yankees to their 27th World Series title in 2009.
A.J. Burnett was happy to escape from New York.
After much anticipation, the trade that sent A.J. Burnett from the Yankees to the Pirates was finally completed on Sunday. Burnett had a tumultuous three seasons in the Bronx, with a 4.79 ERA and 4.5 walks/hit batters per nine over 584 regular-season innings. His signature pitch is an 83 mph spike-curveball with exceptional movement. (Harry Pavlidis mentioned it here a few weeks...
The Pirates cleared a roster spot for AJ Burnett today by putting Rule 5 pick Gustavo Nunez on the 60-day disabled list. The exact vagaries of the Rule 5 process aren't perfectly clear to me, but I'm certain that Nunez has to be active for a certain number of days and so the Pirates can't just stow him away on the 60-day all year. Still, it's clear that this is how...
KK Deal:2 years $7.5M to a 6th starter/bullpen longman. I'm confused, but that's exactly what Amaro doled out for Kyle Kendrick. KK was set to make $3.585 this season, and under the new contract his 2012 salary is yet to be announced. I like KK and think he has value, but there's a point when salary outweighs usefulness. However, with Cole Hamels and Joe Blanton both...
Option A: One year of Joe Blanton for $10.5 million Option B: Two years of A.J. Burnett for $13 millionThere is no way you're choosing Option A, and that is why despite his disappointments and shortcomings Burnett would have made the Phillies better over the next two seasons.In order to acquire Burnett — as tweeted by Buster Olney Sunday night — Ruben Amaro was reportedly attempting...
Joining host Karen Vankat on the Warning Track is Michael Cohen of the Open Mike show. The Yankees were busy over the last week trading inconsistent AJ Burnett to the Pirates, signing Raul Ibanez as a lefty DH/outfielder and Oh No Mo! Mariano Rivera has fun with the media "hinting" at retirement. Dan Fuerstein of Triple Coverage calls in with his thoughts. The Mets are happy...
BRADENTON — In order to make room for right-hander A.J. Burnett on the 40-man roster, the Pirates placed infielder Gustavo Nunez on the 60-day disabled list with a right ankle injury. Nunez, 24, was selected from the Detroit Tigers in the Rule-5 draft in December by the Pirates. During the 2011 season, Nunez hit .276 with 13 doubles, seven triples, five home runs, 26 RBI and 18...
MLB News

Delivered to your inbox

You'll also receive Yardbarker's daily Top 10, featuring the best sports stories from around the web. Customize your newsletter to get articles on your favorite sports and teams. And the best part? It's free!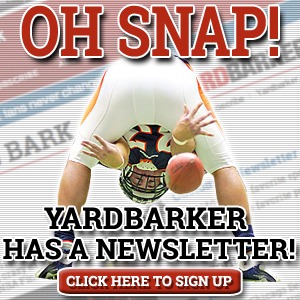 Latest Rumors
Best of Yardbarker

Today's Best Stuff

For Bloggers

Join the Yardbarker Network for more promotion, traffic, and money.

Company Info

Help

What is Yardbarker?

Yardbarker is the largest network of sports blogs and pro athlete blogs on the web. This site is the hub of the Yardbarker Network, where our editors and algorithms curate the best sports content from our network and beyond.