Found August 13, 2012 on Fox Sports Detroit:
PLAYERS:
Miguel Cabrera
,
Josh Hamilton
,
Mike Trout
,
Justin Verlander
,
Adam Dunn
,
Carl Yastrzemski
,
Albert Pujols
,
Alex Rodriguez
,
Austin Jackson
,
Andy Dirks
,
Yu Darvish
,
Prince Fielder
,
Joe Mauer
,
Dustin Pedroia
,
Jimmy Rollins
,
Ken Griffey
,
Mickey Mantle
,
Andruw Jones
,
Derek Jeter
,
AJ Pierzynski
TEAMS:
Detroit Tigers
,
Texas Rangers
,
Los Angeles Angels
,
Chicago White Sox
,
Boston Red Sox
,
New York Yankees
,
Minnesota Twins
,
Philadelphia Phillies
Tigers third baseman Miguel Cabrera is the best choice for AL MVP. He is the only player in the league with a distinct chance at winning the Triple Crown, and is carrying his team toward the postseason once again. In fact, the only serious MVP challengers Cabrera has right now are Rangers center fielder Josh Hamilton and Angels rookie outfielder Mike Trout. The choice for the leagues top honor, won last year by Tigers pitcher Justin Verlander, is determined by not only statistics but the impact a player makes on the game. Cabrera is hard to beat in both instances. Trout should win the batting title, while Cabrera and Josh Hamilton are running away from the pack for the RBI crown. Cabrera, after what for him was a slow start, also could challenge Hamilton and White Sox slugger Adam Dunn for the home run title. Cabrera has a shot at becoming the first Triple Crown winner since Red Sox left fielder Carl Yastrzemski in 1967. If Trout comes down a bit from his .340 through Sunday and Cabrera comes up from his .324, it could happen. But it has been 45 years since anybodys accomplished the feat, and the odds are against him. Keep in mind, however, that Cabrera, Albert Pujols and Alex Rodriguez are the only three active players to have won the three titles in separate seasons. Cabrera hit .344 to win the 2011 batting title; 37 homers to finish on top in 2008; and a league-leading 126 RBIs in 2010. The only other Tiger to lead all three categories was Ty Cobb, the 1909 Triple Crown winner. Yastrzemski, by the way, was the AL MVP. And winning the Triple Crown would make Cabrera a virtual lock for that, too. Great numbers get you in the conversation. Great performances get you the award. Cabreras game-winning, two-run homer in the 10th inning against the New York Yankees on Aug. 5 was the kind of show-stopper required of MVPs. And he constantly picks up the club like he did Sunday. The Tigers were on the verge of stranding runners on second and third after Austin Jackson and Andy Dirks struck out. But Cabrera laced a two-run double into the corner against Rangers rookie Yu Darvish, one of the games toughest pitchers. He is generally considered the games best hitter, and the respect he receives is exhibited in what happens each time he comes to bat in a key situation. The pitching coach or manager trots out to the mound to discuss matters with the pitcher and catcher. The message goes something like this: Stop hyper-ventilating. Take a deep breath. Dont give him anything to hit, Meat. Hey, walk him if you have to. Want to walk him? Though, the intentional walks have greatly decreased with the arrival of Prince Fielder to hit behind him. And thats significant. Cabrera could reach the 40-homer and 130-RBI plateaus for the first time -- in part because pitchers must give him more pitches to hit. Now, Trout is the superior defender. His three homer-saving leaps are some of the most amazing ever. And Cabrera is just an average fielder. But in the last 10 years, just four of the 20 MVP winners in the two leagues also won a Gold Glove the same season. Those were Twins catcher Joe Mauer (2009), Red Sox second baseman Dustin Pedroia (2008), Phillies shortstop Jimmy Rollins (2008) and then Rangers shortstop Alex Rodriguez (2003). Hitting tends to win out where the award is considered. Trout (.340, 21 homers, 65 RBIs) is impressive with the bat, but doesnt match up in production with Cabrera (.324, 29, 98) or Hamilton (.291, 32, 99). He hit his 25th career homer Tuesday on his 21st birthday, and only 10 others have hit 25 by the day they turned 21. Mel Ott had the most homers in that group with 61, and is followed by Tony Conigliaro (56), Ken Griffey, Jr. (38), Mickey Mantle (36), Frank Robinson (35), Al Kaline (32), Alex Rodriguez (27), Andruw Jones (26), Orlando Cepeda (25) and Eddie Mathews (25). Pujols, Yankees shortstop Derek Jeter and White Sox catcher A.J. Pierzynski could join the MVP hunt with Cabrera, Hamilton and Trout before all is said and done. Even Fielder could enter the conversation with a monster-like finish, and hes definitely capable of that. Cabrera has come close before, and he got my first-place vote in the Baseball Writers Association of America balloting when finishing second to Hamilton in 2010. He has finished in the top five in three consecutive years and has five overall (two with the Marlins) top five showings. In fact, he has received some votes for MVP in each of his nine seasons. At the age of 29, his time has arrived. Cabrera deserves to be the leagues MVP this year. A little less than two months remain. Plenty can happen. Players can get hot or cold. They can get hurt. But barring some unforeseen change of events, Jose Miguel Cabrera should be the AL MVP.
Original Story:
http://www.foxsportsdetroit.com/08/13...
THE BACKYARD
BEST OF MAXIM
RELATED ARTICLES
Detroit Tigers third baseman Miguel Cabrera is the best choice for American League MVP. He is the only player in the league with a distinct chance at winning the Triple Crown, and is carrying his team toward the postseason once again. In fact, the only serious MVP challengers Cabrera has right now are Rangers center fielder Josh Hamilton and Angels rookie outfielder Mike Trout...
I realize this is a semi-outdated (but, is it?) low blow that isn't quite suited for a respectable blog. However, it is also hilarious. Happy Tuesday! Jeff
An older man who attended Friday night's Texas Rangers game in Arlington may have stepped over the line when he forcefully pulled Detroit Tigers star Miguel Cabrera's bat out of a younger fan's hand after it went flying into the stands. It happened in the top of the sixth inning as Cabrera swung at the first pitch and the bat went flying into the stands on the third...
It's not a secret -- the Tigers have serious issues with their bullpen. This week saw meltdowns from just about every key reliever other than Jose Valverde, and left Tigers fans hoping that Bruce Rondon -- a name they had probably never heard until this summer -- can save the day. Valverde is never going to be Mariano Rivera and he's most likely never going to have another...
As the Tigers gave away a series with the Rangers, some talk in Detroit is that the kids of the future should start making their way up north to Detroit.  In my opinion, I say keep the kids down south. Nick Castellanos has struggled in Double-A trying to go from third base to the outfield according to Mike Cooper of the Erie News.  His .301 batting average sounds good, but he...
One hundred years ago today, baseball's biggest star left a carjacker dead on the streets of the Motor City. "In 1912 -- and you can write this down -- I killed a man in Detroit," Ty Cobb told his biographer. Maybe. It's been a century since the attack and over 50 years since Cobb told his life story to sportswriter Al Stump, and to this day, no one is 100 percent...
Each Monday, good or bad, we'll look back at the biggest theme of the week that was for the Detroit Tigers. Even though the Tigers closed out an up and down week with two tough losses in Texas and gave … Continue reading →
Stay current with all the roster movement and personnel decisions with the TigsTown Transaction Blog. The Tigers recalled Luke Putkonen from Toledo and optioned Duane Below.
Andy Dirks' sixth inning blast off of Twins starter Brian Duensing helped secure an 8-4 win over the Minnesota Twins ending a three game losing streak. Dirks' home run came after entering the game hitting only .172 this season off of left-handed pitchers, with one home run in 29 at-bats. However Dirks went two for three off of Duensing helping secure the win for Detroit. Early...
61-53, 2nd place, 1 game behind CWS, .5 games behind Brandon Inge and Oakland for the WC lead (which means tied for 2nd WC spot) Last night's heart breaker ended on a Mike Olt single in the bottom of the 9th with two outs. Kid's been up for less than 2 weeks. The two walks to lead off the 9th were definitely the culprit, though Leyland's assertion that late leadoff walks have...
Russell Martin, a good baseball player having a bad year, almost poisoned the Tigers earlier this week. Martin, the New York Yankees catcher, is hitting below .200 for the season—well below his career mark (going into this year) of .272. But despite his failure to get a hit rate of over 80 percent, Martin shot the hearts of Tigers fans into their throats on Tuesday night. It was...
MLB News

Delivered to your inbox

You'll also receive Yardbarker's daily Top 10, featuring the best sports stories from around the web. Customize your newsletter to get articles on your favorite sports and teams. And the best part? It's free!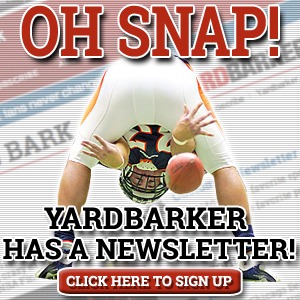 Latest Rumors
The Backyard

Today's Best Stuff

For Bloggers

Join the Yardbarker Network for more promotion, traffic, and money.

Company Info

Help

What is Yardbarker?

Yardbarker is the largest network of sports blogs and pro athlete blogs on the web. This site is the hub of the Yardbarker Network, where our editors and algorithms curate the best sports content from our network and beyond.