Found February 15, 2013 on Fox Sports Detroit:
LAKELAND, Fla. -- If Miguel Cabrera is feeling any pressure about having to repeat as the American Leagues MVP and Triple Crown winner, he isnt showing it. Cabrera exchanged handshakes and even some hugs with reporters before inviting them to his locker for conversation Friday morning. Cabrera seems to get more comfortable with the media with each passing year, and hes having even more fun in the clubhouse. While Cabrera conducted the interview in one corner of the Joker Marchant Stadium clubhouse, Tigers reliever Octavio Dotel began shouted at him from the other end of the rectangular room. You have to speak English! said Dotel, who, like Cabrera, speaks Spanish as his first language. You have to talk to them now! Youve won the Triple Crown and the MVP! Cabrera began laughing heartily, shaking from side to side. Everyone in the clubhouse joined in the laughter. Hes talking loco, huh? Cabrera asked the media members, then chuckled at his own joke along with the reporters. Cabrera hit .330 with 44 home runs and 139 RBIs last year, and won everything baseball has to offer except the World Series. I asked him whether he puts any pressure on himself to repeat those accomplishments. You cant focus on what people say, Cabrera said. And what you did, that is over. He smiled and recalled a conversation he had with a friend in Venezuela. Cabrera said: The first thing he told me was: You cant think about how you played last year. You have to move forward and think about next year. He said the workout schedule and twice-weekly hitting he adhered to was the same as in recent winters. The banquet season for a player who had to accept so many awards -- including the Luis Aparicio Award as Venezuelas top major league player -- is long. But Cabrera -- who will leave soon to play for his country in the World Baseball Classic -- stayed on task, and when it was time to report to training camp for the first full squad workout on Friday, he arrived at 6:30 a.m. I need to get my work done early, he said. I needed to talk to Raffy about getting things done. That would be Rafael Belliard, the clubs infield and first-base coach, who early each morning hits grounders and works on fundamentals with Cabrera, first baseman Prince Fielder and others. My goal is to be better, Cabrera said. I want to be better every day, to be more quick. I am trying to get better with my first step. Cabrera, who made the switch from first to third to accommodate the signing of Fielder last season, wants to cover more of the hole and get to the line quicker to save hits from reaching left field. Hes also adding a second bat to his wooden arsenal. Cabrera exclusively used Sam Bats, which are made in Ontario, Canada, last year. This season, he's bringing back the Phoenix Bats, the brand he used with the Florida Marlins. Both are maple and cut to his 34-inch, 32-ounce taper specifications. Phoenix Bats, made outside of Columbus, Ohio, shipped them in a box bearing their slogan -- SINGLES SUCK -- printed in bold, black letters. Asked if he shares that philosophy, Cabrera shook his head and said, I dont know. But I used them when I played in Florida. For the record, Cabrera had 121 singles among a career-high 205 hits last year. He probably could use a wooden table leg and get results. As Tigers catcher Alex Avila said, He can hit right out of bed. It would be easy to take Cabreras consistent excellence for granted, and I asked Tigers manager Jim Leyland if that happens. I dont know if take for granted are the right words, Leyland said. But I know hes going to do pretty good. "Youre not going to take him for granted. Youre going to appreciate him for how good he is. Hes a special, special player. Just two players have won the Triple Crown, MVP and World Series in one season: Frank Robinson of the 1966 Orioles and Mickey Mantle of the 1956 Yankees. Cabrera was knocking on the door to join their select company, but the Giants swept the Series in four games to deny Cabrera all the riches one player could accumulate in one season. Winning the World Series seems to be the only thing that matters this year to Cabrera and his teammates. And they appear ready to enjoy the quest together -- with Dotels shouting at the teams biggest star being a prime example. It is very, very, very much fun to joke with Miggy, Dotel said. It is unbelievable. Being around Miguel, I enjoy that. "I just want to remind him all the time -- now that hes the MVP and Triple Crown winner -- he has to talk to you guys. He looked across the room at Cabrera, gripping a bat and getting ready to hit. That guy, man, Dotel said, he is just the best. After practice, Cabrera invited several teammates to his locker. He placed the Triple Crown -- the one presented to him by Commissioner Bud Selig at the World Series -- on his head and gave a two thumbs-up. Prince Fielder, Victor Martinez and Justin Verlander then leaned in for a photo. Good times.
Original Story:
http://www.foxsportsdetroit.com/02/15...
THE BACKYARD
BEST OF MAXIM
RELATED ARTICLES
LAKELAND, Fla. -- Tigers late-inning reliever Octavio Dotel is one of those players who becomes glue for a ballclub. He often takes the mound and patches together a game on the verge of breaking the other way, and is a clubhouse leader who brings professionalism and harmony. Dotel threw five innings of no-hit relief in the 2012 playoffs and was central in Game 1 of the American...
LAKELAND, Fla. Victor Martinez tore up his left knee while doing agility drills last winter, had micro-fracture surgery to repair the damage, and tried unsuccessfully to rush back in time for the Tigers pennant chase. Then he also was unsuccessful in attempting to watch his team on television during a World Series he could not play in. And it was for reasons beyond the sweep by...
LAKELAND, Fla. When you follow a trip to the World Series in 2012 by adding Torii Hunter and getting Victor Martinez back for 2013, you remain the team to beat. Those expectations were something Tigers manager Jim Leyland felt worthy of addressing Friday, when he met with his players to discuss training camp, rules and a little philosophy. I love being a target, Leyland told reporters...
Kate Upton was interviewed by FOX 2′s Jason Carr Thursday morning promoting the Sports Illustrated swimsuit edition and naturally was asked about her relationship with Tigers ace Justin Verlander.  Specifically, Carr asked Upton about the supposed couple's New Year's getaway on the island of St. Thomas. As you'll see in the video, Upton went stone-faced and said: "Actually...
The Detroit Tigers won the American League Central last season by 3 games over the White Sox and despite finishing with the fewest wins of any AL playoff team, the Tigers were able to win the pennant and advance all the way to the World Series before being swept by the Giants. Coming into the 2013 season the Tigers are once again the team to beat in the AL Central. ...
Rumors about a relationship between Detroit Tigers pitcher Justin Verlander and Sports Illustrated Swimsuit Edition cover model Kate Upton have swirled since Upton was spotted in a Comerica Park suite last summer. The two parties have repeatedly denied that they're together, though, and Upton again toed the line Thursday, during an interview with FOX 2′s Jason Carr. Upton, seated...
LAKELAND, Fla. Pitchers threw live batting practice to hitters on Saturday for the first time in training camp. It was a chance for batters to begin tracking balls and getting their timing down for Fridays Grapefruit League opener with the Atlanta Braves in Lake Buena Vista. It was also an opportunity for pitchers to throw to something other than a catchers mitt. One pitcher, Jose...
Here's what you call a very strong denial. The Kate Upton Justin Verlander thing? Not happening according to the back to back SI swimsuit issue cover girl and hottest woman alive. Watch the clip below after the jump. Maybe the Kate Upton Justin Verland thing is still on? And this is just a vehement denial? Either way it's a funny clip and you have to give the journalists points...
It seems the Justin Verlander will be keep all that money to himself when he signs his next free agent deal, as news has trickled out that him and the beautiful Kate Upton are no longer seeing one another. Upton made the revelation known to everyone watching a local Detroit new station earlier on Thursday, when she announced that she was single for Valentine's Day. Poor thing....
Tigers News

Delivered to your inbox

You'll also receive Yardbarker's daily Top 10, featuring the best sports stories from around the web. Customize your newsletter to get articles on your favorite sports and teams. And the best part? It's free!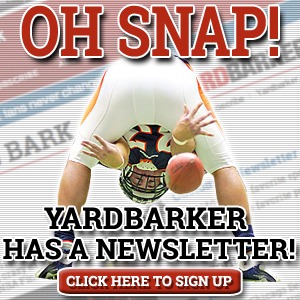 Latest Rumors
The Backyard

Today's Best Stuff

For Bloggers

Join the Yardbarker Network for more promotion, traffic, and money.

Company Info

Help

What is Yardbarker?

Yardbarker is the largest network of sports blogs and pro athlete blogs on the web. This site is the hub of the Yardbarker Network, where our editors and algorithms curate the best sports content from our network and beyond.