Found January 18, 2012 on Fox Sports Kansas City:
PLAYERS:
Melky Cabrera
,
Lorenzo Cain
,
Zack Greinke
,
Jermaine Dye
,
Carlos Beltran
,
Alex Gordon
,
Jeff Francoeur
,
Jarrod Dyson
TEAMS:
San Francisco Giants
,
Kansas City Royals
,
Milwaukee Brewers
,
St. Louis Cardinals
If you enjoyed watching last year's Royals outfield, you might like this year's version even more. Not that there was anything wrong with the performance of Melky Cabrera, but Royals fans should notice something eye-popping when Lorenzo Cain begins patrolling center field at Kauffman Stadium big-time speed. Take it from someone who watched Cain play all last season Omaha manager Mike Jirschele. "Lorenzo is plenty fast, but he's also a guy who kind of glides to the ball," Jirschele said. "He's a natural center fielder and he gets to everything. "He's got very long strides and once he gets going, he just makes it look easy. He will take a lot of hits away. You won't see many balls drop in that outfield." Cain, who came to the Royals as part of the blockbuster Zack Greinke trade in 2010, will remind some Royals fans -- at least in physical appearance -- of a cross between Jermaine Dye and Carlos Beltran. "He's got that kind of look, like Jermaine, especially with those long strides," Jirschele said. "Of course, Lorenzo is much faster." Perhaps not as fast as Beltran, though. And in terms of arm strength, should we assume that Dye had the better arm? "I don't know," Jirschele said. "Lorenzo has a pretty big arm." With Gold Glovers Alex Gordon and Jeff Francoeur flanking him, Cain could give the Royals a dream-team outfield, maybe even the best defensively in baseball a distinction that was debated at times last season with Cabrera in center. Cain's speed could end the argument. "The other thing is," Jirschele said, "when was the last time the Royals had a true center fielder?" Hmm. That's an entirely subjective discussion, of course. But you'd likely have to go back as far as Beltran to answer that question. Jirschele assures us that the wait is over. "I don't have any doubts about his defensive ability," Jirschele said. "And offensively, I was very impressed with the adjustments he made as the season went along. "I wouldn't say he shocked me, but I was pleasantly surprised at how well he started hitting the ball the other way and up the middle. It's going to be all about adjustments for him at the next level." Cain can't wait to get the chance. "Just the opportunity to play alongside Jeff and Alex is going to be pretty exciting," Cain said. "I'm sure I'm going to learn a lot from them." Cain also expects to learn a thing or two about offense from his outfield mates. "I know I will work at it," he said. "I'm confident but I know I will have to make the right adjustments. I'm just anxious to get going," Actually, Cain isn't assuming anything -- such as having the job handed to him. "Oh, no," he said. "I have to go out and prove myself and earn it. It's all about how I do down there (Arizona). You don't take anything for granted." Though it appears there isn't anyone ready to push Cain for the starting job, it's impossible to ignore the presence of speedster Jarrod Dyson in the organization. Royals fans already know what a weapon Dyson can be -- in the outfield and on the bases. "He's just scary fast," Jirschele said. "His first two steps are incredible. Of course, the rest of his steps are pretty incredible, too. "It never seems to matter where he's shaded he gets to any ball anyway." It's likely Dyson will wind up back with Jirschele in Omaha, at least to start the season. "If you can get him on base consistently," Jirschele said, "he makes everyone in the lineup behind him so much better. Anyone can see that. "We were lucky to have him and Lorenzo at the same time in Omaha. They were so good we almost took them for granted. "Then we'd catch ourselves in the dugout just going, 'Wow. Those guys are really fast. Can you believe how fast they are?' "
Original Story:
http://www.foxsportskansascity.com/01...
THE BACKYARD
BEST OF MAXIM
RELATED ARTICLES
The Royals have cranked up an ambitious promotion campaign for 2012 a year in which theyll host the All-Star Game at Kauffman Stadium. Beyond the buzz over that midsummer event, however, the Royals theme has been aimed directly at what may happen on the field. The two-word catchphrase for the coming season: Our Time. Unless youve been watching the Royals from up close, that seems...
The Royals have cranked up an ambitious promotion campaign for 2012 a year in which theyll host the All-Star Game at Kauffman Stadium. Beyond the buzz over that midsummer event, however, the Royals theme is aimed directly at what happens on the field. The two-word catchphrase for the coming season: Our Time. Unless youve been watching the Royals from up close, that seems like...
The Kansas City Royals and utility outfielder Mitch Maier have agreed to an $865,000, one-year contract that avoided arbitration. Maier can earn an additional $10,000 for making 100 plate appearances and $50,000 for making his first All-Star game. He had 113 plate appearances last season. Maier hit .232 and drove in seven runs while appearing in 45 games as the Royals' fourth...
It's been 27 years since the Kansas City Royals last reached the playoffs. Chicago Cubs fans are lauded for their patience, but they've enjoyed/endured five postseason appearances since Kansas City's most recent trip to October. Am I alone in thinking the Royals shouldn't be that far away from snapping the drought? Kansas City scored a respectable 730 runs last...
For failing to garner 5% of votes cast this year, Juan Gonzalez will be dropped from the Baseball Hall of Fame ballot next year, leaving the Kansas City Royals with no former players on the regular ballot. Jason Kendall Do the Royals have any chance of getting a player in the Hall anytime soon? It's looking like it will be a very long time. As I documented in a previous article...
Southwest Missouri may be St. Louis Cardinals country, but in a Ziggie's Cafe at the corner of Glenstone and Sunshine in Springfield, Missouri, a dedicated group of around 250 Royals fans showed up to meet and greet current Royals players Aaron Crow, Everett Teaford and Louis Coleman. Joining them were Royals Hall of Famer Willie Wilson, Fox Sports Kansas City broadcaster Joel...
The Kansas City Royals have agreed to terms with Luke Hochevar, Jonathan Sanchez and Felipe Paulino on one-year contracts for 2012, avoiding arbitration with all three players.
ROYALS AGREE TO TERMS WITH PITCHERS HOCHEVAR, PAULINO AND SANCHEZ ON ONE-YEAR CONTRACTS FOR 2012 KANSAS CITY, MO (January 17, 2012) — The Kansas City Royals announced today that the club has agreed to terms on one-year Major League contracts with right-handed pitchers Luke Hochevar and Felipe Paulino, and left-handed pitcher Jonathan Sanchez for the 2012 season, avoiding arbitration...
Earlier today we learned that 28-year-old Fausto Carmona is actually 31-year-old Roberto Hernandez Heredia, and that the right-hander might not be able to secure a visa to the United States anytime soon. MLB.com's Jordan Bastian says (on Twitter) that it's unclear if the Indians will be able to void Heredia's contract, plus he's not sure they would do that even if...
The Royals announced their list of promotions and giveaways for the 2012 season on Wednesday, adding a few new wrinkles to some long-held traditions.
A model of Alex Gordon's Gold Glove is one of the promotions announced on Thursday as part of the Royals' "Our Time"-themed season that will include the All-Star Game.
MLB News

Delivered to your inbox

You'll also receive Yardbarker's daily Top 10, featuring the best sports stories from around the web. Customize your newsletter to get articles on your favorite sports and teams. And the best part? It's free!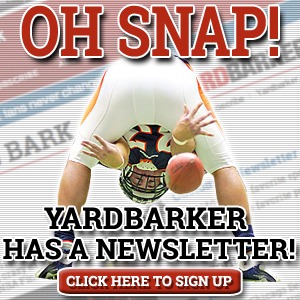 Latest Rumors
The Backyard

Today's Best Stuff

For Bloggers

Join the Yardbarker Network for more promotion, traffic, and money.

Company Info

Help

What is Yardbarker?

Yardbarker is the largest network of sports blogs and pro athlete blogs on the web. This site is the hub of the Yardbarker Network, where our editors and algorithms curate the best sports content from our network and beyond.